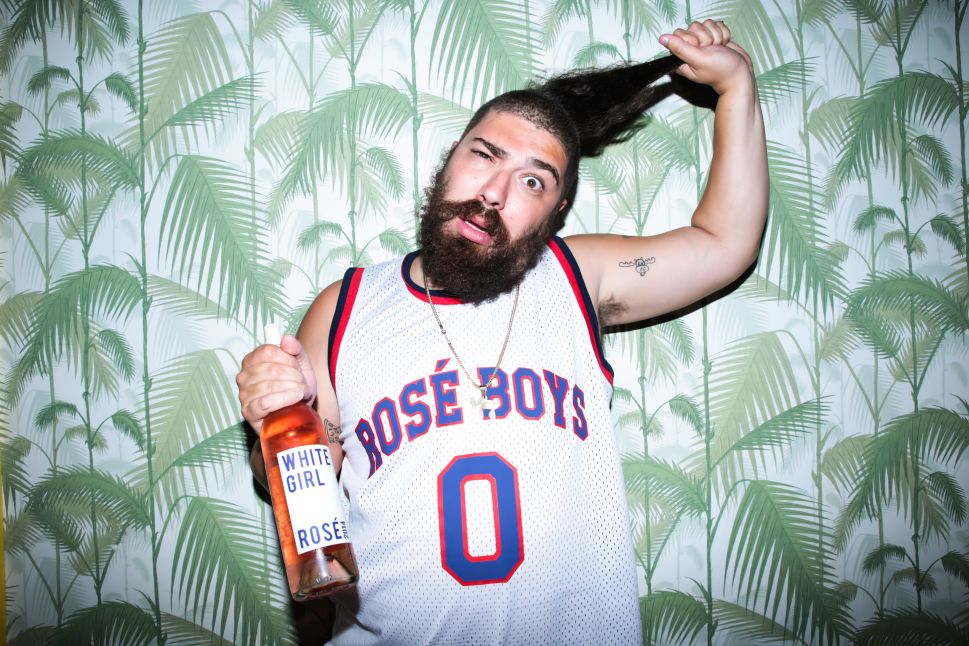 Joshua Ostrovsky, known to his nearly 6 million Instagram followers as @TheFatJewish, has been asserting his wit and sarcasm into a number of spheres he may not necessarily have been welcomed in. Take White Girl Wines for example, his foray into a career as a vintner launched with co-founder Babe Walker this past summer. The two began shilling $20 bottles of wine in June, and encouraged buyers everywhere to use the self-deprecating hashtag #thisissous. "I wrote a book, and I think that signals the end of culture in the Western civilization. If that hits the best seller list, we're screwed," he told me at the CFDA Awards after he arrived unexpectedly brandishing a bottle of his own rosé. "The rosé was mostly because, it's nothing to joke about, but the tragic rosé shortage in the Hamptons last year. People were running through the streets screaming, and I said, 'Never again. Not on my watch.' And, you know surprisingly it tastes good. I wanted it to taste mediocre, but it came out delicious."
Now, it's on to the fashion world, where Mr. Ostrovsky will disrupt the New York Fashion Week masses with the debut of his "Dad Fashion" collection at The Standard Hotel on Wednesday, September 16th. Below, an exclusive Q&A with the Insta-famous man himself.
Describe "Dad Fashion" for me. 
There are so many different kinds of Dad fashion to celebrate. From a Dad dropping his kid off at the first day of college in some dungarees, to wearing sandals with socks, to sporting a free shirt that he got from Chase bank after signing up for a new account, all Dad fashion deserves to be celebrated.
What are some essential pieces of any dad fashion wardrobe? 
J: Incredibly comfortable shoes. Whether it's brown leather Sebago walking shoes or a pair of New Balances, dads always want to feel like they're walking on a fucking cloud. Support is key.
What sort of reaction do you anticipate from the NYFW crowd? 
Fashion Week is all about form, never about function. All the men's collections feature shirts that are like covered in blood and feathers and tiny daggers or whatever other ridiculous accoutrement they can think of, which is great for a hunk with a coke problem going out to dinner at 11 pm in Berlin, but nobody focuses on fashion for very normal Dad situations, like buying new tires at 3pm on a Wednesday in Phoenix. What do you wear to do that? I'd love to show you. This show is all function, and I think the fashion week crowd will come to embrace my vision, even if it's not what they're used to.
Are there any celebrities fit for your dad fashion collection? 
Adam Sandler. Dude has the ultimate dad bod.
How did the idea for the show come about?
My own dad. His particular style is strictly sporting clothing that me and my brother don't wear anymore and have given him, so he always just looks like a dude trying to look hip but is 6-8 years outdated. He'll show up to dinner in a Bape sweatshirt with silver Nike dunk-high sneakers and skinny jeans and have ZERO IDEA how ridiculous he looks. As far as he concerned, it was all free and is totally comfortable. I started realizing that dads are fashion icons in their own way, they give zero fucks and do whatever they want, just like the best designers and models.
You mentioned that the looks will be comprised of multiple different brands. Which ones can we expect? 
Old Navy, Sebago, Lee, Hagar wrinkle free khakis. All the good stuff! 
Why did you want to celebrate dad bods?  
J: I love a nice normal everyday body. Those weird lines that guys who are in shape have that go down to their genitals are so out, having large puffy areolas and a weird tuft of hair on your lower back is very in.