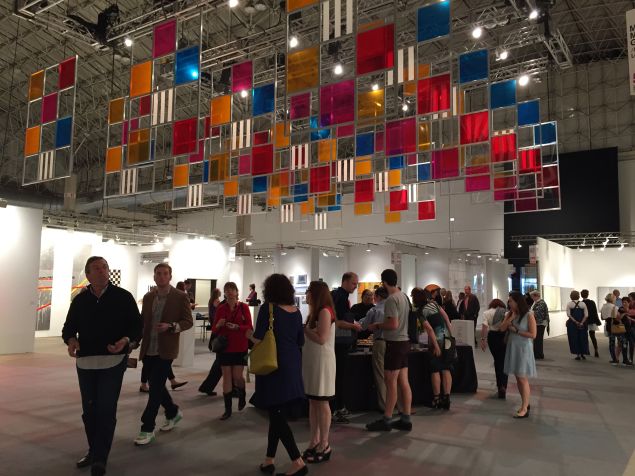 The Windy City is the art world's Midwestern Mecca—at least for this week. Contemporary art fair Expo Chicago, now in its fourth year, opened at the Navy Pier yesterday with a stunning array of work in a variety of genres and prices.
VIPs—including Solange Knowles—streamed steadily through the fair and crammed the aisles during the opening reception.
At 140 exhibitors, the fair is big but manageable; dealers are given plenty of breathing space to show ambitious works, as in the case of Chicago gallery Monique Meloche's exhibit of Ebony G. Patterson, a selection of wall-sized glittering tapestries and coffin-shaped sculptures mounted on posts.
Gallleries dealing in niche areas are well positioned next to others whose work is most often complimentary, yet at times, wildly different. Contemporary design is on view next to post-war masters, and just across the aisle from a pre-Columbian treasure.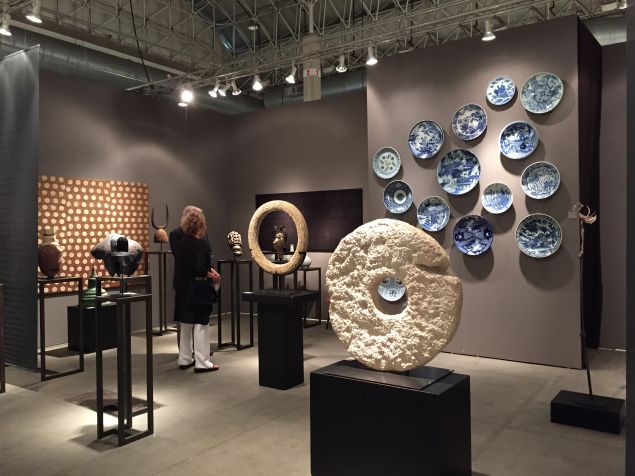 The name of the game here is variety. Chicago-based Douglas Dawson gallery, which deals mostly in ethnographic art, is a refreshing and unexpected find between big names like Chicago neighbors Rona Hoffman and Kavi Gupta, or even bigger names like David Zwirner and White Cube. The gallery's booth stands out with walls painted deep grey, and covered in objects that range from white and blue china plates to beaded textiles.
Mr. Dawson has shown all four years with Expo, and a gallery rep tells the Observer that collectors are drawn to the historic objects on view after seeing so much contemporary art across the aisles. Considering their rarity, the works on display were reasonably priced between $25,000 and $38,000.
On the design-side, New York's R & Company has a stunner of a booth, with hanging works from glass artist Jeff Zimmerman, curvaceous wooden furniture by Wendell Castle, glass sculptures from Thaddeus Wolfe, and anthropomorphic furry seating from the Haas Brothers. Two monumental sculptures by the twins will be shown at Design Miami in December, and their collaborative project Afreaks, done with female beaders from Khayelitsha just outside of Cape Town, South Africa, will be seen at the Cooper Hewitt Design Triennial in 2016.
Pearl Lam, in her U.S. art fair debut, displayed work by prominent artists such as Jenny Holzer and Chicago native Carlos Rolon/Dzine. Ms. Lam's booth offered wide-ranging and genre-crossing work, including illuminated vertical sculptures made of colorful commonplace plastic dishes by Korean artist and designer Choi Jeong Hwa, an artist who is simultaneously exhibiting a site-specific public artwork at the Peninsula Chicago hotel in conjunction with the fair.
Exhibitors like Seattle's Greg Kucera are new to Expo but could be considered veterans of the Chicago art scene. Mr. Kucera first exhibited in Chicago in 1985 when the city's biggest art fair was the now defunct Art Chicago. He last showed at the Merchandise Mart iteration of the fair in 2008, and has returned, not only at Mr. Karman's encouragement, but because business in the Midwest was always really good, he told us.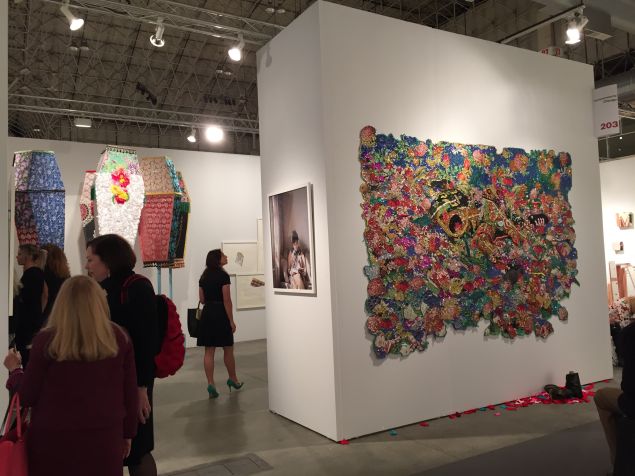 On Chicago's long-running history of fairs, Mr. Kucera said, "Tony Karman took all the things that worked for Art Chicago and made it happen here at Expo."
Dealer Charlie James out of Los Angeles echoed Mr. Kucera, saying that "Chicago has always been good to us." Mr. James returns to Expo for the third year in a row, showing in the Exposure section (for younger galleries), and having previously shown with Next Chicago—which was the next iteration of Art Chicago—which shuttered in 2012.
"It's a truly meritocratic environment to show in," said Mr. James who is showing bright, vintage-styled neon signs by Steve Lambert with witty tag lines like "Tell The Truth" and "It's About Power" alongside interactive works that encourage visitors to adorn themselves with equally cheeky stickers by Jennifer Dalton.
"Accessibility is big here," said Mr. James, who offered eye-catching works with prices for collectors in all tax brackets. Artworks in the booth top out at $15,000 and by mid-preview day, he was happy to have sold several.