"It's a new area called Hudson Square, an enclave within West Soho," Elida Jacobsen Justo, the director of sales at Extell Development's 70 Charlton, told the Observer this week as we walked through the sales gallery.
New might not be the word we'd use to describe an area whose development dates to the colonial era—even the name dates to the 1980s, but developers do have a habit of believing they've discovered virgin land. And residential development is, at least, of very recent vintage.
"All the infrastructure is here, everything you need for residential was here—besides residential development," Ms. Jacobsen Justo continued.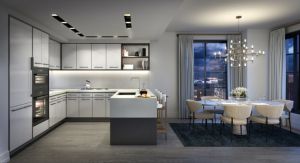 The development is the first new construction since Hudson Square's 2013 rezoning; architecture firm Beyer Blinder Belle created a "very linear feel. It's intended to look like an older, industrial-style building, with red brick, and the metal is zinc, and the windows around the doorframes are painted steel," Ms. Jacobsen Justo said, "Workshop/APD are the interior designers, and they've taken that linear look and given it a little bit of a twist."
The development is made up of two buildings, connected through a breezeway in the lobby. It will consist of 92 residences for sale, as well as 29 units of affordable housing on the lower floors of one of the towers, which have similar finishings to the market-rate apartments, but with lower ceilings. As of this week, concrete has been poured up to the eighteenth floor, and occupancy is expected for mid-2016–as of now, anyway.
The units go from one-bedrooms to four-bedrooms, and range in price from $1.5 million to $7.1 million. There are also three penthouses, two of which have outdoor space, which will be priced between $4.9 million to $11.9 million.
The kitchen cabinets are "all custom made, with either white lacquer or black. All the trim is done in steel," Ms. Justo added. "It's a nod to the industrial feel of the neighborhood." Each unit is also equipped with Miele appliances and a washer and dryer.
The full-service doorman building includes amenities like a lounge that opens to the courtyard between the two buildings, a catering kitchen, a 5,000-square-foot fitness center and a 60-foot indoor saltwater swimming pool.
Sales launched in June, but Extell declined to provide any figures on how sales have been going. The building is expected to top out next month.
The Far West side has received a wave of interest of late, especially with the Hudson Yards and West Chelsea development booms, though Ms. Jacoben Justo opined that Hudson Square was the least-known of the Western neighborhoods, returning again to the theme of its "newness."
Hudson Square is "kind of is own, new area," she said. "It'll be interesting to see what confluence comes into the area. When it's all done, there will be thousands of residential units here."