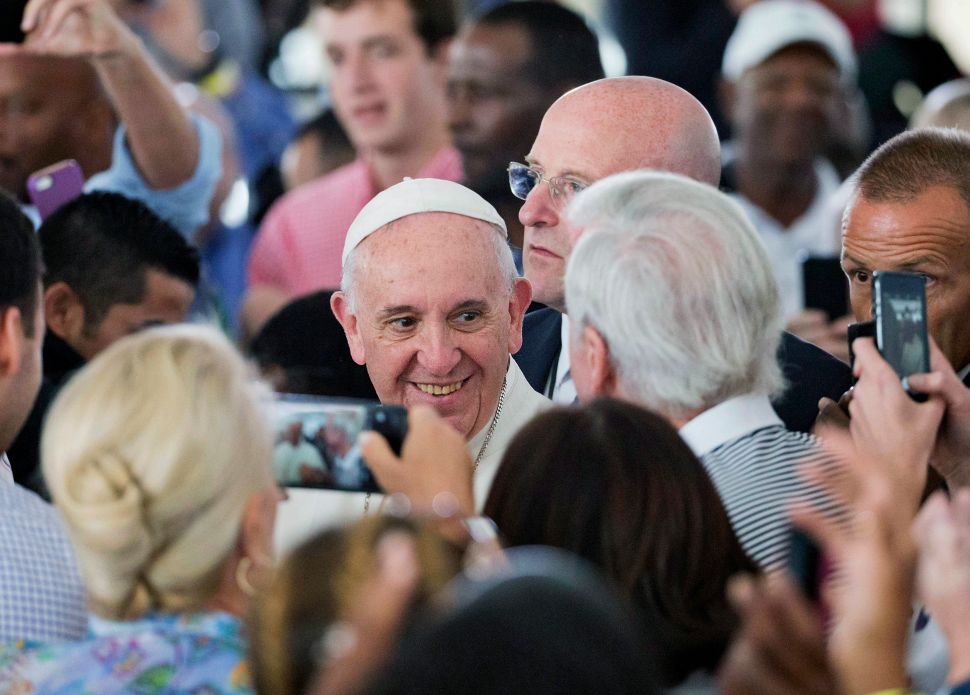 With His Holiness making his first visit to our nation this week, social media has been overwhelmed with reaction, commentary and moments from Pope Francis' travels through major East Coast cities. Fourteen million people have had more than 30 million interactions on Facebook about the Pope's visit, according to a spokesperson for the company.
Facebook counts interactions as posts, likes and comments. These numbers take all of these into account, so many people may have only liked other people's Pope posts.
The total volume of Facebook conversation has been the strongest in New York City, but we also have by far the most people of any city he has visited in the United States. As a proportion of the city, Washington has shown the most interest in the papal tour, the Observer has learned. The top five cities, ranked by percent of the population talking about the pope on Facebook, were as follows:
1. Washington, DC (13 percent of residents)
2. Philadelphia, PA (11 percent of residents)
3. Fredericksburg, VA (9 percent of residents)
4. Wilmington, DE (8 percent of residents)
5. Pittsburgh, PA (6 percent of residents)
With the news that Speaker John Boehner decided to resign following meeting with the pontiff one on one, conversation is likely to stay unusually strong in that city.
Facebook is able to track this information with a bit more resolution, as well. Staten Island led the boroughs in papal interest, with 11 percent of its population talking about him. Alexandria, Virginia, stood out, as well, with 17 percent of its population talking about the papal trip.
Facebook is providing more resources to gauge public opinion with data users volunteer on the site. Following the last Republican debate, Facebook Signal, a new tool for journalists from the company,  showed interest in Carly Fiorina's presidential candidacy surging on social media.