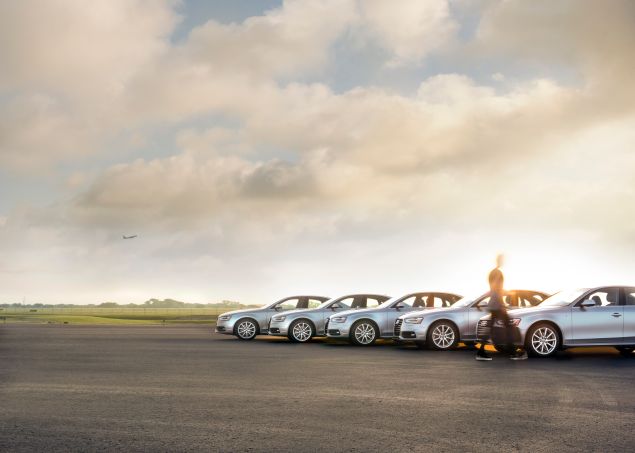 Need a stylish escape out of New York City for a foliage-filled weekend in Upstate New York? Or, should a trip to go apple picking in Hudson Valley pique your interest? Regardless, Silvercar is bringing their Audi-stocked pop-up back to New York, just in time for autumnal adventures.
Called the Easy Out, the luxury car rental company is offering their fully-loaded Audi A4's to be rented for $79 per day on the weekdays and $129 on Saturday and Sunday. The pop-up officially started yesterday, September 28, and will continue through the end of 2015.
The biggest change from Silvercar's summer pop-up—aside from the slight price increase–is that the pick up location for cars has been moved into Manhattan proper. Squad of actual silver cars were previously located in front of the McCarren Hotel, but can now be picked up at the (aptly named) Silver Towers building, at 600 West 42nd Street. Like the previous pop-up, the brand's app will be used to unlock the cars and still requires contacting the personal concierge, through the app, to remind them of the driver's arrival.
Describing why the company has reintroduced Silvercar to New York, CEO Luke Schneider noted that customer response played a big role. "We were thrilled at the response we received from New Yorkers this summer. We now know just how much these folks value their time and a streamlined experience that allows them to make the most of every weekend," he said in a statement.
Silvercar has further sweetened the deal by partnering with The Arnold House, a quaint Catskills hotel. The 10-bedroom inn has created a driving tour that will guide guests through the most scenic foliage spots on the route between NYC and the hotel, located by Shandelee Mountain in Livingston Manor.
If that doesn't give you the itch to plan a weekend escape, we're not sure what will.