Watch companies are wising up to the fact that, as the Chinese say, "Women hold up half the sky." Runways and street style are creeping in to influence watch design. It is no longer enough for the manufacturers to offer the same luxury timepiece in male and female versions.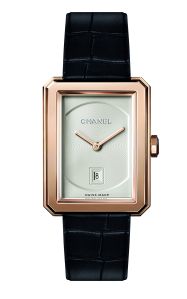 Designed for Women
Influenced by the trend in denim jeans for a loose, rolled-up cut with a borrowed from a boyfriend look, Chanel introduced the Boy.Friend watch. Inspired by the well known Chanel No. 5 octagonal-shaped bottle stopper, the watch is very feminine, yet has classic masculine design codes. For Chanel, this matches perfectly with Coco Chanel's approach to fashion, as she famously incorporated pieces from masculine wardrobes into her collections for women. The new Boy.Friend is powered by a mechanical movement (it's also available in a quartz version).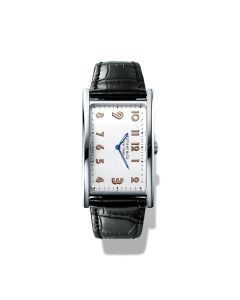 Truly Unisex
The new East West is a prime example of Tiffany's long history of watchmaking innovation. Designed to be unisex, it is more than just a man's watch with diamonds.
"Today, women are looking for all size dials and unique design faces," explained Jeff Bennett, market vice president, Tiffany. "The oversize watch trend for both men and women is waning and we have found that women are looking for watches that are unisex. At the same time, women are increasingly appreciating quality craftsmanship. The East West speaks to our long history in NYC and it changes the rules of watchmaking in a unique way, with the rectangular case, turned on its side, and with a black, white or blue dial. It's a new way of reading time." Inspired by a purse watch sold by Tiffany in the 1940s, the new East West collection starts at $3,500. 
Innovative fabricators Rado have restyled the company's collections to capture the fashion segment of the watch market.
"For many years now big watches have been a 'must have' for the fashion conscious, but now we're seeing a tendency towards smaller watches for women," says Matthias Breschan, president, Rado. "We're also seeing an increased demand for more sustainable, everlasting materials—a demand that we're meeting with our high-tech ceramic material, which is both hypoallergenic and scratch resistant. "We are constantly watching the market and innovating," he continues. "Groundbreaking materials such as plasma high-tech ceramic tend to set trends."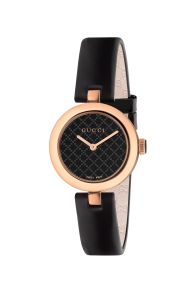 Feminine Elegance Reimagined
As women's watches have come down in size, Gucci has responded to the renewed interest in more elegant and minimalistic designs. Timepieces feature classic silhouettes and reinterpreted iconic design touches. Gucci was one of the first to enter the watch world. With its watchmaking headquarters in Switzerland along with the world's finest producers, Gucci is producing high-quality watches.