Stephen J. Dubner, co-author of the bestselling Freakonomics books, has reached what is perhaps the height of 21st-century literary achievement: he's brought the short story to the burrito-consuming masses.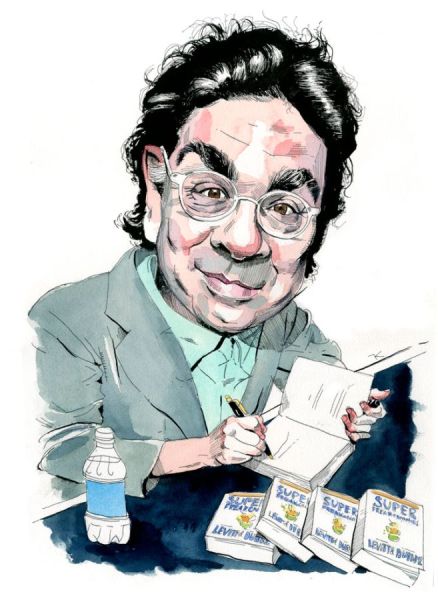 Mr. Dubner, 52, has published a story on Chipotle's bags as part of the burrito chain's Cultivating Thought series, which is edited by the novelist Jonathan Safran Foer. With this contribution, Mr. Dubner joins the likes of Jonathan Franzen, Lois Lowry and Colson Whitehead, all new Chipotle scribes.
"The world is complicated," Mr. Dubner's matter-of-fact story (which you can read here) begins. "But does every problem require a complicated solution?" It goes on to discuss a guy named Steve who has a sore right hip and sees two orthopedists. The first, Dr. Wankblatter, suggests costly surgery after an X-ray reveals that nothing is wrong. The second, Dr. Geller, has a more practical suggestion, which works. "So here's to Dr. Geller, for seeing the simple solution," Mr. Dubner's story concludes.
In an email exchange, Mr. Dubner discussed the tale.
Do you think people will interpret your story differently when they're hungry?
I have no idea but I love love love that question. Although, when you think about it, by the time they see the story, they are probably already at least a few bites into their burrito or bowl or whatever. So, maybe, since the first few bites of *anything* are pretty amazing (at least if it's good, and if you're really hungry), they will in the future associate my little story with that first-few-bites euphoria.
How'd you come up with the story?
I spent an embarrassingly long time thinking about what might make a good two-minute story, which is what Jonathan Safran Foer (and Chipotle) were looking for. And I wanted there to be a worthwhile takeaway. As is often the case (for me, at least), life is more compelling than fiction, and the story that I wound up writing is something that happened to me, pretty much exactly as written (except that the rotten doctor wasn't really called Dr. Wankblatter, which is probably obvious). To me, the story illustrates something that is easy to lose sight of in a noisy world: complicated solutions, usually pitched by vested interests, aren't necessarily better than simple ones.
Have you gotten any feedback?
I have heard from several people who eat at Chipotle and now consider me worth hanging out with since they saw my story on their burrito bag.