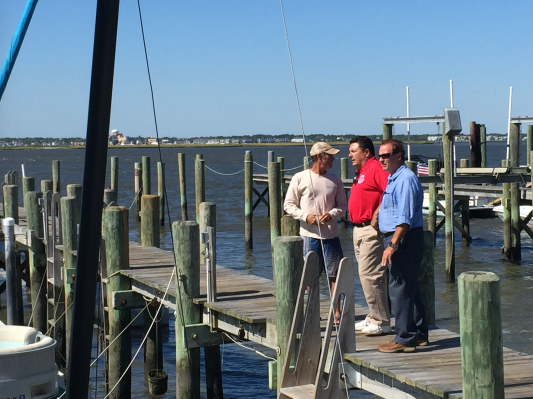 OCEAN CITY – Republican Assemblyman Sam Fiocchi (R-1) and his running mate in his reelection bis Cumberland County Freeholder Jim Sauro toured the first district's marinas Monday on an itinerary that took them from their home turf of Cape May all the way to Ocean City.
PolitickerNJ caught up with Fiocchi and Sauro at their visit to the Bayview Marina, where they spoke with local business owners about the district's most pressing issues. Fiocchi's platorm promises to expand recent tax cuts to all boat owners and bring his and Sauro's business experience to bear on efforts to make South Jersey more affordable and more alluring for new businesses.
When asked what the most important factors will be for the region as it tries to rebuild after the twin fiascos of Atlantic City's decline and the state's overall financial straits, Fiocchi said that appealing to outsiders and working to grow the first district's aquaculture industry will be crucial.
"Tourism is number one, no question about it," he said. "That industry is growing. We're always trying to find a ways of expansion and so forth, expansion of the season, and aquaculture will be part of that."
Both Fiocchi and his Democratic opponent Assemblyman Bob Anderzejczak have stressed the importance of growing aquaculture and oyster farming in light of states like Maryland and Virginia's success with similar ventures over the last few years.
Fiocchi and Sauro recently criticized the Democratic side's treatment of the issue when they decried Anderzejczak Senator Jeff Van Drew's (D-1) Economic Development Task Force as too slow-going.
"The Democrats announced these task forces to great fanfare and talked about the dire straits South Jersey's economy was in – and then they held three meetings over the next 16 months while taxpayers and businesses down here continue to suffer," said Fiocchi at the time.
Sauro said that he and Fiocchi would bring a greater quotient of business experience to the state Assembly, adding that they have a unique understanding of LD1 residents' need for measures like Governor Christie's decision to expand tax relief for boat-owners last month.
"You learn from them what efficiencies we have — like for instance, this tour here. I learned a lot," said Sauro of the business owners the candidates had spoken to.
In what is sure to be a low-turnout election with the Assembly at the top of the ticket and no presidential or gubernatorial candidates headlining, the candidates' focus on the ground-level difficulties of their constituency could pay off.
Citing strict environmental regulations and a lack of dredging that has left boat-owners and marina owners with unreliable waterways, Sauro said that "the DEP is never the same, every time you go and talk to them."
"Until we start being more consistent in our rules and regulations, businesses are going to shy away from us, he added. "Being on all these different committees, you learn," said Sauro of his time on the board of freeholders. "And you learn that the main thing is consistency."