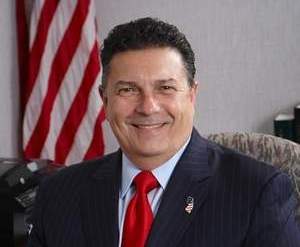 Assemblyman Sam Fiocchi and running mate Cumberland County Freeholder Jim Sauro today called for the Cumberland County Board of Chosen Freeholders to repeal its resolution in support of allowing driver's licenses for undocumented immigrants.
"I have good friends on that Freeholder Board, but they are dead wrong on this issue," said Fiocchi in a statement.  "Giving legal driver's licenses to illegal immigrants makes no sense."
"It sends a terrible message," he added.
Fiocchi had previously voiced his disapproval of the resolution, and his state Assembly rivals Bob Andrzejczak and Bruce Land followed suit soon after.
"At our very core, we are a nation of laws, and those laws must be followed," said Andrzejczak and Land in a statement. "We strongly disagree with our Freeholders' decision to act on a resolution that runs counter to the laws of our nation."
Cumberland County and other rural areas in the first district have seen a notable increase in their Latino communities in recent years. The decision to call for a repeal could be a risky tactic in a district whose demographic makeup has changed so significantly.
Sauro was the lone dissenting vote on the board when the resolution passed in August. Vineland Mayor Ruben Bermudez, who is the first Latino mayor in his city, said that he supported the resolution on a local radio show.
Fiocchi and Sauro's campaign is urging residents in the Cumberland County to attend the next scheduled meeting of the board on Tuesday, September 22, 2015 at 6pm. The meeting will be held at the Cumberland County Administration Building located at 164 West Broad Street, Bridgeton, NJ.