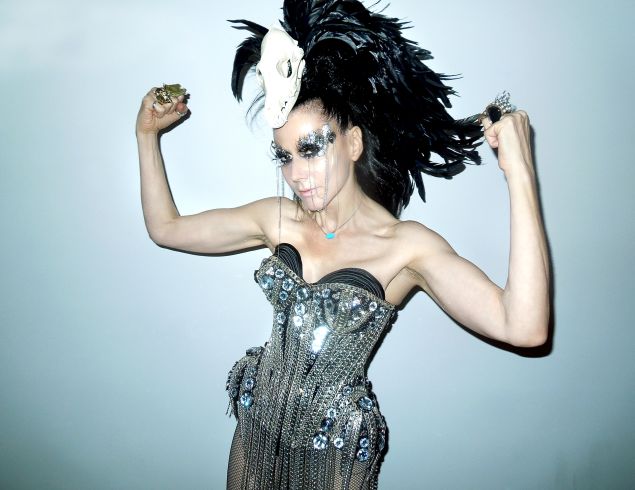 "Fashion Underground: The World of Susanne Bartsch," which debuts today at the Museum at FIT in Midtown Manhattan, focuses not on a designer or thematic fashion idea, but on a woman who embodies the idea of the fashion muse. Curated by Valerie Steele, the exhibition takes viewers on a whirlwind tour of Susanne Bartsch's 30-year career as a fashion renegade, avant-garde boutique owner and spectacular party-thrower. These extravagant parties, filled with gyrating bodies in outlandish clothes, were nightly spectacles of performance art. Hosted at various venues, such as Savage, Copacabana and Le Bain, the parties attracted the fringes of the fashion world—"the people who are obsessed with fashion who might not be professionals," said Ms. Steele.
In life, Ms. Bartsch has always engaged in, "the art of dressing, [of] transforming yourself," she said, and the exhibit is filled with her clothes (Ms. Bartsch estimates around 50 percent of her wardrobe is on view at the exhibit). She has inspired countless designers and makeup artists with her theatrical style, commissioning the creative minds that attended her parties to create futuristic, surreal and exotic ensembles.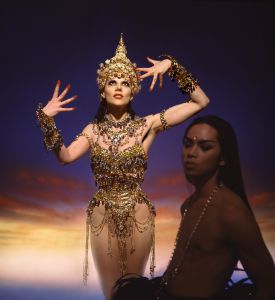 As early as the age of 8, Ms. Bartsch developed a love for adornment. A budding nonconformist, she refused to wear the exact outfit her exasperated mother laid out for her each morning, selectively culling through the garments chosen  to create her own unique look. She rebelled against the conformist mode of Swiss middle-class life. "I knew there was more to life than what I was 'supposed' to be doing…I knew that I had something in me that I needed to find," she said. So at 17, she escaped to London, became prominent in the Swinging London  scene and fell in love with British fashion. Ten years later, in 1981, Ms. Bartsch arrived in New York and opened up a boutique in Soho,  one of the first to import British designers such as punk priestess Vivienne Westwood, a fledgling John Galliano and mad-cap milliner Stephen Jones. By 1986, Ms. Bartsch was throwing the extravagant parties and fashion shows that crowned her queen of New York City nightlife.
Divided into three parts, the exhibition takes the viewer on a chronological tour of Ms. Bartsch's fantasy world. After passing a wall of graffiti, mirroring the urban, underground nature of her famed parties, you enter the surreal décor of her downtown store filled with Galliano, Leigh Bowery and Stephen Jones-clad mannequins. The main and largest section is a kind of tableau vivant of an underground club—steel mesh elevated platforms, disco balls, video projections, even a rotating circular platform showcasing her glitteriest ensembles as they sparkle in the shifting light. Then,  you end the tour in the red, minimalist oasis of Ms. Bartsch's sanctuary: her home, filled with an array of looks she currently wears.
Highlights of the exhibit include a refurbished Thai headpiece and gold corset designed by Mr. Pearl, dripped and studded with crystals; a nude, leather body suit with articulated nipples and a structured mesh egg-shape veil designed by Thierry Mugler and worn by Ms. Bartsch at her wedding; a BDSM-like equine leather corset designed by Abel Villarreal with a thick, synthetic horsehair tail attached to its backside and synthetic mane headpiece.
In a world that is increasingly commoditized and neatly packaged, the fantastical nature of Ms. Bartsch's clothes is refreshing. Said Ms. Steele, "The fashion world has gotten very, very homogenous and corporate, and there's a certain free-wheeling quality to the work that you see here, which is very different."
"Fashion is art, really," said Ms. Bartsch. If fashion is analogous to art, then Susanne Bartsch is the penultimate canvas. Her lithe body and delicate androgyny allow clothes to transform her into, "a 1960s supermodel like a Peggy Moffit one day or a Marie Antoinette creature [or a] punk Victorian, the next" said Ms. Bartsch.
While Ms. Bartsch's visually seductive garments are a huge part of her allure, her true genius also lies in her ability to network. She commissioned now-legendary corsetiere Mr. Pearl to create extravagant bejeweled corsets for her, and then introduced him to Thierry Mugler, who hired him. That lead Mr. Pearl to Paris, where he created corsets for Chanel and Dior. "You begin to see that places like her little shop, or her club nights, were like petri dishes where all kinds of talent could grow and some of them could develop reputations and meet other people… It's almost a kind of laboratory for fashion," said Ms. Steele.
The Museum at FIT is open Tuesday-Friday from Noon-8 p.m., and Saturday from 10 a.m. – 5 p.m. and is located at:
Seventh Avenue at 27th Street, New York City, 10001-5992