September was a good month for Derek Blasberg. He penned the cover interviews for Glamour and Love magazines, as well as designer profiles inside the pages of V magazine and Architectural Digest. He launched a book and took on a new role as Vanity Fair's "Our Man on the Street," where he will chronicle the world's most fabulous people and events. Yet, for all the hustle, much of the media coverage surrounding his recent achievements was tagged with such labels as, "Party fixture, Derek Blasberg" or "Perennial party boy, Derek Blasberg." Whether a result of lazy journalism or mindless filling, the headlines left him dumbfounded. "I'm not offended but sometimes it undermines all the hard work I've done for so long," Mr. Blasberg said over a pre-Fashion Week lunch near his Chelsea home. "Sure, I like to go out and have fun, but in a professional context, it would be great if someone once referred to me as an editor, or writer, or best-selling author."
Of course, there are worse things than being considered popular, and upon glancing at Mr. Blasberg's Instagram account, or at his over 2,000 photos on BFA.com, it is little wonder that the public may forget he regularly sings for his supper. It just so happens that his work covering the most fashionable people in the world often includes hanging out with them, too. This can mean attending a runway show with Kendall Jenner or escorting Kate Upton to a party, whatever, it is all carried off with his signature friendly aplomb and camera-ready smile. After all, what is Instagram if not a platform for users to showcase their most fabulous moments? "I get that I'm photographed being out and having a good time and that people make associations, but you can't take that stuff too seriously," he said. "A lot of it is filtered."
If Mr. Blasberg still feels he has something to prove, he need not worry. Since leaving St. Louis for New York 15 years ago, Mr. Blasberg hasn't gone a day without working—from unpacking samples as an intern at W, to filing hourly posts at Style.com, to his current role as a senior staffer at the Gagosian Gallery. He has even written a couple of New York Times best-selling books on etiquette. All the while, his Midwestern charm, upbeat attitude and relentless drive has built him a vast network of powerful friends and contacts who have not just offered him access to their elite circle, but made him a part of it. Now, with the launch of his first-ever coffee table book, a role on a new talk show and his name on the Vanity Fair masthead, Mr. Blasberg is looking way past his party boy persona and into the future as a multi-media brand.
In true Blasberg form, he doesn't just admire these models from afar; he calls many of them friends.
Mr. Blasberg identifies as a writer first and foremost, one who seeks out intriguing stories in fashion, art and culture. To wit, his new tome, Harper's Bazaar: Models is a history through the lens of American fashion, complete with iconic photos of everyone from Suzy Parker and Jean Shrimpton to Gisele Bündchen, Naomi Campbell and Linda Evangelista, all shot by top fashion photographers including, Richard Avedon, Peter Lindbergh and Francesco Scavullo. For Mr. Blasberg, the book brings his childhood passions full circle. "I grew up tearing out these pictures from magazines and putting them on my wall. My mom was horrified," he said. "The book was an opportunity to continue to do that but in a more organized fashion and find out a lot about these women." In true Blasberg form, he doesn't just admire these models from afar; he calls many of them friends. He's been known to party on yachts with Ms. Campbell and he escorted Ms. Evangelista to a fashion show two years ago. "Both of our dates for the Proenza [Schouler] show had canceled, so through friends we were connected to attend the show together," Ms. Evangelista wrote in an email. "I found him to be so charming and very funny."
Call it the Blasberg business model—a non-strategy strategy, where he's able to call upon the relationships he's honed over the years to create meaningful work for himself. This fall, he'll be starring alongside Rachel Zoe—also a close friend—on a new show, Fashionably Late, which premieres late September on the Lifetime network. The half-hour talk show will give viewers a look into top trends and what's hot in fashion, beauty and culture. Though Ms. Zoe said she interviewed several candidates, she always had Mr. Blasberg in mind. "We wanted someone who could be contrarian to me, someone who never says what's expected or scripted, and someone who is quick, witty and savvy," Ms. Zoe said. "I only hoped in the audition that he'd be all of that, and he was."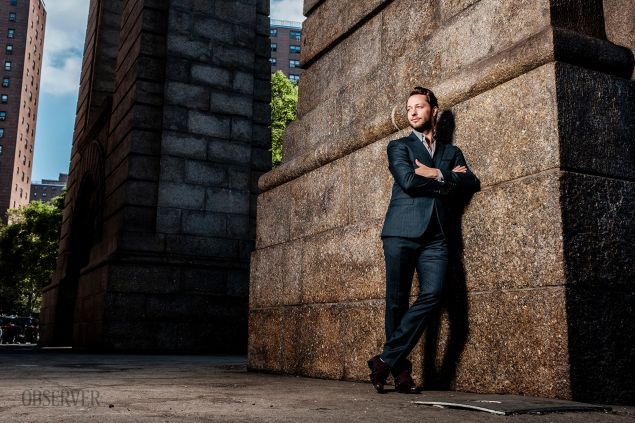 In 2014 Mr. Blasberg surprised many of the party boy label makers by taking on a role at the Gagosian Gallery, the Contemporary art mecca on the Upper East Side. What few people know about Mr. Blasberg is that his first love is actually art, not fashion. As a child, he studied every summer at the St. Louis Art Museum, taking photography classes, making his own art and attending lectures. "The idea of existing in your own small arena is an antiquated way to look at the world," said Mr. Blasberg. "Everyone needs to have their fingers in as many pots as they can, so maybe that's what I'm doing. I can't just be a book author." The role is another proverbial pot for Mr. Blasberg and further reflects the notion that art, fashion and culture are totally interconnected. At Gagosian, Mr. Blasberg works closely with the publications department. He edits and writes for the quarterly magazine and the website, where he does a feature called "In Conversation" with collectors and artists such as Marc Jacobs, Agnes Gund and architect Annabelle Selldorf. 
Gallery director Larry Gagosian recalled being surprised when his girlfriend suggested he hire Mr. Blasberg. But the more the two explored how they could work together, the more sense it seemed to make. "At first I didn't know how our artists would react to Derek, but that's what happens when you bring someone in from left field," Mr. Gagosian told the Observer. "There was a bit of skepticism initially but once they got to know him, they saw how engaged he is and how much he contributes. Derek is a bright guy and he's wired in the right way. He's naturally curious about culture and he lives it."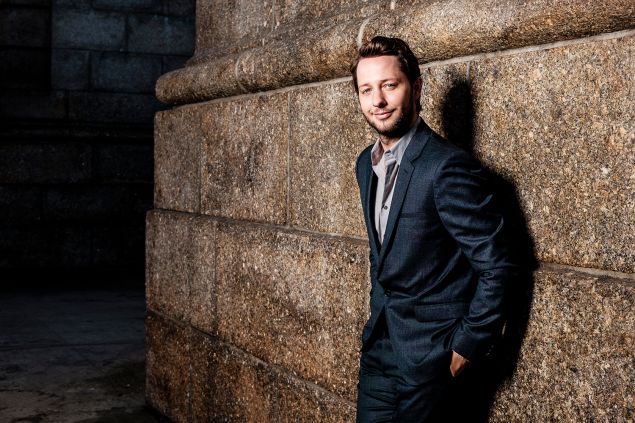 Mr. Blasberg lived a quintessentially suburban life growing up in south St. Louis, with older brother Christopher and parents Carol, an editor of a medical journal, and Bill, a now-retired controller. He played sports in school and water-skied on the Lake of the Ozarks in the summer. He also knew he was meant for a bigger life than what Missouri could offer him. When he was 12 years old, he visited New York for the first time and instantly felt like he belonged. Six years later, upon arriving at NYU, he befriended a model named Saskia, who lived directly below him in his dorm. One evening out, he happened to meet her agent at Elite Model Management, who asked him what he wanted to study. When Mr. Blasberg mentioned journalism, he offered him a job writing biographies for their roster of models. "I moved here and immediately discovered this whole fabulous industry," said Mr. Blasberg. "It was the thrill of lights going down at a fashion show before it began. The excitement watching a girl get transformed on a white background and making a picture come alive. I was all over it."
In his sophomore year, Mr. Blasberg studied in London while writing at Models 1, an agency there. Back at NYU, he interned at W magazine. Upon graduation, he got a job as an assistant at Vogue and after one year there, began freelancing for the magazine's international editions. He began writing for V, Interview magazine, Style.com and Harper's Bazaar, where he recently left his post as editor-at-large. Along the way, he met and partied with powerful people, like Lauren Santo Domingo, WSJ magazine editor Kristina O'Neill and Dasha Zhukova, founder of the Garage Museum of Contemporary Art in Moscow. While Mr. Blasberg is a popular escort among a swath of glamorous women, for whom he'll graciously hold a clutch or a train, it was these three friends with whom he entrusted his image and career. "They never let me veer too far from what they thought was the right path for me," said Mr. Blasberg, who emails with Ms. Santo Domingo multiple times each day. "The nature of our relationship is so fluid and open." He also cites editors like William Norwich and Bob Colacello as mentors and he is refreshingly traditional when it comes to the ever-evolving role of print journalism in media. He would happily become a top editor at a few select publications, eschewing the idea of being a "blogger" or social media wunderkind. "I used to like to be called a blogger because it made me feel young," Mr. Blasberg joked. "Yeah, I'm a blogger. I'm 18 and I live in my parents' basement."
Looking forward, Mr. Blasberg's calendar is already filling up with the hottest social events around the world. There are the prêt-a-porter shows in Paris and the opening of Mr. Gagosian's London gallery on October 10. There's the WSJ Magazine Conference in Laguna Beach, the art auctions back in New York and Art Basel in Miami. While Mr. Blasberg makes it a point to visit St. Louis for Christmas, it won't be long before he's back in the air, filing stories as he jets to Aspen or St. Bart's for the superstar-of-the-moment's New Year's party.
For now, Mr. Blasberg is busy enough. Between two jobs and his own enterprises, his hands—and pots—are full. Though perhaps he'll write a fourth book on how to be the most popular person in the room. He already has a few tips. "It's about being polite and discreet while having fun," Mr. Blasberg said. "I always say that if you want to be a guy people want to have around, you have to act like a guy people want to have around."