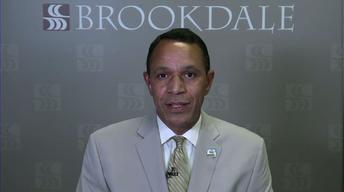 The former Mayor of Asbury Park wants to run for governor in 2017.
"I'm very seriously thinking about it,"  Ed Johnson, 53, told PolitickerNJ this morning.
He's rested.
"I have a natural tan," he cracked.
And he feels he's ready.
"I know a little about raising cities from the dead, and I know about staring down Hurricane Sandy," said Johnson, who runs his own private consulting firm. "There are no greater troubled waters than our state right now. Whether it's Democratic or Republican it just keeps going.Everything I've done, people said 'you can't do that,' and we did it. People now say the state is too far gone, too broken, it can't be fixed. I think it can be. I'm not saying I've made a final decision. It would be a wildcat, barn-burner election, no question, but the people must regain control of this state."
What about money?
"That's another unanswered question," the former mayor admitted.
Johnson served as chairman of the local Urban Enterprise Zone (UEZ) starting in 1998. He did three tours of duty on the council before serving as mayor for four years before the end of his term in July of 2013.
He says his seaside town felt longtime division: Italians versus Irish, Blacks versus Whites, Gays versus Straights. The political science professor at Rutgers, Brookdale and Monmouth claims his leadership cut through that stagnation to produce lasting change in Asbury Park.
"It was a matter of trust," Johnson said. "The level of corruption rivaled anywhere in the world. Now in Asbury Park, you can see the effort of our team. We all played an important part."