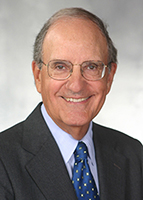 Former U.S. Senator George Mitchell, a peace negotiator in Ireland and the Middle East, will be a guest at Rutgers University's Eagleton Institute of Politics this fall.
Mitchell wrote The Negotiator and will be available at the institute on the evening of October 29th to discuss his book and sign copies.
For more information about the Mitchell event and other upcoming Eagleton programs, go here.