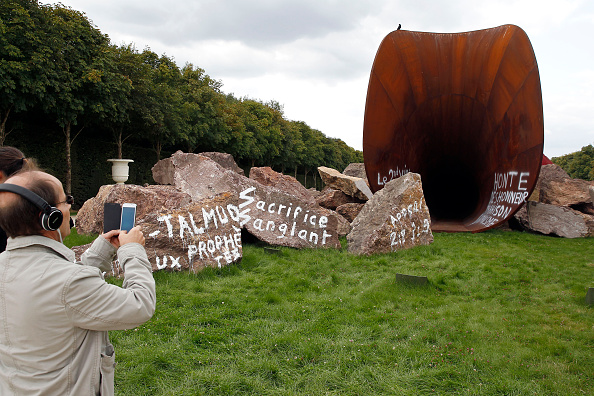 Anish Kapoor's monumental steel sculpture at the Chateau de Versailles—which the artist has described as "the vagina of the queen"—is once again the target of vandalism, this time racist graffiti likely done by a small but active group of cultural conservatives.
Anti-Semitic slurs and slogans were scrawled in white paint on the interior and exterior of the steel sculptures, as well as on the large stone boulders surrounding the piece, which is titled Dirty Corner.
Editor of French magazine Beaux Arts, Fabrice Bousteau, told The Guardian that the graffiti was likely the handiwork of the country's right-leaning political party Front National. Mr. Bousteau suspects that targeted acts of vandalism on public artworks in recent years have coincided with rising support for the group.
"There is a minor faction of the French population that is fascist about culture and especially about what it considers to be degenerate art," he said.
Mr. Bousteau highlighted a similar attack from in 1985, when a public installation at the Palais Royal in Paris by artist Daniel Buren was covered with anti-Semitic phrases, some of which targeted then-Socialist Party culture minister Jack Lang.
And in October 2014, an installation by American artist Paul McCarthy at Paris' Place Vendôme was vandalized for its sexual connotations, and the artist was assaulted.
"Each time the vandalism is against a contemporary work in a symbolic place open to the public," Mr. Bousteau said
French president François Hollande took to Twitter to defend the artist and his work, saying "all my solidarity to Anish Kapoor, whose artwork was degraded and covered with hateful and anti-Semitic inscriptions."
The first incident of graffiti on Mr. Kapoor's Dirty Corner, committed in June, did not feature any written inscriptions. The work was sprayed with yellow paint, which exhibition attendants were luckily able to clean off.
Mr. Kapoor said in an interview with French newspaper Le Figaro that he planned to let the graffiti remain on the artwork.