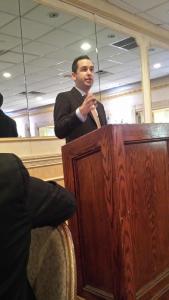 Jersey City Mayor Steven Fulop's labor breakfast had more than 100 attendees this morning in Bayonne. Representatives attended from 20 unions with representatives from Hudson County Building Trades, SEIU, IBEW, UAA Plumbers Local 24, Teamsters, Laborers, Carpenters and State PBA.
Some notables present included John Wende of the Pipefitters, Kevin Brown of SEIU, Paul Nunziato of the Port Authority PBA, Hetty Rosenstein of CWA, Eric Boyce of the UA Plumbers, Susan Cleary of AFSCME, Lizette Delgado from SEIU, Pat Kelleher of the Hudson County Building Trades and Ray Greaves who serves as Chairman of the ATU State Council.
Greaves introduced Fulop.