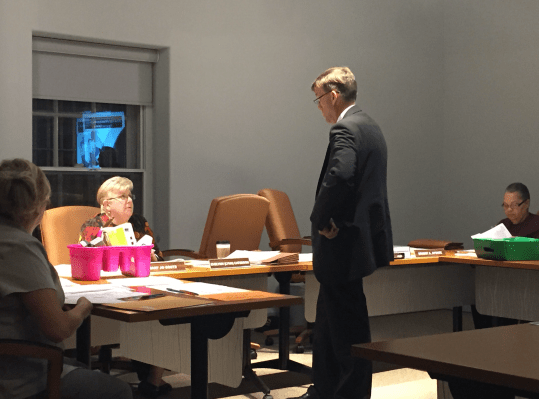 MAYS LANDING – The Atlantic County Board of Elections met Tuesday night and discussed the controversial applications for mail-in ballots that the Democratic-allied General Majority PAC sent out to voters on the behalf of Assemblyman Vince Mazzeo (D-2) and his running mate, Atlantic County Freeholder Colin Bell.
Former congressional candidate William J. Hughes Jr. was at the meeting to represent the PAC, and to voice his opposition to Atlantic County Republican Chairman Keith Davis's recent public call to disregard all applications from those mailers because of New Jersey statutes requiring that any person assisting the voter in the application provide their name, address and signature on the application.
The mailers to potential voters in the second district came with addressees' names and addresses already printed on the applications for mail-in ballots. Hughes argued that printing the names and addresses of recipients on the applications does not qualify their group as an "assister" by the the statute's definition.
"If you acquiesce to Mr. Davis' challenge, you will soon be inundated with challenges asking that others performing ministerial acts throughout the process also be required to affix their signatures to the applications," said the General Majority PAC counsel Ezra W. Reese and Colin Z. Allred in a letter to the board members.
Chairperson Evelyn Caterson and Commissioner Ernest A. Aponte moved to draft a bipartisan response to Davis urging him to refer his objections to the Atlantic County Clerk and not to the Board of Elections, which the rest of the board approved. Caterson repeatedly voiced her opinion that the controversial mailers do not fall under the board's jurisdiction.
The board rejected a motion from Aponte to draft a statement saying that Davis' challenge was without merit.
"I don't want to rule substantively, and by saying it's without merit we're making a substantive statement," said Caterson, reiterating that the PAC mailers and the challenge fall under the jurisdiction of the County Clerk and the Superintendent of Elections.
No members of the public were present at the meeting.