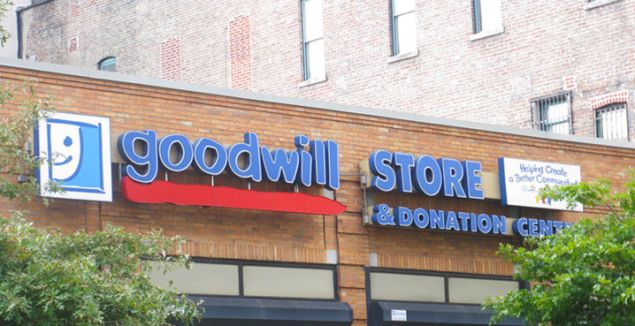 New York may once have been a city for the very rich and the very poor, but the poor, very and otherwise, have been finding New York residency an increasingly untenable position of late. As the New York Post reported today, as many as 300 municipal workers are homeless, more than half of New Yorkers are rent-burdened (paying more than 30 percent of their income on rent) and the city's homeless population continues to surge. Not even the thrift stores cater to the truly thrifty anymore.
The shuttering of Greenpoint's Salvation Army last week marked the latest step in the nonprofit's ongoing retreat from Brooklyn's gentrifying edge—a strategy that in addition to being a savvy real estate move (it sold its Williamsburg store last year for $36.1 million)—either wittingly or not says a lot about the nonprofit's capitulation to the borough's, and the city's, shifting demographics.
As Crain's noted in their story about the shop's closure, it was North Brooklyn's last remaining Salvation Army store; the thrift chain is also  selling its large Clinton Hill building and sorting center, which was reported to be in contract for some $30 million this spring (condos are predicted). In its place, a much smaller Salvation Army store opened down Fulton Street in Bed-Stuy.
The nearby Goodwill store by the Franklin Avenue C train stop also closed this summer—landlord Bawabeh Brothers plans to build a new five-story building with a charter school, retail and medical offices—a formula he's pursued in the past with his other properties along the retail strip. As Brownstoner noted, a marketing brochure boasted of the neighborhood's transformation: "Neighborhood gentrification is inevitable and moving quickly."
Thrift stores, it seems, have also decided to treat gentrification as a foregone conclusion.
In the more expensive neighborhoods where Goodwill and the Salvation Army remain, they have moved toward higher-end "boutiques" in the Housing Works model, where the comparatively prosperous can be found hunting for designer cast-offs that easily exceed $100. Last week, Goodwill opened a 4,800-square-foot Union Square boutique with hardwood floors and vintage light fixtures, Crain's reported—its fourth in Manhattan. (The Greenpoint Salvation Army had also attempted the transition to upscale "thrift," abandoning the bid after a costly flood and fire.)
"Thrift-shop chains are now trying to capitalize on their shabby-chic reputation by embracing a more upscale look. They're investing in creating intimate, high-end shopping experiences where hand-picked merchandise lures younger shoppers who no longer have time to weed through the bins," the paper noted.
Frugality no longer connotes paying $10 for a winter coat, but finding a gently-used designer one for $150.
Of course, Salvation Army and Goodwill stores, in cashing out or retreating from rising rents, are following in the footsteps of many other New York nonprofits, who have found it financially advantageous to their mission, or fiscally necessary to decamp to ever more remote reaches of the city. Relocation makes a kind of hard-nosed practical sense, as those areas are also where their clientele can increasingly be found.
As the president for a Hell's Kitchen homeless shelter on W. 49th Street that closed in June told Crain's, not only were homeless families traveling there from further and further away, but they couldn't even afford to carry out their daily chores in the neighborhood anymore: "That shelter is a victim of gentrification. Hell's Kitchen has changed so dramatically. Residents can't wash clothes, buy food. They can't function in the area anymore."
But while both the Salvation Army and Goodwill have missions that go beyond selling second-hand goods—Goodwill is, for example, heavily focused on job-training (though it was widely criticized last year for paying disabled workers pennies on the dollar)—one of their most useful roles to a broad range of low and middle-income people is as a vendor of inexpensive, second-hand goods.
In focusing on more expensive boutiques in the more gentrified corners of the city, or else leaving altogether, thrift stores do a disservice to those who remain, for whom second-hand does not mean vintage or consignment, but simply affordable. Ceding what has become somewhat rarified ground or courting wealthier clientele may be a sound business practice, but when even Goodwills and Salvation Armys go upscale, it underscores the message that the lower classes, though they might have managed to secure a foothold of some kind in the city, don't rightly belong, and their residency is only a matter of time.