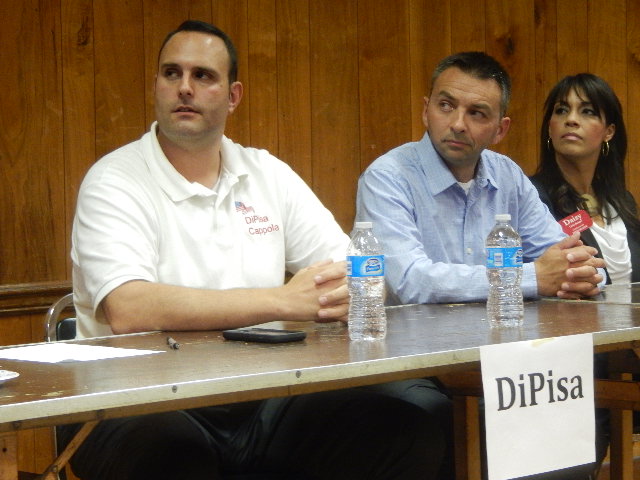 Republican LD38 Assembly candidates Mark DiPisa and Anthony Cappola were joined by Bergen's Republican freeholder candidates Daisy Ortiz-Berger, Ken Tyburczy and John Mitchell at the VFW hall in Hasbrouck Heights to share their stories, meet constituents and explain why they feel they are the best candidates for the job.
According to DiPisa, he decided to enter the race because he has watched officials "take the easy way out for far too long." For DiPisa, lowering taxes in LD38 is a critical measure that needs to be implemented. He does not believe that sitting assemblymen Joe Lagana and Tim Eustace are making the proper decisions to help ease the district's high tax burden.
"Raising taxes is not a tough decision, it is an easy decision," DiPisa said. "It doesn't work to hit up our residents quickly for a tax."
His running mate Cappola, who is a sitting councilman in River Edge, agrees.
"What is the definition of insanity? Doing the same thing over and over again and expecting different result," he said of the way he feels current officials are approaching taxes.
According to Cappola, he and DiPisa—a lawyer by trade—are more than qualified to aid in lowering taxes in the district.
"If you put our resumes against those of our competitors, we will come out ahead," he said.
The Freeholder candidates also used the VFW event as a platform to share their messages. According to Tyburczy, it also provided a great opportunity to share personal inspirations for why they are seeking their positions.
Tyburczy, Ortiz-Berger and Mitchell all cited their families as inspiration for their run and said they were inspired to enter the race to help make Bergen more affordable for taxpayers. They all called for a hard-line stance on the budgeting process.
"Cutting a budget is a science and an art," said Mitchell who formerly served on the Board of Chosen Freeholders.
For DiPisa, he and Cappola represent a younger part of the Republican base, something that might help voters get out on November 3.
"Our party has always had a problem engaging young people," he said. "I think when they put our faith in me and Anthony—two young guys—people see that and might want to get involved."