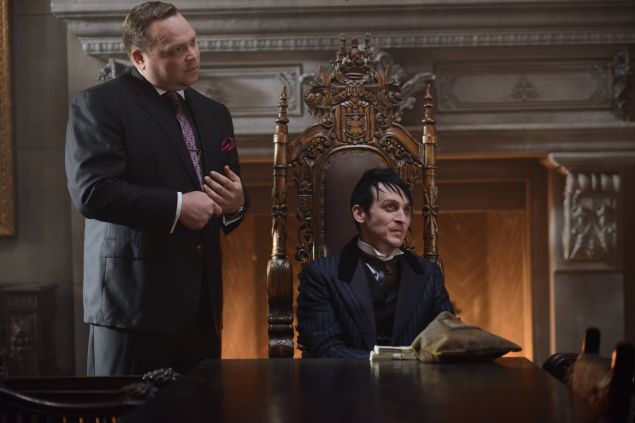 On a gray, rainy day that gave New York City a more than passing resemblance to the Gotham City of DC Comics, of Batman and the Joker, I headed to Steiner Studios in Brooklyn, where the hit FOX television show Gotham shoots the majority of its interior scenes.
Set designers that specialize in molding gargoyles must thank the TV gods every day that Gotham exists.
The sophomore season of FOX's Batman prequel Gotham (think Bruce Wayne in grade school) is subtitled "Rise of the Villains," but is about much more than the bad guys that begin to crop up and thrive in this parallel, darker-tinged New York City. Really, it's about secrets. More so, the fact that everyone—from by-the-book detective Jim Gordon to billionaire philanthropist Thomas Wayne, father of Bruce—turns out to have their own cave full of dark secrets. Metaphorically speaking, of course.
The first layer of secrets was pulled back with a screening of the new season's first two episodes. Then, a small assortment of guests and cast members stepped out of the rain and into Steiner's Stage 2. Down a high, twisting metal staircase was a sprawling hangar filled with wire, wood and rope, concealing the lofty apartments, villainous lairs and insane asylum of Gotham City.
"Is this how the cast gets to set?" I asked actor Chris Chalk, who plays Wayne Enterprises executive Lucius Fox, as we descended the staircase.
"Hell no," he said, laughing. "This is terrifying."
Beneath the stairs, all is doom and gloom. Even the exterior of the sets is menacing. Against the walls are vaguely familiar skyline backdrops, every single one painted as varying degrees of dark, stormy nights. Set designers that specialize in molding gargoyles must thank the TV gods every day that Gotham exists—several snarling statues can be glimpsed at every turn.
But once inside the sets themselves, menace gives way to an admiration toward attention to detail. In the massive Gotham City Police Station, the doors of the holding cells actually clang shut, and every detective's desk was covered in papers with case notes scribbled so small they'd be impossible for viewers to pick up.
As we moved from set to set—first to Oswald Cobblepot (The Penguin's) lavish dining room, then through the dreary hallways of Arkham Asylum to get to the opulent study of Wayne Manor—it was these small touches that stood out. Yes, the apartment of the once and future Riddler Edward Nygma has its obvious shades of green. But my eyes were drawn to a book placed on Nygma's table, as if just read. Its title: A Cabinet of Rarities: Antiquarian Obsessions and the Spell of Death.
Eventually, I found myself walking with Sean Pertwee, who plays Bat-butler Alfred Pennyworth across from David Mazouz's young Bruce Wayne. When I first met the U.K. native, on the eve of Gotham's first season, he was adjusting to life in Brooklyn. Ever restless, he tells me of a recent move to the Lower East Side, where he lives 10 months out of the year. "I still don't know if I've earned my stripes as a New Yorker," he laughed, in his rough West London accent. After some chat over his regret that he would miss the birthday that weekend of Det. Gordon, a k a actor Ben McKenzie, to attend Wizard World Comic Con in Pittsburgh, our talk turned to Gotham itself.
The episodes FOX screened for us were heavy on the ever-changing relationship between Alfred and Bruce: servant and young master, father and son, protégé and mentor, and the on-screen chemistry between the two. Mr. Mazouz's depth is surprising for an actor three years away from legally buying an R-rated movie ticket.
"It's second nature at this point, working with David. He's one of the most efficient, focused actors—not just young actors—that I've ever worked with," Mr. Pertwee said. "He can turn so dark in an instant. I've never seen anything like it before."
It was comforting to turn from my conversation with Mr. Pertwee to almost immediately see Mr. Mazouz in a playful fistfight with his equally youthful co-star Camren Bicondova. Batman and Catwoman, forever locked in conflict.
Our parting gift was a disk containing the third episode of Gotham's second season. "Tease it. Tease the hell out of it," Mr. McKenzie told us all, before we exited back into the still-pouring rain.
So that's exactly what I'll do here. Episode three contains a game-changing finale that drastically alters the course of Gotham's second season and somehow satisfyingly ties into the grander Batman mythos overall.
But, I can't tell you what it is. After all, everyone needs to have secrets.