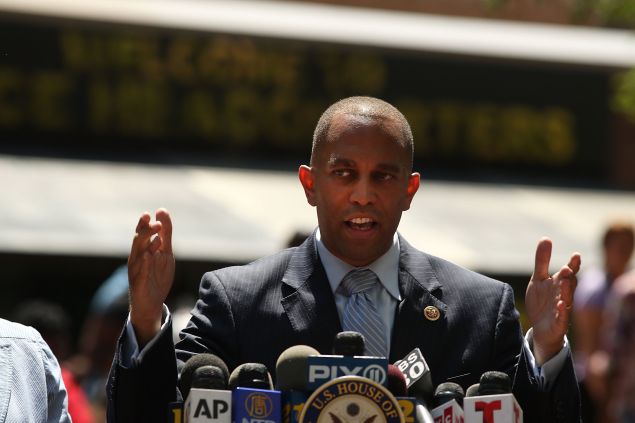 Congressman Hakeem Jeffries, a Brooklyn Democrat, announced this afternoon that he will support a historic and controversial Iran nuclear agreement, bucking many conservatives in his district.
In a post on the website Medium, Mr. Jeffries explained that he believed the deal, known as the Joint Comprehensive Plan of Action, was imperfect. However, he said it was the best opportunity to keep Iran from gaining nuclear weapons.
"This deal is not perfect. Nevertheless, after rigorous examination, I have concluded that upholding the agreement and affirming the diplomatic path that has been charted represents the best course of action to prevent Iran from weaponizing its uranium and plutonium stockpiles," Mr. Jeffries wrote.
Mr. Jeffries joined several members of New York City's congressional delegation in supporting the deal, which was negotiated by Iran, United States, France, Russia, China, the United Kingdom and Germany. Mr. Jeffries' endorsement comes after Manhattan Congressman Jerrold Nadler and a couple of Brooklynites, Yvette Clarke and Nydia Velázquez, recently announced their support for the agreement.
Backers of the accord, which will lift economic sanctions on Iran in exchange for placing limitations on their nuclear program, argue it is the most viable and realistic way to restrain Iran's nuclear capabilities. Detractors, including Sen. Charles Schumer and several New York Democrats in the congressional delegation, say the 15-year timetable does not permanently keep Iran from being a nuclear threat and will allow them to continue to fund terrorist groups. Republicans are uniformly against the deal, as is Israel and many Orthodox Jews in New York.
Mr. Jeffries' decision may not be a surprise–he is a staunch supporter of President Barack Obama–but it is sure to bring him plenty of grief back home. While he is a fierce critic of Iran, many conservatives in his central and southern Brooklyn district have excoriated anyone who dares to back the deal, including Mr. Nadler, a proud pro-Israel Democrat.
"A rejection of the deal, however, will likely damage the credibility of American leadership in the world," Mr. Jeffries argued. "Conversely, moving forward with the agreement will provide the United States with the moral high ground in the event future military action is needed, having given diplomacy every opportunity to succeed."
Mr. Jeffries' support for the accord is another blow to Democrats and Republicans who hoped to derail the deal in a vote later this month. In town halls, Mr. Jeffries had appeared willing to buck the president, but he will now join the growing list of Democrats who will likely ensure critics of the agreement can't override it in Congress.