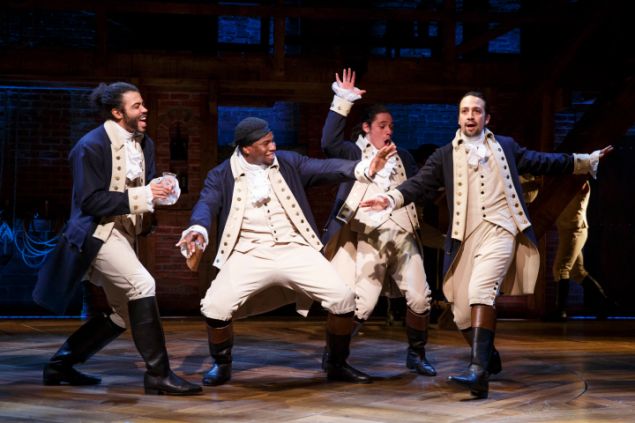 If productivity dropped at your workplace today, you can probably blame Lin-Manuel Miranda.
On Monday morning, NPR's First Listen feature debuted the cast recording of Hamilton, Mr. Miranda's hit Broadway musical. The album will be released digitally this Friday, and the CD will be out October 16, but impatient fans of history-based hit musicals flocked to NPR's site for an early listen. They also tweeted their (mostly positive) reactions to the album—the hashtag #Hamiltunes was trending around the world on Monday, and topped the trend charts in New York.
The robust social media response can be attributed to several factors. First and foremost, Hamilton is the biggest hit of the Broadway season. Tickets are almost impossible to come by, unless one is willing to shell out some serious cash on StubHub.
Another reason is that the album's marketing has been masterful. The Hamilton Twitter account has been releasing teasers of the album for the past week, and has been busily retweeting messages about the recording from excited fans.
Mr. Miranda himself is no slouch on Twitter—he has been answering fans' questions and tweeting out behind the scenes information to his 80,000 followers all day, as he's been doing since Hamilton's Off Broadway run.
The stream may also help old media, since by choosing NPR to debut the album the Hamilton team is introducing fans to a potential new source for music.
So if you're not one of the lucky few who's seen Hamilton, at least you can live vicariously through the music stream and mountains of tweets.