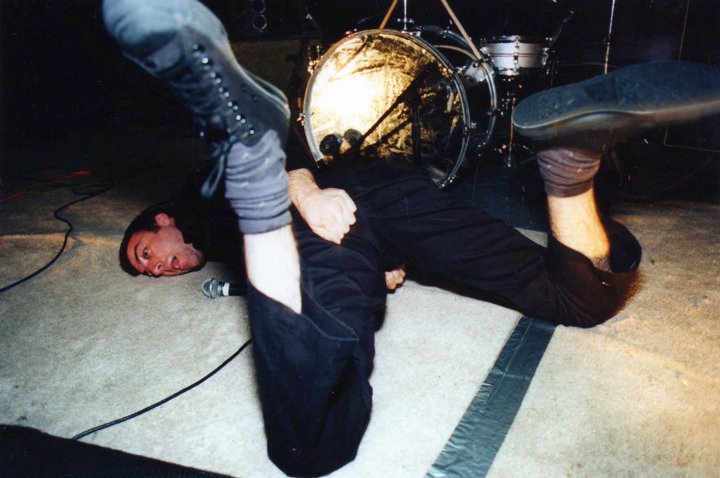 Eric Paul recalls his uncle dropping dead right in front of him. On the third page of Mr. Paul's new collection of prose, A Popular Place to Explode, his uncle talks politics in his kitchen until his heart gives out, he hits the ground, and explodes. It's a scene that Mr. Paul likens to a bursting water balloon. "My uncle, who had just been arguing in favor of tax breaks and limited government was now a giant pool of blood and guts at my feet," he writes. His aunt screams in futility that they have to save him, gesturing toward a mop and bucket. And at this moment, right when it's time for Mr. Paul to make some grand poetic statement, he just puts his arms around his aunt and tells her that he's gone. She then gets on her hands and knees and begins to suck up her husband's remains with a straw. Mr. Paul isn't shocked, though, simply remarking, "I'd heard my mother gossip about my aunt's drinking."
'I feel like we've invented our own community.'—Wesley Eisold
It's hard to tell where fact and fiction meet in A Popular Place to Explode, and that's just fine. Despite the autobiographical nature of the collection, Mr. Paul's words are not to be taken literally. Yet this collection contains no overtly poetic, masturbatory or overwrought attempts to make sense of chaos—merely identifying it is sufficient. In scenes where his old girlfriend sees skulls everywhere as her mental state worsens, or his past alien abductions require marriage counseling, Mr. Paul's words resonate with an absurd surrealism, revealing the great ironies underscoring his characters' lives.
When Explode settles on concrete images to evoke a certain place, that place is Providence, R.I. It's where Mr. Paul grew up, in what he describes as "an atmosphere of hard drinking, hard cigarette smoking and hard working New Englanders." But it's also where he rose to prominence in the fringe noise-rock scene with bands Arab on Radar, The Chinese Stars and Doomsday Student. Typified by high frequency, intentionally dissonant guitar riffs and squeals, noise-rock is a very specific sound for a very specific listener, and the heft of poignant words is often buried beneath such dissonance.
Heartworm Press brings such words to prominence. Founded by Wesley Eisold, best known as a founder of Boston hardcore greats American Nightmare and darkwave act Cold Cave, Heartworm began in 2006 as a sort of umbrella for all the music and culture zines Mr. Eisold was producing. Heartworm soon grew in scope to release rare 7" records, band merchandise and compendiums of prose from musicians whose words take on a new significance in book form.
"A lot of the writing that had been influential to me were lyrics, from singers and musicians that I really admired," said Mr. Eisold. "There were other people starting to [publish] books with other presses who just didn't really fit in anywhere."
"I release books of these authors who I feel like have no other home, but should have books made for them. They should exist in book form—on a shelf somewhere, in cool bookstores or at the homes of people who like them."
Mr. Eisold recalled meeting Eric Paul for the first time when they toured together in the early 2000s, and he first got the urge to publish a collection someone else's words. "I approached Eric, he had done this small book under the name Mr. Pottymouth that was called Pussy Pow Wow—it was incredible, and I was just so excited that someone I knew had made a book," he told the Observer. "[Eric] mentioned that he was working on all these poems and he ended up coming down to Philly where I was living at the time, and we worked on them."
Mr. Paul's words resonate with an absurd surrealism, revealing the great ironies underscoring his characters' lives.
That collaboration yielded Mr. Paul's first collection of poems, I Offered Myself As The Sea, which Heartworm counts as a tremendous success.
Once Heartworm took off, Mr. Eisold saw the fruits of a cross-pollination between seemingly disparate scenes of music and the literary crowd. "I feel like we've invented our own community, that's this new class of people who care less about either community and are kind of in the middle, taking it all in," he said.
The service that Heartworm provides to fringe genres like hardcore and noise-rock is more than two-fold. Fans of Mr. Eisold's old band American Nightmare who know nothing about noise-rock follow Heartworm, and are turned on to prose. Similarly, readers who don't know much about fringe genres of music in the first place are exposed to some out-there sounds of tremendous consequence. And Heartworm also provides a new ecosystem, where musicians actually own the work they produce. It's a fresh model for how writers and musicians can circumnavigate the music industrial complex that leaves so many wondering who makes their money.
"Middlemen for artists are so ingrained in our heads as a status symbol that it's frightening to imagine working without them," Mr. Eisold said. "Labels are a total disaster right now, and I think people are starting to get hip to the fact that even when you get a $50,000 to $100,000 record deal you don't see a penny after you make the record."
Toward the end of A Popular Place to Explode Mr. Paul mentions a woman, presumably his wife, who "loses her father to a city he founded in his brain." Getting inside that man's mind, Mr. Paul attempts to reconstruct the images that consume the man. "And suddenly the population explodes," he writes. "Ghosts of dead relatives and friends bang on his pipes, turn the streetlights on and off. Families of stray animals move in beneath the ceiling-for-a-sky that holds the suffering sun and moon."
Such are the memories that Mr. Paul conjures, processed here with words that evoke a sense of place, and a portrait of the characters who have affected him. His words resonate too strongly to be solely buried beneath the resonance of other noise. How fortunate, then, that Heartworm is around—a place where words and sounds are shared with equal reverence.
***
Sea Monsters, Noise & Fire: Providence, RI, as Explained by Eric Paul