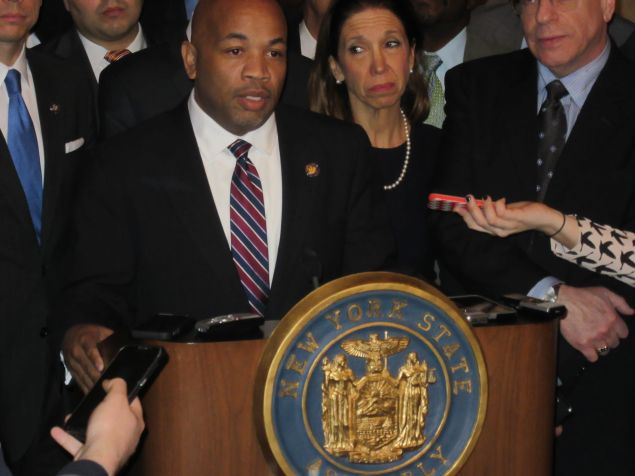 Assembly Speaker Carl Heastie—the first black to hold the powerful perch—told a gathering of business, labor and nonprofit leaders today that his ascension to the powerful position "would be in vain" if Albany fails to pass some kind of criminal justice reform during his tenure.
Answering questions from the audience at the Association for a Better New York breakfast today, Mr. Heastie pledged to continue to push to raise the age at which a person may be prosecuted as an adult, a bar currently set at 16 years-old—tied with North Carolina as the lowest in the country. He alluded to fellow Democratic Gov. Andrew Cuomo's promises to push for such reforms this year, a push that failed to clear the Republican-controlled State Senate before the end of the legislative session in June.
"When I was first elected speaker, I said at some point we're going to have a real review of the criminal justice system," he said, predicting that the effort would resume next year, though he could not promise success. "This issue is so important to me, that if we don't have a top-down review of the criminal justice system, I honestly believe my speakership would be in vain, if we don't do this."
The speaker's comments drew a round of applause from the crowd.
After the governor's proposals to elevate the threshold of adult criminality to 18 years and to create a special monitor to review cases where a grand jury decides not to indict a police officer for killing a potentially unarmed civilian failed to make headway in the State Senate, Mr. Cuomo rolled out a pair of executive orders. One appointed Attorney General Eric Schneiderman the special prosecutor for homicide cases involving a cop, the other barred 16 and 17 year-olds from entering prisons for adults and arranged to send them into alternate facilities.
However, such youth still face adult sentencing and it is unclear if the order protects minors from being held in county and municipal jails.