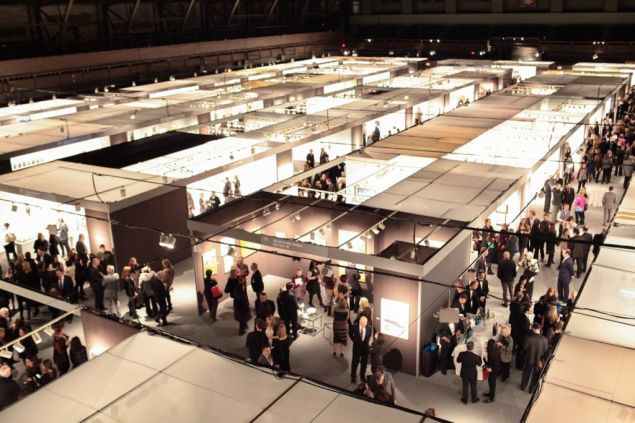 The stately Art Dealers Association of America today announced their powerhouse exhibitor list for the 2016 edition of The Art Show, which will take place March 2 through March 6, 2016.
The nation's longest-running art fair is held annually in New York at The Park Avenue Armory and offers art of "the highest quality through intimately scaled and thoughtfully curated presentations." The fair displays a range of artworks from between the late 19th century and today, and, frankly, it's just a nice place to see masterfully made objects.
There are a few names new to the fair this year: Haines Gallery, Hauser & Wirth and Tilton Gallery.
"For our visitors, the show offers a rare, unrushed viewing experience during the flurry of New York's Art Week, and perhaps most critically and uniquely for an art fair, the opportunity to meet, speak with, and learn from art experts directly on the floor," said ADAA President Dorsey Waxter in a statement.
The Art Show will launch with a Gala Preview on March 1 that will benefit Henry Street Settlement, which boasts the Abrons Art Center, among other social services.
The ADAA is a nonprofit membership organization of art dealers from around the country. And now, without further ado, the list:
The Art Show 2016 List of Exhibitors 
303 Gallery

Acquavella Galleries, Inc.

Adler & Conkright Fine Art

Alexander and Bonin

Brooke Alexander, Inc.

John Berggruen Gallery

Peter Blum Gallery

Marianne Boesky Gallery

Tanya Bonakdar Gallery

Bortolomi

Cheim & Read

James Cohan Gallery

Thomas Colville Fine Art

CRG Gallery

Crown Point Press

Betty Cuningham Gallery

Danese / Corey

Maxwell Davidson Gallery

Tibor de Nagy Gallery

Richard L. Feigen & Co.

Debra Force Fine Art, Inc.

Fraenkel Gallery

Peter Freeman, Inc.

Galerie St. Etienne

James Goodman Gallery

Marian Goodman Gallery

Alexander Gray Associates

Richard Gray Gallery

Howard Greenberg Gallery

Haines Gallery

Hauser & Wirth

Hirschl & Adler Modern

Rhona Hoffman Gallery

Paul Kasmin Gallery

Sean Kelly Gallery

Kohn Gallery

Barbara Krakow Gallery

Hans P. Kraus Jr. Inc.

Lehmann Maupin

Galerie Lelong

Dominique Levy Gallery

Jeffrey H. Loria & Co., Inc.

Luhring Augustine

Matthew Marks Gallery

Mary-Anne Martin/Fine Art

Barbara Mathes Gallery

Anthony Meier Fine Arts

Menconi + Schoelkopf Fine Art, LLC

Metro Pictures

Mnuchin Gallery

Donald Morris Gallery, Inc.

David Nolan Gallery

P.P.O.W. Pilkington-Olsoff Fine Arts, Inc.

Pace Gallery

Pace/MacGill Gallery

Pace Prints & Pace Primitive

Michael Rosenfeld Gallery, LLC

Mary Ryan Gallery, Inc.

Salon 94

Julie Saul Gallery

Susan Sheehan Gallery

Manny Silverman Gallery

Skarstedt

Sperone Westwater

Tilton Gallery

Van Doren Waxter / Eleven Rivington

Meredith Ward Fine Art

Washburn Gallery

Michael Werner

Yares Art Projects

Pavel Zoubok Gallery

David Zwirner