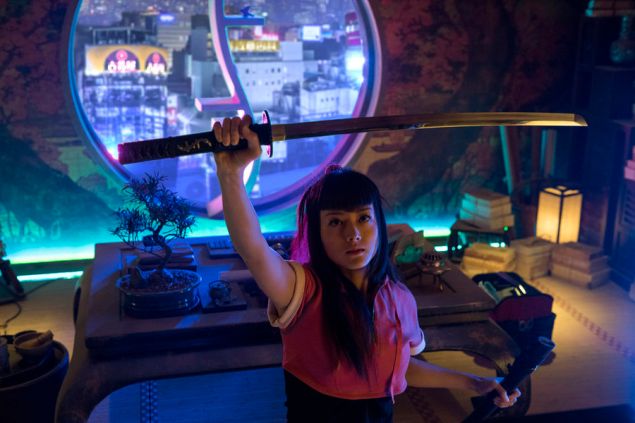 It seems that the original series Heroes may have actually been a little ahead of its time, especially when it comes to television technology.
"When the show aired, it was a bit frustrating for some people at the network because it had this large audience but they weren't watching it in the traditional way," explains Tim Kring, Executive Producer of both the original Heroes and the new Heroes Reborn. "The last year it was on, Heroes was the most downloaded show in the world. We were one of the most streamed and DVR-ed shows and we sold close to two million units of DVDs, which is huge. That audience, clearly being a very tech savvy group, had migrated to other ways to watch the show which was great in terms of the content getting out there, but at that time it was difficult for the network to measure and monetize that. That made it challenging for the show to continue at the time."
While the business side of the original series was tricky, Kring says that there was always an interest in continuing the Heroes story. "After the show was canceled, there was immediately conversation about whether there was more story to tell and we knew there was. Then the discussions became, 'What do we do for those fans?' Then the network realized that now you can measure and monetize nearly every platform that it's viewed on. Knowing that there was still a big fan base out there, combined with some nostalgia about the original series and the advances in being able to understand the viewing metrics all led to the creation of this new series."
Kring and the team behind Heroes Reborn realize that they're in a unique situation in that for the series to be a success they 'll have to appease fans of the original while attracting new viewers as well. "The main thing that everyone needs to know is that the contract that were making with audience is that this is 13 episodes and it has a beginning, a middle, and an end, and then it's over," explains Kring. "If you're just coming into the series, you can watch it and feel like you're not being pushed out the door because you didn't watch the first time. We've structured it so that it won't be difficult to understand what's going on and I think you'll get into the story very quickly. For those who watched the earlier series, it's pretty clear that they loved the characters and the questions the characters were asking about what was happening to them and their purpose and destiny. We ask those questions again, but in different ways. If you watched the first time, you'll see that the story is unique but the way we're telling it will feel familiar and, I hope, comfortable in a way. And, we'll reward you for your loyalty and knowledge with some Easter eggs that I think you'll enjoy."
In crafting the story, Kring admits that he and the writers employed some interesting tactics. "I call it 'Haiku Storytelling.' That's where we work to tell a story in a minimal number of beats. It's sort of like 'Name That Tune,' where someone says, 'I can tell that story in five beats,' and then someone says, 'I can tell it in four and here's how you do it.' By using this distilled way of creating content it allows us to tell a lot of story in one episode. So, we're constantly pushing 50 pounds of story into a 10-pound bag and I think that's what creates a breathless quality to the show. That said, there's a shaping that has to be done in editing. If it's all done right, the audience has a lot of questions that build up over time and then you can give them answers and then you repeat that pattern. You have to find the rhythm of when to slow down and speed up. That's what keeps people engaged and that's our whole goal here."
The show that was on the forefront of streaming will now, rather ironically, only be available on a time-released basis, in which viewers will have to wait a week between new episodes. "Yeah, that is a bit of a conundrum," admits Kring. "I do think the show lends itself to binge watching, it just does, there's no denying that. At the end of each episode you want to know what's going to happen right now…and then you have to wait. We do worry that some frustration will build up too much; that you'll find something else to watch and you'll stray from the show. But, it's been discovered through research that when people like a show, they make a point to watch every episode and often they watch them multiple times and they stay with it. That allows us to spend less time rehashing what happened before and then we can tell more story. The bottom line is that although we're a weekly series, we're treating our show as if it's a show that's being binge watched, even if it isn't."
Kring was anxious to point out that while an hour a week of the series might not seem like enough for hungry fans, there is plenty of supplemental material for consumption. "To compliment the narrative of the series, we have a really focused multi-platform approach with a lot of unique content. One of those is on the Heroes Reborn app. It's a pre-qual, or like a primer of sorts, and it's called Dark Matters. We're also launching two state of the art next generation high-quality video games that are designed for real gamers. One is a mobile game and one is a console game. There will also be six eBooks that will have even more story to consume. The thought behind all of this content is that we consider Heroes Reborn kind of season 10 of the series. We were off the air for five years so there is a missing five years of story and we want to give that to the audience. With all of this, the real fan can play games, read books, and get online content that fills out the world of all of the heroes."
Speaking specifically about the 13-episode Heroes Reborn event, Kring reveals, "Well, we have to save the world again, but it's really different this time because our heroes are being hunted and persecuted as they work to do this. And, along the way we'll deal with issues that are very current, like climate change and greed." He hesitates a little but then gives up and says, "Expect some time travel along the way…. And that's all I want to say. I don't want to rob people from the experience of the many revelations that happen along the way."
Given all of this, it seems like the success of Heroes Reborn, both on and off screen, actually comes down to timing. Has the series finally found it's ideal era? It may sound a bit clichéd, but in this case, time really will tell.
Heroes Reborn premieres Thursday night at 8/7c on NBC.