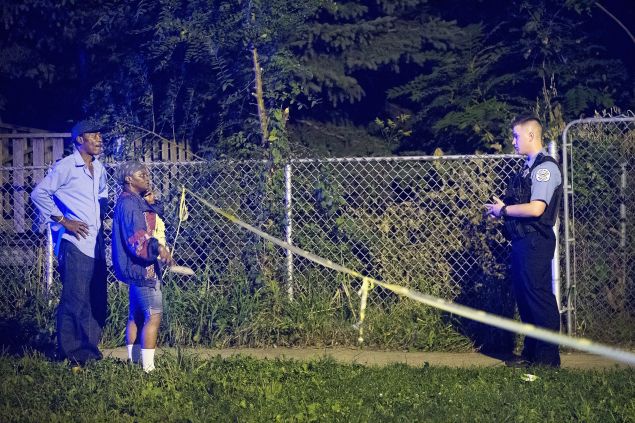 I don't like Mondays. Let me correct that. I fear Mondays, but not for the usual reasons.
Every Monday morning, Chicago area residents wake up to news of a litany of weekend murders, usually African-Americans.
Most recently, Chicago experienced a "better" weekend, with "only" three homicides and 49 wounded by violence, compared to the previous weekend's eight murders and 45 wounded.
Unfortunately, making African-American communities safer is not a high priority for Chicago politicians, civil rights leaders and the Black Lives Matter movement. As Mayor Rahm Emanuel once said, "You never let a serious crisis go to waste. What I mean is, it's an opportunity to do things you think you could not do before."
Murders of African-Americans in Chicago, as well as major urban areas across the country, are almost exclusively perpetrated by other African-Americans. Where poverty festers and a cohesive family unit is a distant memory, crime prevails. When economic opportunity doesn't exist and drug lords—not law enforcement—control the streets, innocent people die.
But if you ask Mayor Emanuel or his court jester of a police chief, Garry McCarthy, how to make Chicago safer, the answer is always "gun control." Chicago aldermen and local clergy, such as Father Michael Pfleger, place the blame squarely on the Second Amendment, even though Chicago has the nation's strictest gun laws.
Unfortunately for African-Americans desperate for real change in their lives, BLM has embraced the tactics of the BDS movement, which means sacrificing your own to achieve a political goal.
Blacks are dying in the streets because politicians and civil rights leaders care more about power than people.
As I wrote in 2013 after 15-year-old Hadiya Pendleton was murdered, "Guns don't kill people — politicians do."
You can now add activists to the list of agenda-driven forces who have their finger on the trigger.
Black Lives Matter (BLM), or #blacklivesmatter, is not about bettering or protecting the lives of African-Americans; it's about delegitimizing law enforcement and the U.S. justice system.
If that sounds familiar, it stems from the same social justice playbook of anti-Israel activism, most notably the Boycott, Divestment and Sanctions (BDS) movement.
After the death last year of Michael Brown in Ferguson, Missouri, it didn't take long for rioters to compare "Ferguson to Palestine." That is when I knew that the legitimate concerns about injustices against African-Americans and any efforts to improve their lives and safety would be hijacked by the agenda of anti-Semites.
Sure enough, this past January, BLM, along with other "social justice" groups, took a 10-day trip to the "occupied Palestinian Territories and Israel."
Unfortunately for African-Americans desperate for real change in their lives, BLM has embraced the tactics of the BDS movement, which means sacrificing your own people to achieve a political goal.
Ask any member of Students for Justice in Palestine (SJP) or a BDS activist what they are doing to improve the lives of Palestinians, and you can expect an awkward silence.  That's because their actual goal is to exploit the plight of the Palestinians in order to delegitimize the Jewish State out of existence.
The most powerful weapon in their social justice arsenal is human suffering.
Palestinians who work in the West Bank for Israeli-owned companies consider themselves quite fortunate.  Wages for Arabs working for Israeli businesses are leaps and bounds higher than what Palestinians earn from community-owned businesses. Even Palestinian President Mahmoud Abbas has criticized the BDS movement. All it does is create poorer Palestinians.
The same tactics that sacrifice the people of Gaza and the West Bank are now being implemented by the BLM movement.
Seattle Seahawks Pro-Bowl cornerback Richard Sherman can attest to that.
Earlier this month, Sherman stated at a press conference:
I think as long as we have black-on-black crime … if black lives matter, then it should matter all the time. … And there's a lot of dealings with police officers right now. I don't think all cops are bad. You know, I think there's some great cops out there, who do everything in their power to uphold the badge and uphold the honor and protect the people in society. But there are bad cops, and I think that also needs to be addressed.
The BLM movement lambasted Sherman, claiming he was being "counterproductive" and "undermining" the cause.
[protected-iframe id="7dfd2cc74fcc4155e5d5ab9de2fa8146-35584880-78363900″ info="https://www.youtube.com/embed/CUvvWZdKrBI" width="560″ height="315″ frameborder="0″ allowfullscreen=""]
Even the phrase "All Lives Matter" has been labeled racist by the BLM crowd. Democrat Presidential Candidates Hillary Clintonand Martin O'Malley have been criticized by the BLM crowd and their progressive allies for saying "All Lives Matter."
The common thread between the anti-Israel movement and the BLM movement is subterfuge.
What's the difference between an anti-Israel movement masquerading as crusaders for Palestinian betterment, and an African-American organization advocating violence against the very agents of law enforcement whose mission is to make the streets safe for their children as well as all other Americans?
Paul Miller is president and executive director of the Salomon Center for American Jewish Thought. Follow him on twitter @pauliespoint