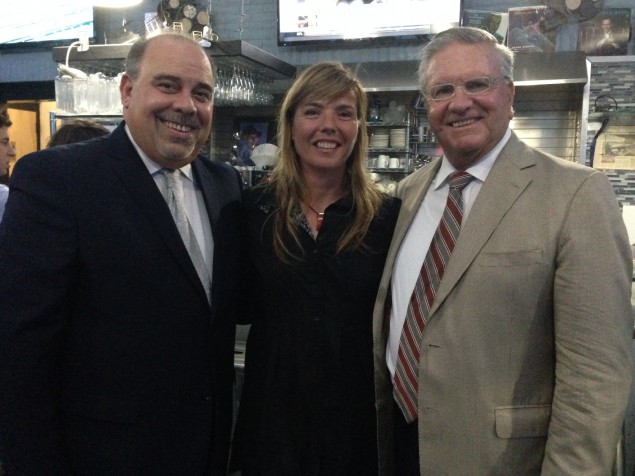 HOBOKEN – Councilwoman Jennifer Giattino has powerful allies in Hudson County.
At a Tuesday fundraiser for her upcoming council race—where she is being challenged for her seat by Assemblyman Carmelo Garcia—the Ward 6 councilwoman drew support from the likes of Hudson County Republican chairman Jose Arango and former Democratic state Senator Bernie Kenny.
According to Arango, who organized the event with Ryan Peene, Giattino has the power to "bring people together and really unify everyone."
Arango said that the mutual support of Kenny and himself is conclusive evidence of that unity. The two were competitors for an assembly seat in the 1980s. Arango, a Republican, lost to Kenny, a Democrat. Now, almost 30 years later, the two are both backing Giattino.
Giattino—who is a Republican—said that the reception for her campaign has been good in the ward thus far.
"Whenever somebody says to me 'I love Hoboken,' I'm like 'then you should vote for me again,'" Giattino said.
Giattino was first elected to the Hoboken council in 2011.
Also in attendance were Ocean County Republican Chairman George Gilmore, Irene Asbury of the National Republican Lawyers Association, Beckerman PR Vice President Tim White and Newark district leader Ali Sawab.