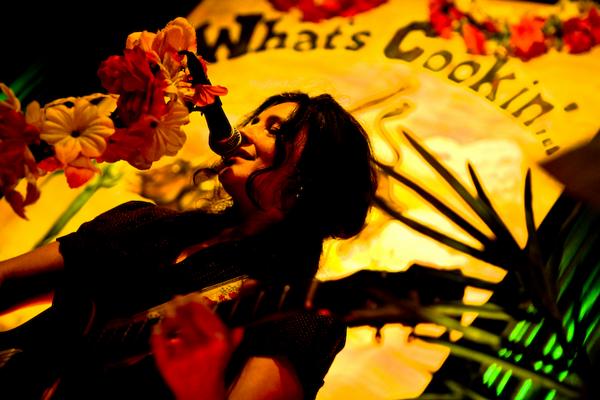 Usually, you'll see the words "garage rocker" appended before, after, or near Holly Golightly's name. This categorization is insufficient, inaccurate and demeaning. Golightly, a British musician now living and working in the American South, is an artist whose work shivers with grace and diversity, and her music adamantly, absolutely and ecstatically refuses to be reined in by easy categorization—this is especially evident on her spectacular new album, Slowtown Now!
Holly Golighty's new solo album is one of 2015's must-own records.
Although Golightly has dabbled fairly extensively in retro forms in the past (and continues to do so in concurrent projects and collaborations), her solo work reveals an explosively creative and deeply emotional artist who, like Beck or Elliott Smith, uses style-hopping in the service of extraordinary artistry and emotional expression.
Before specifically addressing Slowtown Now!, I'm going to try to explain who Holly Golightly is and why she is so freaking important. Since there's no efficient way to describe her vastly prolific 20-year-plus career (she has released a lot of conceptually and musically compelling records under many names and with a heap of different collaborators), explaining the effect of her work is probably more useful than detailing the catalog itself.
Since the mid-1990s, Holly Golightly has been one of a small handful of visible artists who regard music not as a commodity or a consumer good, but as a means of communication and pure expression. Today, in the post-sales age of recorded music, this might seem to be a relatively common default-option, but until relatively recently it was virtually a revolutionary statement.
Golightly did her earliest recorded work alongside Billy Childish, who is a champion of this remarkable ethos. Childish, who is one of the most important visual, musical and conceptual artists of our time, releases music as a joyful compulsion, while applying the eye of a fine artist to wildly divergent primitive musical forms (most notably, he used garage rock the way Woody Guthrie or Pete Seeger used traditional American folk forms, infusing every note with meaning and social power). Although it's been a while since Golightly collaborated with Childish, his celebratory creative principle and immediacy is still very much alive in Golightly (as is his revolutionary approach to beat music—viewing it as a jazz, and not as sacred text).
[youtube https://www.youtube.com/watch?v=W3qeAy-RLfA&w=560&h=315]
Slowtown Now!, Golightly's first full-band solo effort in over a decade, is less conceptually aggressive than a lot of her work (which is to say that the songs are not relatively clear-cut homages to a particular style or musical era). Free of this limitation, she sounds like a fucking genius, an important artist who never comes across like they're trying to be important (FYI, that would be the difference between Jack White and Dexter Romweber; the former is a self-conscious faux academic, the latter is simply on fire. Golightly, too, is on fire).
This is a breathing, present, gorgeous record.
Despite the many influences on display here, Slowtown Now! never sounds remotely clever, and I would be very hard pressed to name another album that continually draws from so many sources, yet never, not for one moment, sounds like a pastiche (well, there's Pet Sounds, and although I won't go so far as to say Slowtown Now! is that good, I will say it is definitely one of the must-own albums of 2015). Virtually unique in the way it blends creepy and croaky Americana memes with melodies and production techniques that allude to '60s British girl pop (i.e., imagine Petula Clark meets the Carter Family), Slowtown Now! is alive, sentient and sensual with echoes of jazz, Yé-yé, garage, rockabilly, girl group, punk, Appalachian, and old-school C&W, and very often all of this simultaneously. In it's seemingly effortless blend of influence, it's almost a masterpiece, like a low-key version of what Van Dyke Parks was trying to achieve on Song Cycle.
This is a breathing, present, gorgeous record; the production never draws attention to itself but also never surrenders to Lo-Fi, recalling at many times the carefully balanced acoustic rhythms and reverby twang of the Shadows, the tiny but elegant production dressing I'd expect from Mitch Easter, and a rich, airy ambience that recalls Daniel Lanois. Uh-huh.
Now, Holly Golightly and the Brokeoffs, a band Golightly shares with co-vocalist and multi-instrumentalist Lawyer Dave, also have a new album out. This is one of the many collaborative projects I referred to earlier. Important: it would be inaccurate to label these as "side-projects"; with artists like Golightly and Childish, these releases are a reflection of a very diverse musical worldview that puts expression and creative impulse before conventional release strategy or persona permanence.
[youtube https://www.youtube.com/watch?v=2fkQM0-sbf0&w=560&h=315]
(Persona Permanence, a rather smashing phrase I just made up, is in essence the backbone of the commercial music business. Maybe I'll write more about it sometime. Few major artists fuck with it to any great degree—perhaps just Scott Walker, and occasionally Bob Dylan.)
Coulda Woulda Shoulda, the Brokeoffs' eighth album (!) since 2007, doesn't merit the superlatives of Slowtown Now!, but it's still energetic, interesting, entertaining, and full of joy and attitude. Unlike Slowtown Now!, the 12 tracks on Coulda Woulda Shoulda are immediately identifiable as loving genre recreations. Nevertheless, the album has a vigor and wit that may be more immediately appealing to those who prefer their far-left adult alt-rock a bit less subtle (wow, that sounded snarky—I really didn't mean it quite like that). Coulda Woulda Shoulda features some very effective Link Wray-ish snake-bite rock and some finely achieved Nashville trash-soul, but it's at it's very best on three songs that conjure old-school mountain music: the powerful "Jackhammer," the "Silver Dagger"-ish "What He Does," and most notably the deeply moving and bittersweet "Christmas is a Lie," an enchantingly dark song that needs to be a terminal-bar-in-holiday-season standard.
Get 'em both—both Slowtown Now! and Coulda Woulda Shoulda, that is—but Slowtown Now! is the one you'll be reaching for decades from now.