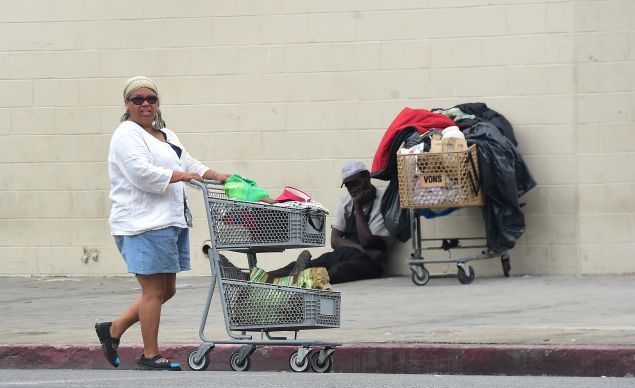 Thanks to government programs that provide food and water to individuals in need, virtually no Americans die from hunger or thirst, as access to these basic necessities are commonly viewed as human rights. Shelter does not afford similar categorization. In the United States, over 3.5 million people experience homelessness every year. 284,000 of those people experience homelessness in Los Angeles County.
For years Los Angeles has been dubbed the homeless capital of the World. According to a new study, 13,000 people become homeless every month in Los Angeles County. It is no coincidence that Los Angeles residents, on average, spend nearly half of their income on rent in a housing market that has increasingly shunned affordable housing in favor of more profitable luxury condominiums. These trends are endemic across the country as renting in America is more expensive than ever before. On federal, state, and local levels, affordable housing has been disappearing due to policies and successful lobbying of housing developers.
Permanent, federally funded housing came into being in the United States as a part of Franklin Roosevelt's New Deal. Title II, Section 202 of the National Industrial Recovery Act, passed June 16, 1933.
In 1949 President Harry S. Truman signed into law The Housing Act of 1949, enacted to establish "a decent home and a suitable living environment for every American family."
This act obligated the government to ensure housing, a market commodity produced by a politically influential industry, was provided to every American who may need assistance in obtaining it. Over subsequent decades, the government exercised administrative responsibility for running public housing, until in 1973, when President Richard Nixon issued a moratorium on federal subsidy programs for public housing. In exchange, Section 8 was created, which provided government assistance for qualifying individuals to pay for privately owned rental apartments. This began a trend that is still continuing; a shift from government administration over rental properties to private/commercial ownership.
The responsibility of addressing issues such as mental illness and drug addiction, which is amplified by homelessness, has fallen on the shoulders of local police departments.
The consequences of this shift have been disastrous for people with low incomes. Section 8 predominantly favors the landlord over the tenant. Under public housing, an autonomous tenant association was required to oversee and advocate for tenants' rights. Under Section 8, tenants are left to their own accord to establish or join a tenant association.  Virtually no new project based Section 8 housing has been produced since 1983, but tenant based vouchers are now the primary mechanism of assisted housing and the program has steadily been cut since its inception. Landlords are given the discretion of whether to accept Section 8, can refuse to accept it at any time, and can overcharge for rent, increasing rent market prices, because the government is funding the bill.
Under the Clinton administration in the 90s, Hope IV funded the destruction of public housing complexes, and displaced tenants, causing social disorganization of the communities that relied on public housing to provide affordable housing to its residents.
Recently, the Obama administration created the Rental Assistance Development program, which, even after the 2008 recession, proposed to mortgage public housing through the big banks. Using private capital to save public housing seems philanthropic, but if funding is ever cut by, say, a future Republican president in the next three decades, and those mortgages are foreclosed on, then public housing ownership is completely handed over to the big banks.
In Los Angeles County, California's Ellis Act and Costa Hawkins Act have fed into corporate welfare to housing developers over the rights of renters.
The 1985 Ellis Act provides landlords a legal way to evict tenants, often for the purpose of converting apartments to luxury condominiums, leading to displacement of evicted tenants and aggravation of homelessness as gentrification diminishes affordable housing. This past July, the Chair of California Housing Finance Agency, Matthew Jacobs, who also owns a housing development company, Bulldog Partners LLC,stepped down amidst controversy that he plans on using the Ellis Act to evict tenants in a rent controlled L.A. apartment complex in order to raze the buildings and erect million-dollar condos
In 2014, the California Housing Partnership Corporation reported the county had a shortfall of 490,340 homes for low-income households. In order to afford the average one bedroom apartment in Los Angeles, your household income needs to be nearly $70,000, or $33 an hour, more than twice the proposed minimum wage increase to $15 in the county by 2020.
The Costa Hawkins Act banned rent control in favor of rent stabilization, giving landlords free reign to increase rent prices as much as they wish once a tenant moves out. This law displaces lower-income households that can't afford the increases and extends landlords' ability to gentrify neighborhoods. The 2009 case, Palmer v. City of Los Angeles, the court ruled that forcing landlords to include affordable housing in developments was illegal, eliminating the only existing incentive for developers to create affordable housing.
Los Angeles County has also received several Fair Housing Act complaints of using discriminatory tactics to dissuade people of color with Section 8 vouchers from moving into certain neighborhoods. The Los Angeles County Sheriff's Department was federally investigated in 2013 for employing such tactics, and continues to receive allegations of continuing them.
"It's tough for politicians to tackle affordable housing issues, both politically and legally. Local politicians only have so much they can do without changes to state laws or increases in federal subsidies. The things they can do, though, are opposed militantly by real estate developers, who donate to most Los Angeles politicians." says William Przylucki, Executive Director of POWER (People Organized for Westside Renewal), in a phone interview. The grassroots organization conducts door-to-door polls asking what people care about the most, and since 1999, the issue of affordable housing has also been number one on their agenda. "No Council candidate or mayoral candidate had a strong platform around affordable housing in the last election, so no wonder voter turnout is so bad in Los Angeles. There was literally nobody leading the charge as the champion on the issue that is the most important issue for so many people. It's a vicious cycle, because when voters don't turn out, it's taken as a sign that they can be ignored." One of the major political proponents for affordable housing, Congresswoman Maxine Waters, was redistricted in 2011, which took out most of the public housing that was under her jurisdiction according to Mr. Przylucki. Waters, with fellow Democratic Congresswoman Karen Bass, wrote a letter in early August to California's state legislators to impose a moratorium on the Ellis Act to end the abusive mass evictions the law has streamlined.
In spite of the obstacles stacked against them, affordable housing organizations, such as POWER, have gained traction lately. Mr. Przylucki adds, "people have begun to push for more to be done to create affordable housing. In 2014, activists pushed the City Council to officially declare April 22nd, Renters' Day, to demand better quality of life for Los Angeles County's renters. Over half the county's population rent their homes. Theoretically, in a democracy, politicians should be addressing the rights of renters, but housing developers continue dictating local political agendas. There is also little oversight and enforcement of renters' rights. That's why Renter's Day was so important: We do have power and we will make it felt at City Hall." POWER helped overturn 99 out of 100 eviction notices received by members of the organization in 2014. The organization is one of several that are pushing to balance the power landlords have towards an even plane with renters.
As rental costs have increased and affordable housing has disappeared from Los Angeles County, homelessness has been criminalized and the responsibility of addressing issues such as mental illness and drug addiction, which is amplified by homelessness, has fallen on the shoulders of local police departments.
According to two city ordinances, which took effect in July 2015, the police have the authority seize the property of the homeless and either fine or arrest the homeless for storing their property on public property. Instead of addressing issues of affordable housing and creating public housing linked to social programs, Los Angeles County is criminalizing homelessness as a means to create the illusion that the problems surrounding it are being solved. Before issues such as homelessness, mass incarceration of the mentally ill and impoverished, and drug addiction can be addressed, affordable and public housing needs to be created within Los Angeles County so that individuals struggling with these issues can have a stable, healthy environment to begin necessary treatments, addiction counseling, or steps towards gainful employment.