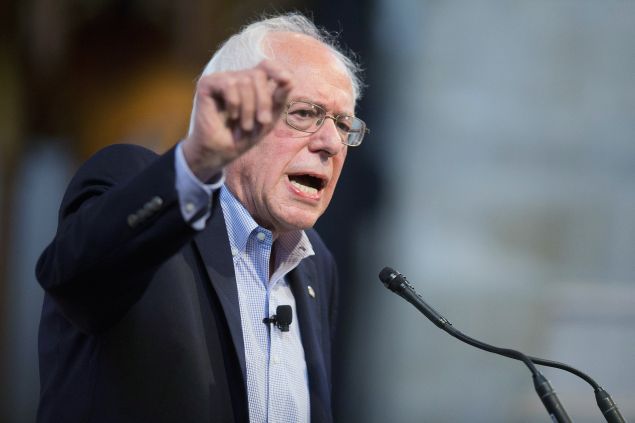 When I was a student in college I wrote a paper for my political science class analyzing the Robert Kennedy campaign for president in 1968, based on computer runs about which voters supported RFK and why. What voting patterns in 1968 revealed, which has since become common wisdom among serious aficionados of politics, is this:
Kennedy overwhelmingly carried the votes of blacks and Hispanics but he also carried, in key primaries such as Indiana in 1968, the votes of many working class whites who were hostile to minority groups and ultimately supported the racist candidate George Wallace after RFK was assassinated.
What Kennedy did in 1968, which Bernie Sanders has the potential to do in 2016, is unite poor and working class voters of all races behind a populist campaign of fighting for the economic interests of the voters that the Occupy Wall Street movement brilliantly labeled the 99 percent, against super-wealthy and greedy special interests that OWS called the 1 percent.
Let's emphasize several key points.
First, the most successful Democratic candidates in recent decades have followed this formula, including to some degree Bill Clinton in 1992 and 1996. Second, therefore, other Democratic candidates in 2016, including potentially Hillary Clinton and Joe Biden, have the potential to re-create this game-changing coalition for change. And third, Mr. Sanders remains a decided underdog in 2016 and must expand his political reach beyond his current base of support to have the national clout to win the Democratic nomination and the general election.
What Mr. Sanders has in his favor—and it creates a substantial and unique opportunity for him in 2016—is that he is both the most legitimately populist candidate in either party who can claim to be aggressively fighting for poor and working people of all races, and he is the most authentic candidate in either party who fights for his beliefs and against almost every political status quo that voters detest and are rebelling against in this election.
One extraordinary asset that the Sanders campaign has in its favor is a fundraising power among large numbers of individual small donors that will be dramatized again in the next two weeks when the quarterly fundraising reports are announced for the quarter that ends September 30.
SEE ALSO: Bernie Sanders Shocks Political World with Historic Fundraising Numbers
I predict that the Sanders campaign will announce blowout fundraising from small donors, including a gigantic number of individual donors and a very dramatic yield of total campaign money received from this large and growing pool of small donors. This is good money, from citizens who donate to make America a better place and not to advance special interests, and recurring money, from donors who can give their small amounts time and time again as the campaign unfolds.
Another potential advantage for Mr. Sanders that political insiders underestimate is his potential to dramatically increase the size of the electorate by inspiring young voters to come to the polls in waves. The turnout patterns of young voters are historically unpredictable, but there is no doubt that Mr. Sanders has inspired and energized younger and first-time voters in ways that could promote the political revolution he is leading.
Mr. Sanders has demonstrated the first requirement of broadening his appeal by appealing to a wide cross-section of voters in New Hampshire. His dramatic success among New Hampshire voters in early polling demonstrates a clear potential to win support across a cross-section of the mostly white voters who comprise the electorate in the Granite State.
The next test for Mr. Sanders, which is now in the early stages, will be to broaden his populist appeal in Southern, border and Western states to include more black voters, Hispanic voters, and white populist voters outside of New England and Northern states.
Mr. Sanders can legitimately claim to be a strong advocate of civil rights dating back to his days as a student when he came to Washington to hear Martin Luther King give his I Have A Dream Speech, continuing through his long-term support for immigration reform and his recent reaching out to the Black Lives Matter movement.
Can Mr. Sanders succeed in reaching out to energize minority voters in the same way he has energized his core based of support among white liberals and young people so effectively? Sure he can. Whether he does remains to be seen.
Mr. Sanders can also stake a fair claim to be the most true and authentic voice in American politics for the teachings of Pope Francis on a wide range of economic, financial, anti-poverty, environmental and social justice issues. This gives him a significant capability to broaden his support from white working-class Catholic voters and heavily Catholic Hispanic voters.
Conservatives and Republicans win when they can persuade voters to vote against their own economic interests, often by dividing Americans race against race, which divides many white voters against black and hispanic voters.
Liberals and Democrats win by uniting diverse groups of Americans, across lines of race and income, based on their shared economic interests. This is the heart of the rationale for the Bernie Sanders candidacy. Can he pull it off? You bet he can.
What is striking is that in the countless match-up polls pitting various Democrats against various Republicans, the trend in recent weeks is that Mr. Sanders is demonstrating potential to defeat leading Republicans in a growing number of these polls. Let's watch the match-up polls in the coming weeks and months to determine whether Mr. Sanders gains strength as he become better known. Let's watch Democratic primary polls in states such as Virginia, South Carolina and Colorado to gauge whether he can broaden his appeal to build the kind of coalition that successful Democratic candidates for president have historically built. Above all, let's watch the coming Democratic presidential debates, which will give Mr. Sanders his largest national platform of the campaign, to determine whether he successfully uses those debates to build a powerful and politically realigning coalition that can win a national election.
Can Bernie Sanders be elected president? It is far too early to tell. But in an election year in which independent outsiders and insurgents are popular with voters, and in an election year in which there is a definite trend of support for populist candidates who battle against entrenched special interests who wield their power over the 99 percent, there is a clear electoral roadmap that could give Mr. Sanders the potential to win by uniting widely different voters with common economic interests.
Can Bernie Sanders pull it off? Stay tuned!