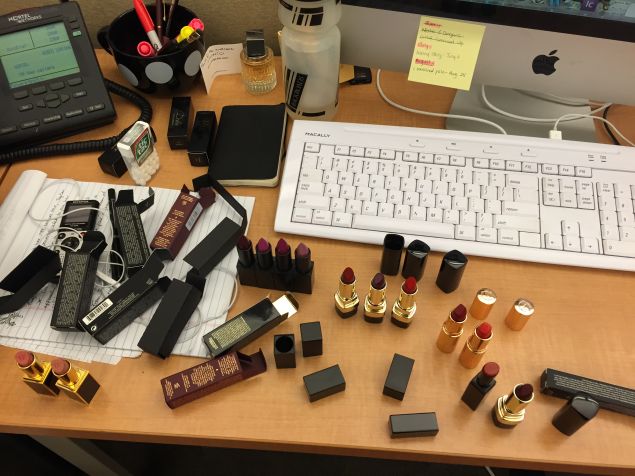 I have never owned a tube of lipstick.
It's not a self-righteous, I-don't-believe-in-make-up mentality. Some people do beautiful, magical things with make-up, and everyone should be free to choose whether they wear it or not. I, personally, just never developed much of an interest in it. I have been known to throw on concealer, mascara or pressed powder now and then—usually in an effort to erase the NYC subway grime from my visage—but lipstick? It just never really entered the realm of my consideration.
Last week, undertaken by a sudden desire to step outside my aesthetic comfort zone, I decided I would try becoming a regular lipstick-wearer. But was I a deep autumnal red? A fun pink? A bright orange? I hadn't a clue. So I collected an array of shades from Dolce & Gabbana, Dior, Charlotte Tilbury, Tom Ford and NARS, and vowed to wear a different lipstick every day for five days and record my feelings about each one.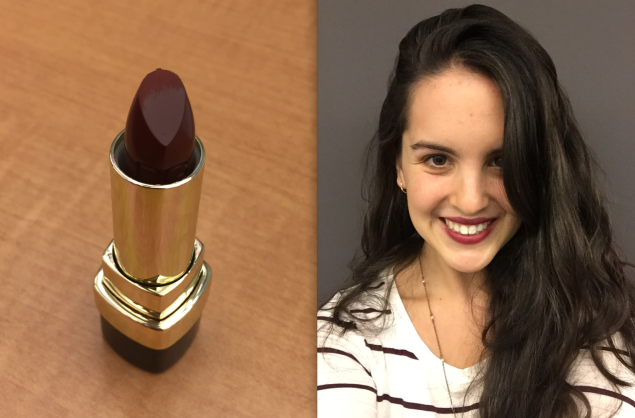 "Whoa, that's jarring," my co-worker said when he spotted me with my newly-dark red lips, bright and early on a Monday morning. Another co-worker wrinkled her nose. "It's better for a night look," she said. "It's a bit bold."
My boyfriend, who knows nothing about make-up and will provide illuminating commentary throughout the duration of this experiment, met me for lunch that day. I asked him what he thought of lips. Before weighing in, he had to clarify: he does not like lipstick at all. "It's a little French Renaissance for me," he explained. "I don't like looking at a face and thinking that it's been painted on." That being said, he described Dolce Jealous as "a pretty color." "It's not as though it's a bright red—the classic in-your-face lipstick," he said.
As for the most important opinion (mine): I really liked it, though I agreed with my co-worker that it's more of a night look. I felt very sultry and seductive. Sometimes I'd forget that I was wearing it, spot myself in a mirror, and feel a small lurch of excitement in my chest.
There was one downside to wearing such a relatively dark color. At lunch, as the lipstick got rubbed off, a dark ring of color was left around the outside of my lips. It looked like I was wearing lip liner, and nothing else. And because I was not accustomed to carrying around lipstick, I forgot to bring it out to lunch with me to re-apply, making for a somewhat shameful walk back to the office.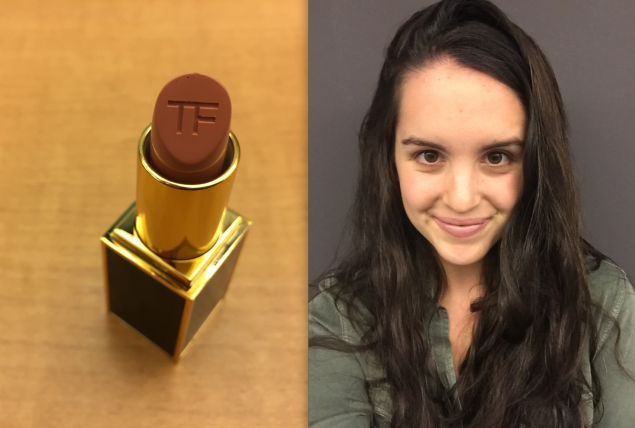 My first reaction? This is odd. I couldn't help but think my lips looked pasty. Or perhaps they looked dried out, as though I had been standing on a frozen tundra in the face of a biting wind. My boyfriend concurred: "That one's lighter [than yesterday's] so not as dramatic," he said, "but it's a little chalky."
But maybe I was just thrown off by the stark contrast from yesterday's bold color. Eventually I got used to the Blush Nude, and decided it didn't look so bad. The light pink color looked nice with my olive green top. It felt clean and feminine. And unlike with Dolce & Gabbana's "Jealous," I didn't feel as though my coworkers were thinking "whoa, lipstick" every time they looked in my direction. Another upside: If it got rubbed off mid-meal, I was not left with the dreaded dark ring.
I opened the lid and observed the color with trepidation. It looked very purple.
Surprisingly, when applied, it came out as a cute pink. "It looks nice without being, like, 'What's with Jordyn's face?' " my co-worker noted. I really liked this one; in terms of daytime looks, it was my favorite so far. It was fun without being too over-the-top for work, and I liked the way it paired with my new American Apparel dress (pictured). I never thought of myself as a pink person, but I would definitely wear this again.
My boyfriend thought it was "a bit too bold," but, as we learned before, he also think lipstick is for "French Renaissance women," so I took his opinion with a grain of salt.
Day 4: Charlotte Tilbury, "1975 Red"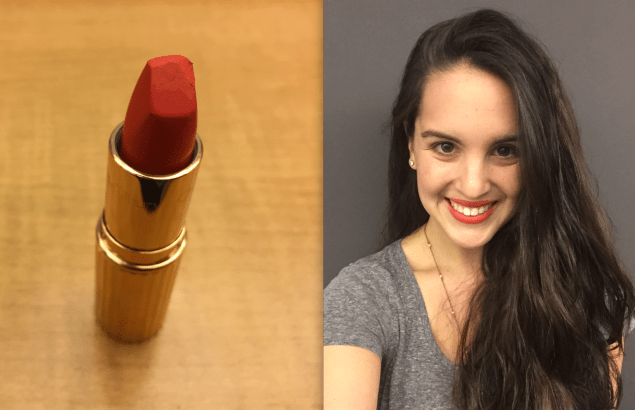 I made one stroke of color across my bottom lip and already I was crying, "no, no!" in my office chair. It was really bright and opaque, and I felt as though I were applying thick, carnival-esque paint to my lips. The hue seemed very orange to me, as opposed to something softer like a "coral" or "peach." Somehow, in the application process, I also managed to smear the lipstick up the side of my nose. It did not come off easily.
My coworkers, however, disagreed with me. One told me my smile looked great—the bright color, she said, made my teeth look extra white. Another assured me it was a cute day look. A third said this one was her favorite! At least my boyfriend was on the same page as me. "It looks very Broadway costume," he said.
Still, determined to see my experiment through, I nobly reapplied the color after lunch. A few minutes later I went to the bathroom, spotted my crazy lips in the mirror, and aggressively wiped it all off.
Day 5: Dior Addict, "Riviera"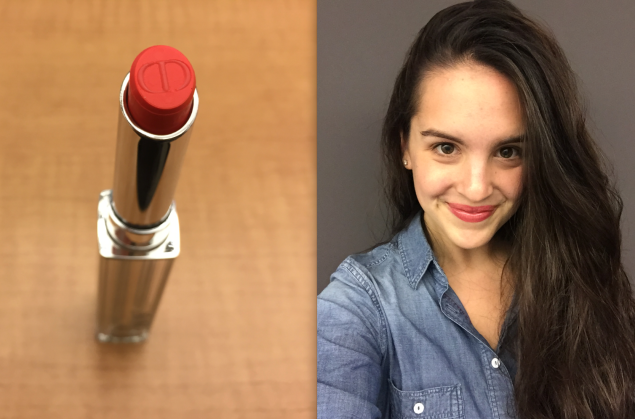 When I put this one on, a co-worker immediately told me this was the "best one yet."
I was a big fan of this one. Color-wise, it felt like a better match for my complexion than yesterday's Charlotte Tilbury. As opposed to being glaring and opaque, this one was softer, and had a glossier element to it. It was also the only one of the five that did not make my lips feel even the slightest bit dried out—almost as though it contained some kind of moisturizing ingredient. I could see myself applying this as quickly and as casually as the lip balm I typically carry around with me.
And the first-place prize goes to…
…Dior Addict, "Riviera." As soon as I put it on, I knew it was my favorite of the five—both color- and texture-wise. It was pretty without being in-your-face, and won major points for not making my lips feel dried and cracked.
But throughout the experiment, I learned more than just which lipstick suited me best. As someone who tends to shy away from make-up, I learned that lipstick is actually one of the easiest items to integrate into my daily routine. It doesn't give me the pore-clogging feeling that foundation does, and applying it doesn't require the same level of precision as mascara or eyeliner. Plus, if my outfit is lacking pizzazz, a quick dash of lipstick delivers an instant interesting focal point. I may not be the next Kat Von D, but peek inside my purse nowadays, and one might just find a tube of lip color—or two.