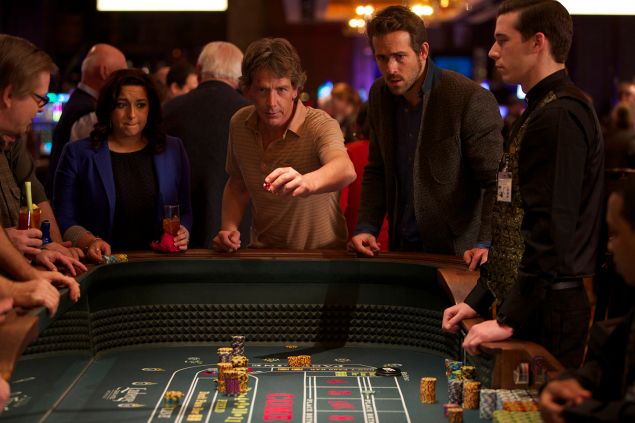 From the writing-directing team Ryan Fleck and Anna Boden, who brought us the 2006 film Half Nelson, starring Ryan Gosling as a schoolteacher addicted to drugs, expect another laid-back mood piece with Mississippi Grind. They know how to keep an audience tuned in, waiting for something to happen. But that isn't the same thing as narrative suspense.
---

MISSISSIPPI GRIND ★★★
(3/4 stars)

Written and directed by: Anna Boden and Ryan Fleck
Starring: Ben Mendelsohn, Ryan Reynolds and Yvonne Landry
Running time: 108 min.

---
This is basically a two-hander with Ryan Reynolds and Australian actor Ben Mendelsohn as a pair of gambling addicts who travel the rails between casinos, picking up stray oddballs to pass the time between rolls of the dice. Curtis (Mr. Reynolds, who grows in self-confidence with each role) is a fool who thinks he cannot lose. Gerry (Mendelsohn) is a craggy reprobate with a hostile ex-wife and neglected daughter who cannot win. Drowning in debt, he tries to go straight selling real estate but always gets lured back into the game. Any game.
They meet in Dubuque, Iowa, in a card game and bond over billiards and bourbon. Against his better judgment, Curtis allows Gerry to tag along on the road to New Orleans, where a high-stakes $25,000 poker game awaits. These guys are hip, risk-taking drifters who will bet on anything, from dog races to whether the next man out of the men's room will be wearing glasses.
"The journey's the destination," says Curtis, and the movie proves it as it follows them while they grift and grind their way down the Mississippi River, through St. Louis and Memphis, betting on blackjack, college basketball and whatever the action offers. Gerry stops in Little Rock under the pretense of seeing his daughter and even tries to steal money from his estranged ex-wife (Robin Wiegert) before she throws him out of the house for good. Curtis wafts through St. Louis long enough for a reunion in the sheets with a barmaid and sometime squeeze (Sienna Miller). They win. They lose. They ride to the moon on a natural high, then crash with the thud of a falling corpse.
It's all been done before, in dozens of other gambling-disease movies from Robert Altman's California Split to Richard Brooks' Fever Pitch. But there's no denying the two stars are worth watching. They play off each other with more solid charisma than a lot of boy-girl matings. Otherwise, it's a pokey road-movie bromance with more character development than character.
Alfre Woodard, as a sympathetic loan shark, and Sienna Miller, as Curtis' one-night stand, have a few moments, but are largely wasted. Mississippi Grind is really about the empty loneliness of two men who hang out together to stave off despair—winning a little, losing a lot, showing us the brick wall dead-end gamblers call a life. The ambience of pool halls, honkytonks, backroom crap games and smelly racetracks where these guys live out their aimless days and nights is captured perfectly, lending a distinct air of hopelessness to their already rudderless lives. It's not uninteresting, but the movie is paced by Valium.