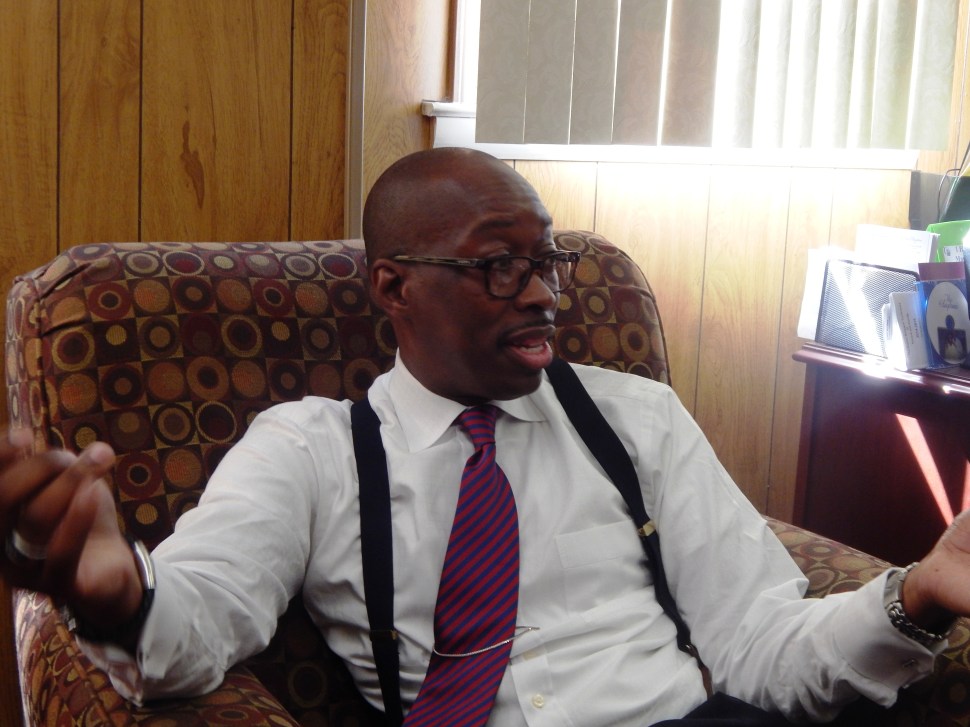 PATERSON – The cops found a woman who OD'd in an abandoned house here in the 4th Ward in the dead of winter, less lucky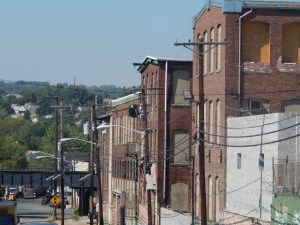 than the one wearing a mink coat but otherwise naked trying to hock a diamond ring for drugs before they picked her up and booked her. The luxury automobiles from the burbs roll in sometimes, driven by teens when their parents' backs are turned, delivered to drug lords in exchange for the goods. Heroin haunts these streets.
Over 2,000 abandoned properties dot the City of Paterson in shambles, and many of them stand or barely stand in the 4th Ward, a Bloods-dominated husk of its former industrial self and ground zero for the city's foreclosures, shootings, drug busts, and carjackings.
For 18 years, native Patersonian Kenneth Darryl Ray Clayton has served as pastor of St. Luke Baptist Church of Paterson, where he lives the crisis on a daily basis. "The 4th Ward is the most depressed ward of the city, one of the worst wards in the nation, where are magnified the problems of AIDS, prostitution, crime.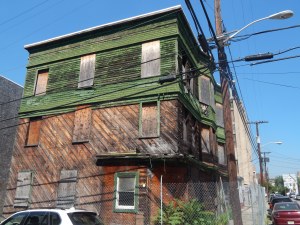 "I've seen it get worse in the last four to five years," he added. "It's become white heroin addicts."
St. Luke's stands as the healing agent for a ward under siege, spiritual sustenance for area residents, with services like a food pantry, computer literacy training, adult literacy and recreation. In the sanctuary, the piano of Whitney Houston – purchased from the legendary singer before her untimely death in 2012 – stands to the right of the stained glass-lit altar. Called to his ministry, the Rev. Clayton said he wanted from the beginning to see the church to do more than what he saw as a child.
Trained here and married in this church, Assemblywoman Shavonda Sumter (D-35) was once the executive director of the church's community development corporation and helped secure grants money that enabled the church's expansion. An emergent power player in Trenton and Democratic Party politics and critic of the Christie Administration in Trenton, which she says has axed school funding for Paterson, Council on Affordable Housing dollars and Community Development Block grants, Sumter remains a dedicated St. Luke's parishioner and political ally.
Amid the tensions that have long characterized New Jersey and its urban-suburban divide, PolitickerNJ asked the Rev.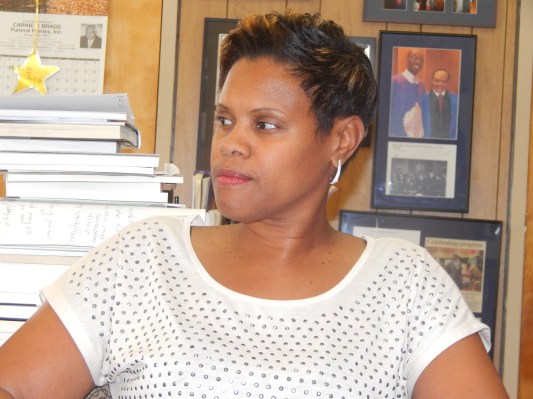 Pastor Clayton what quality politicians from outside the boundaries of Paterson should exercise when considering the needs of his city.
"Compassion," he said.
"The pains of urban life are not just the result of individual choices," the pastor added. "Some are failures in a system that allows people to fall through the cracks. Every child needs a proper education. The war needs to end. I understand the scarcity of funds, but people should understand what people are facing here."
The pastor insists on politics as the mechanism for social change.
"Most people in this community have no trust or respect for politicians," Clayton said. "They feel that politicians use them for votes and that's why most of them don't vote. they don't see a trickle down to their needs. But I firmly believe that the political process is the way to get leadership to respond to their needs."
The reverend turned to an original art work on his wall of the Edmund Pettus Bridge in 1965 entitled "Don't Forget the Struggle."
"We are fighting battles now that we should not be fighting," Clayton said. "When you consider the sacrifices of those who came before us to get the vote, our young people should be running out to exercise that right as  soon as they turn 18."
Instead, they fall prey to public apathy born of political manipulation and abuse. "I don't have any faith in the GOP," the pastor said. "My faith in the Democratic Party is anemic but still alive."
He maintains regular contact with Sumter. "If I don't ask Shavonda, I can't expect anything," he said.
In addition to his disappointment in an abiding communal rejection of politics, the pastor expressed another lament.
"Race relations are very divided," he said. "When I grew up, I went to Paterson Catholic. Whether we came from Muslim, black, white, or Christian backgrounds, we were people. But I don't see our youth identifying as much anymore with being people first. This division among races now doesn't make sense to me but I understand where it comes from. it's the result of an America that is becoming more and more self-centered. We don't see each other as we are anymore, we see only those whom we identify as being the same or similar to us. This kind of attitude makes it difficult for us to identify with a dominant culture and makes us instead the opponent of other minority groups."
Outside on the streets of the 4th Ward, block after block stands empty or downbeat.
Juggling numerous battlefronts, Mayor Jose "Joey" Torres ran for office last year on a promise to reverse Paterson's skid into foreclosure oblivion. In a year's time, his administration has made strides in that area, working, for example, with developer Charles Florio, who has already has a record of trying to salvage the 4th Ward, a $60 million portfolio and an attack plan to buy and revitalize whole sections of abandoned properties.
The conversion of the down-on-its-heels 4th Ward can't come fast enough, argue those proponents of development. Apoplectic residents ate a rate increase from 2.90 to 4.10%  this past week (part of a 29% tax increase for Paterson residents over the past five years), and the schools system suffered numerous layoffs earlier this year, the consequence of state-level cuts.
But longtime community members too fear the ongoing impersonal acquisition of property by New York and other outsider developers enticed by the provisions of the city's abandoned properties ordinance. Deprived of state dollars to maintain adequate staffing levels for oversight agencies, Paterson could continue to fall prey to buildings fast occupied by residents who lack community but-in, and merely ultimately put undo pressures on the school system and other city services.
The foreclosure crisis afflicts other crime and poverty ravaged cities in the state, including Newark (left) and Trenton, a condition worsened by what local officials see as a detached Christie Administration with other priorities.
"The state took away $23 million in our capital city aid, that on top of the $50 million deficit [in 2010] from Mayor Doug Palmer, and we have not recovered," said Trenton City Councilwoman Marge Caldwell-Wilson. "The Christie Administration is killing us. They are killing the cities. It's like banging your head continuously against a brick wall."
The acquisition of property in the capital city is simply another scam – or has been in recent years – by absentee landlords buying up whole blocks, taking advantage of understaffed city code enforcement and, the councilwoman said, a non-existent state presence, failing to convert areas into habitable living spaces, then using blight as liens on other properties.
"There are an astronomical number of vacant properties in Trenton," Arnold Cohen, the Senior Policy Coordinator for the Housing and Community Development Network of New Jersey, told PolitickerNJ last month. "The problem worsened [before the current mayor, Eric Jackson, took office last year] but even with the best person in charge, the city is in crisis. There's only so much you can do as a municipality."
In the upcoming session, the legislature will consider a host of bills directly targeting vacant and foreclosed properties. Cohen worked with state Senator M. Teresa Ruiz (D-29) of Newark on a land-banking bill (S-2867), which Christie initially vetoed, citing lack of transparency. Ruiz hopes the bill passes in this upcoming session.
"The senate passed it in June and it still needs to go before the Assembly," the senator told PolitickerNJ. "The purpose is to create land-banking authorities to transform magnets for crime into hope. As an individual from Newark who is impacted by a high foreclosure rate, this bill would create a tangible positive impact."
"Both Senator Ruiz and Assemblywoman Mila Jasey [D-27] have done an excellent job pushing the bill," said Cohen, who noted other bills, including one aimed at protecting Hurricane Sandy from foreclosure as they wait for federal assistance, and another providing funding for foreclosure prevention.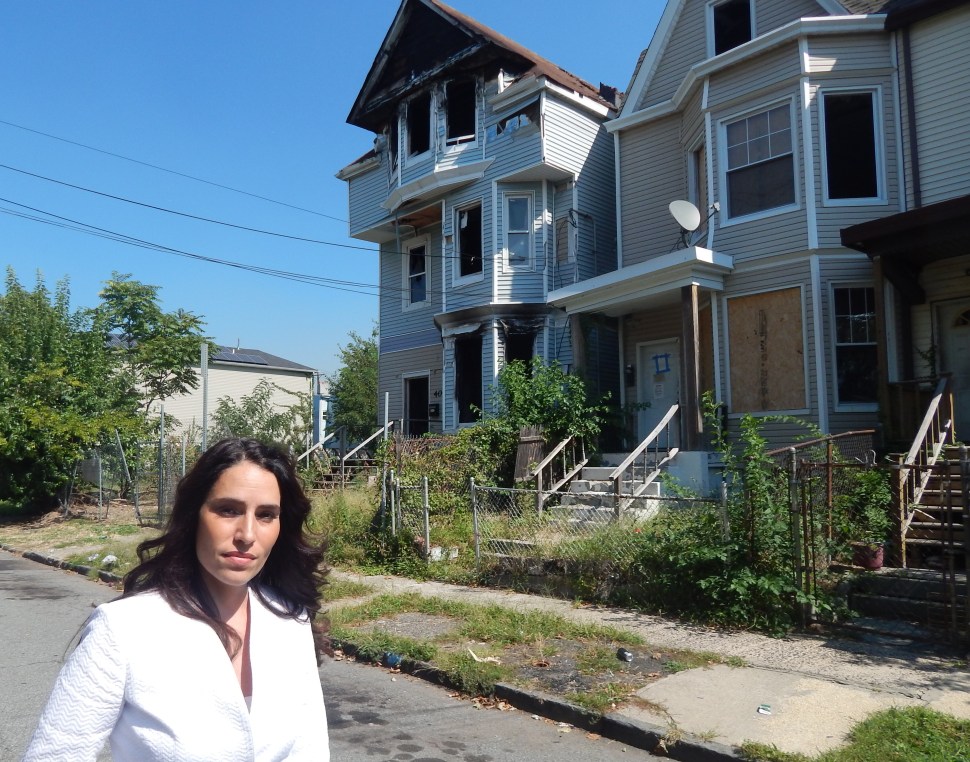 Joyful in their faith but looking for help back in Paterson's 4th Ward, between crack-infested buildings surrounding schools and a park for children condemned once for contaminated soil, buildings burned down by homeless drug addicts and gang members tweeting out pictures of themselves with shotguns after the latest shootout, not far from Freedom Boulevard where Dr. Martin Luther King, Jr. once spoke shortly before he was shot and killed, Sumter and the Reverend Pastor Clayton soldier on in solidarity.
Related coverage…
Of Newark and Somerset… New Jersey's violence problem.
New Jersey's Capital city Shrugs off Christie Prez run.
Newark needs 6,000 jobs to get on par with state unemployment.
Paterson ward races take shape.
City Hall Versus Schools in Paterson.
Sumter won't rule out guv run.
In Trenton, violence moves 'from the streets to the seats'.
Still mad after all these years.
Newark Mayor leads march against violence.