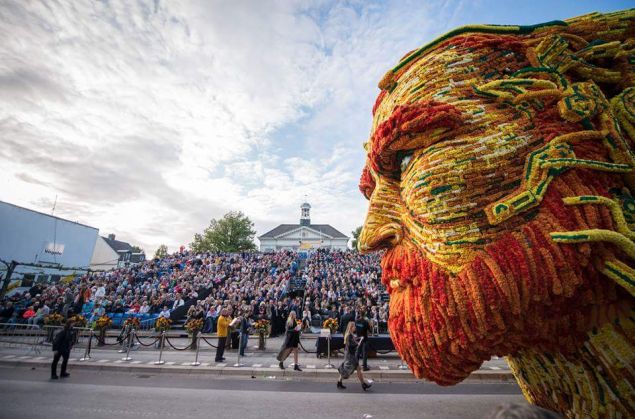 Every year, thousands gather in Zundert, a small town of close to 22,000 in the southern part of Netherlands, for the oldest—and arguably quirkiest—flower festival in Europe.
Corso Zundert is known around the world for its giant sculptural floats covered in dahlias, and the town's people are really into their annual fête.
"We are crazy about our flower parade," reads a description on the parade's website. "Our grannies and granddads started it in 1936 and we still can't have enough of it. By the First Sunday of September the fever burns within us. Will the moving floats be finished in time? Are there enough dahlias? And who is going to win this time?"
This year, the town is honored Dutch artist Vincent van Gogh, who was born in Zundert in 1853 and died 125 years ago this year. Coverage from Juxtapoz tipped us off.
Adieu Vincent, a float that depicted the artist lying in repose, brush in hand, on a bed of tall flowers comprised of varying shades of brilliant purple dahlias, took this year's top honors.
Below, some standout floats from the festivities. (We're giving extra points to the makers of the float inspired by van Gogh's painting, The Potato Eaters, which is on view at the Van Gogh Museum in Amsterdam.)