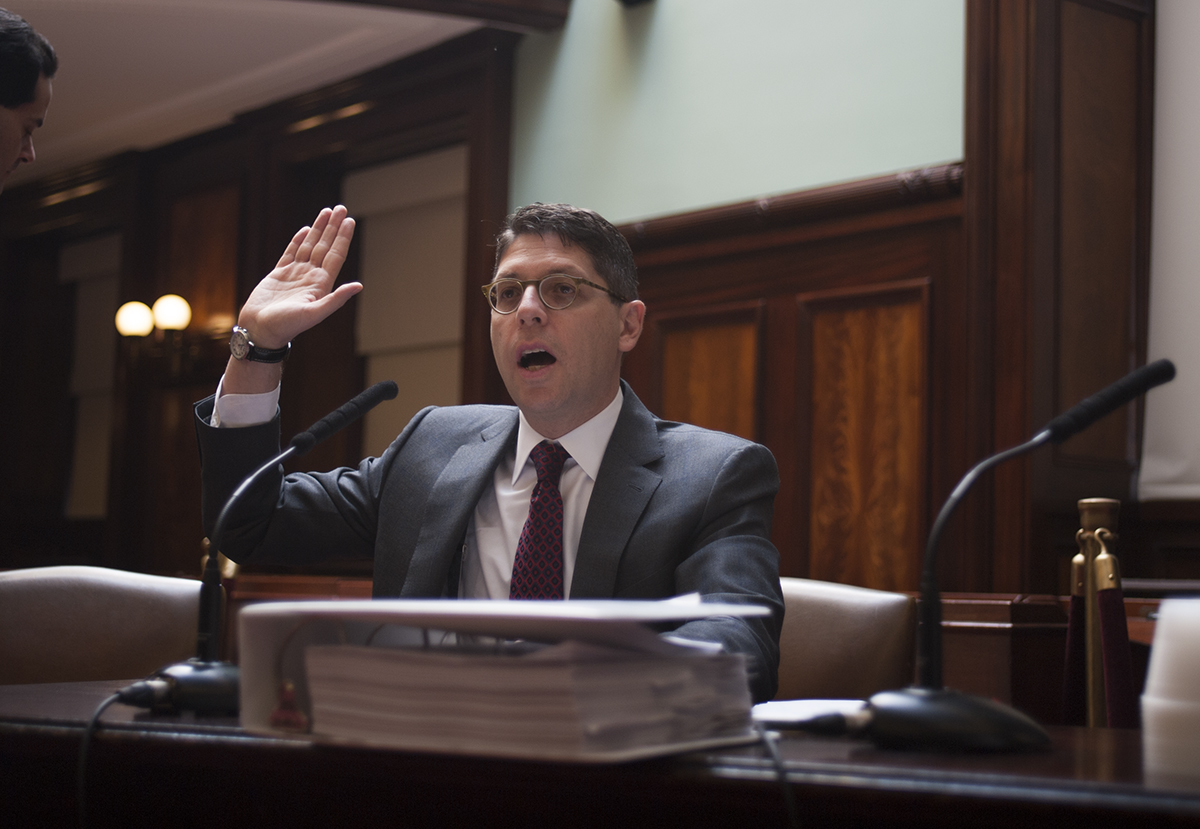 In a room full of his fellow city officials, Department of Investigation Commissioner Mark Peters, who is tasked with rooting out corruption, fraud, waste and abuse, is not the most popular guy in the crowd. And he doesn't seem to mind.
"Sometimes it's like eating your vegetables. Sometimes it's like eating your, you know, leftover vegetables that you pushed around your plate last night as well," Mr. Peters told the Observer in a sit-down at his downtown office, decorated with baseball memorabilia. "But at the end of the day, I think the commonality is that everybody gets that we're all better off as a city for what we do."
Nearly two years into his tenure as leader of the city's oldest investigatory agency, and after criticism of his close relationship with Mayor Bill de Blasio—Mr. Peters was his campaign treasurer—and his reduced rate of arrests compared to his predecessor Mr. Peters remains a happy warrior, defending his department with an easy, if thoughtful, tone.
"I'm pleased with the direction we're going in, because first of all we're still arresting a lot of people, right?" Mr. Peters said. "Second of all, we've done some things that have never been done."
He cited a report on appalling homeless shelter conditions many dubbed scathing—though Mr. Peters proudly notes all his reports are flatly written because "when you have the facts you don't need adjectives." It led to no arrests, but spurred policy changes from the de Blasio administration.
"If the several thousand small children living in shelters don't have to step over decaying rats next year, I'll be very comfortable with how I devoted resources," Mr. Peters said.
A dapper dresser—he wore suspenders depicting iconic Coney Island images including a Ferris wheel—Mr. Peters is a professorial former prosecutor who speaks with a hint of swagger. His agency is tasked with overseeing other city agencies: making arrests when the conduct is criminal, making policy recommendations when it isn't.
"There's no other law enforcement agency that can do the systemic stuff that we do, and there's no other governmental agency that can do the criminal investigations that we do," Mr. Peters said. "And we can put them all together, which has kind of a unique impact that nobody else has."
Mr. Peters oversees inspectors general who keep watch over specific departments—including the new NYPD Inspector General Philip Eure. Mr. Eure made waves with a recent report on a body camera pilot program—only for Police Commissioner Bill Bratton to dismiss many of suggestions. Mr. Eure is set to release a report on the use of force by the department later this fall.
"The data there will be such overwhelming data and investigative analysis that it will be impossible to brush it aside," Mr. Peters said. "And that's how you get it done."
For the most part, his reports have led to action from the city—sometimes a little too quickly for his critics. The same day Mr. Peters released a report on mismanagement by Corizon, the vendor providing healthcare on Rikers Island, Mr. de Blasio announced he was ending the city's contract with the company. Mr. Peters said he certainly gave City Hall a heads up about the problems with Corizon, which had also been highlighted by the media, because "independence is not isolation."
"The goal here is not to embarrass Corizon. The goal here is to get a proper medical service in place," Mr. Peters said, and City Hall is the entity tasked with doing that. "I want them to fix the problems we're pointing out. The goal here is not just to point out problems and have them continue."
Manhattan District Attorney Cyrus Vance Jr. has teamed up with Mr. Peters to prosecute several cases—including the arrest of 50 people, among them city officials at the departments of Buildings and Housing Preservation and Development, in a bribery scheme. The pair has also launched a citywide construction fraud task force. The DA praised Mr. Peters as independent, "aggressive and thoughtful."
"There's always going to be points of disagreement on how to handle a case…but at the end of the day the most important thing is that we keep our eye on the ball," Mr. Vance said. "And Mark, at the end the day, keeps his eye on the ball."
Mr. Peters has sometimes dismissed criticism with a casual confidence that's rankled some officials. In February, he bitterly sparred with Councilwoman Elizabeth Crowley during a hearing she co-chaired on a report he issued slamming former Mayor Michael Bloomberg's over-budget and behind-schedule roll-out of a new 911 response system.
Oversight hearings allow council members to wield power over agency heads. Ms. Crowley did not care for Mr. Peters' report, which she thought was not critical enough of the decision to overhaul the emergency response system, nor did she care for his answers to her questions, when he argued criticizing a policy decision about streamlining 911 was not his role. Things turned ugly: Ms. Crowley, who can be a bulldog in hearings, requested other city officials join him on the dais for questions because she charged Mr. Peters with "trying to hide something."
Mr. Peters counter-attacked. He argued that Ms. Crowley had accused him of a "felony" with her remark about him hiding something; he demanded she "withdraw the accusation" or provide "written evidence of that within the next 24 hours"—hardly the solicitous tone most commissioners use in a hearing.
"I still am waiting for my apology from Mark Peters," Ms. Crowley told the Observer last week. "Or the mayor who appointed him, of course [the Council] okayed it, but still. We are a body that is charged with oversight of every single city agency, including the Department of Investigation. This is the Council Chambers. When we have a hearing, we conduct it. When Mr. Peters walked in to our hearing that day, when I had the hearing on his 911 report, he felt like he was doing the chairing of the hearing and he was calling the shots. And I had to bite my tongue so we could carry on."
Mr. Peters didn't exactly apologize, but upon reflection, he admitted he could have been more diplomatic: "The exchange became a distraction from the real issue—which was the need to fix the way we deal with technology," Mr. Peters acknowledged. "So frankly, what did I learn? What I learned is that the work we do speaks for itself, and I should take a softer tone in defending it. And if I could do it over again, I would."
A version of this story appears in print in the September 28 issue of the New York Observer.