After much anticipation, Hermès gorgeous parfumerie will open tomorrow morning in downtown Manhattan, with a ribbon-cutting at 9:50 a.m. The shop, located inside luxury shopping complex Brookfield Place, is the first of its kind for the 178-year-old fashion house. The parfumerie will be dedicated entirely to Hermès's beauty products. The sleek, geometric shelves house the company's entire collection of perfumes, as well as bath, body and haircare products.
Shoppers who enter the store will pass through a "symbolic garden," according to a press release—a "transitional space makes reference both to the urban environment outside and to the natural playground of the perfumer." From there, the store's aesthetic—a design collaboration between RDAI and RF Studio—is meant to "recall the different rooms of a house." Indeed, the store's clean, neutral surfaces made from concrete, marble, leather and wood could just as easily be found in a chic Manhattan penthouse as in a luxury shopping destination.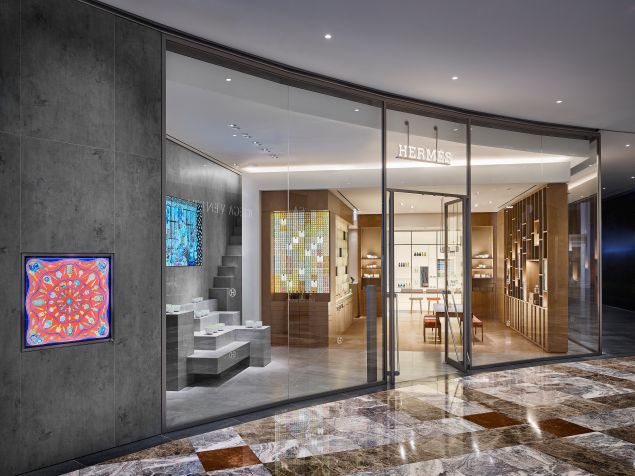 In a press release, Hermès CEO Axel Dumas described the soon-to-open shop. "Here is assembled all that Hermès has to offer to indulge the olfactory senses, allowing each to experience at their own liberty the profusion and creativity of our scents, and to share our perfumed art of living," he said. "For like all the objects produced by the house, Hermès perfumes only truly come to life when they find their owners."
As an extra incentive to head down to the shop, Hermès fragrance expert Céline Ellena—daughter of legendary perfumer Jean-Claude Ellena—has designed a new floral-scented candle, called "The Shop Around the Corner," to be sold exclusively at the parfumerie. The candle is an "homage to New York City and the home Hermès has built in its beating heart," according to the release.
"Walking down the street in this sonorous, over-whelming city, all of a sudden you stumble onto corner shops with shelves of flowers," Ms. Ellena said. "The huge bouquets of lilies and eucalyptus branches smell wonderfully bright, like the light in New York, and so tonic, vibrant and warm. As a scent, it's sweet and enveloping to come home to."