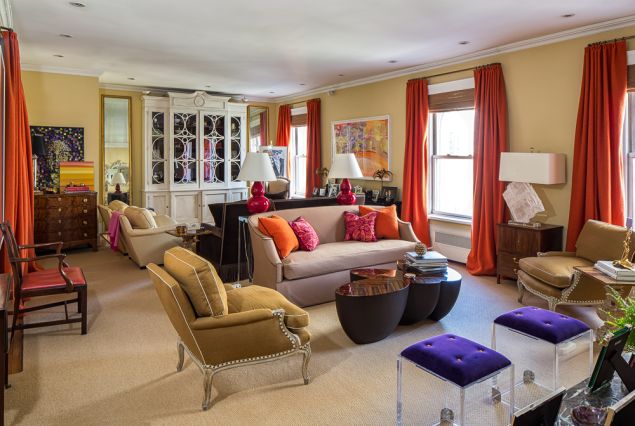 The woman who gave herself the title "The Color Whisperer" is looking to offload her vibrant Madison Avenue apartment.
The Canadian-born interior designer Amanda Nisbet, known for her bright and colorful décor choices, has put her jewel-toned Carnegie Hill pad on the market for $4.45 million.
The stylish four-bedroom—which Ms. Nisbet decorated herself, of course—was featured in House Beautiful, and it definitely bears Ms. Nisbet's rather unique colorful mark—a refreshing departure from the local devotion to ecru and cream.
The eclectic style is seen in the master suite, which has a dressing room, en-suite bath, and was described by House Beautiful as "pure crème fraîche." It's gone through some changes since it was featured in the magazine, and Stribling & Associates broker Linda Maloney said that Ms. Nisbet "refreshes it every couple of years."
"It's an addiction, it comes with the profession," Ms. Nisbet told us. Recent changes include the master bedroom, which Ms. Nisbet described as "very pink, but now it's all this lime, chartreusey green, green silk curtains, that fresh spring color—it's light and airy, with a green tone."
"The dining room was a dark brown with Venetian plaster, and blue curtains. It was really cozy at night, but I felt I wasn't using it enough. I changed the walls to a lacquered melon color, and hot pink curtains and new pink chairs from my new line. Instead of dark and cozy, it's now Palm Beach and New York. I put in a really modern light fixture, I love the juxtaposition of antique with modern things," she added.
The sprawling 1326 Madison Avenue co-op, however, has begun to feel too large now that the designer's children are grown. "I moved in in 1999, when one of my kids was in nursery school in the area, and the other was 2. Now, one is working on Wall Street and the other is in college, so I thought it was time for a change. I just feel like there's an echo in there, it's too big for just me," she lamented.
The 30-foot living room has a wood burning fireplace, over nine-foot high ceilings, and is currently decorated in various shades of yellow. Ms. Nisbet's design isn't exactly known for its subtlety, but for a buyer delighted by the idea of a den with lime green walls, a bright purple velvet couch, and gold tables—which could, of course, be easily refashioned in the Upper East Side's traditionally snooze-worthy palette, of course—the home will surely excite.
She was, she added, feeling confident about her next move.
"I think I'm going to go to downtown, and do something completely different. I'll find something fantastic downtown."