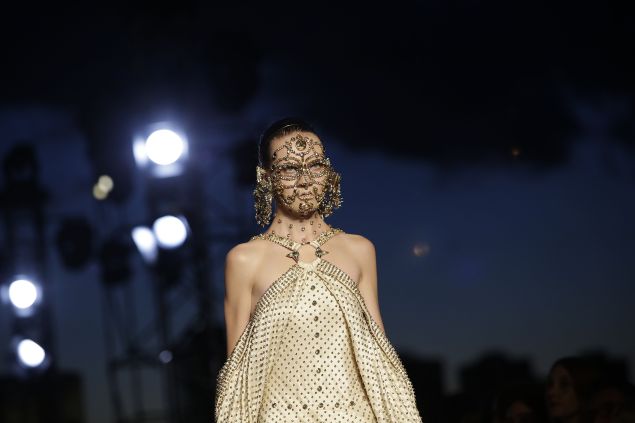 At a show on Saturday morning from Australian designer Dion Lee, the first things we noticed on the runway were not the sumptuous suede dresses or the spell-binding fringe skirts, but the jewelry adorning each model's face. Molded to fit the profile of every girl in the show, a slender piece of silver wire from Sarah & Sebastian hugged their foreheads, noses and lips, starting from the back of the head and reaching to the underside of the chin.
Of course, it was a striking look, but surely this can't be a viable trend for everyday wear, right? Simply because there's no way for these models to open their mouths, even a tiny inch. Perhaps this look could be emulated with a slender metallic temporary tattoo, but even that seems more appropriate for festivals like Coachella and Burning Man than for a night out in the Meatpacking District.
Mr. Lee wasn't the only designer to feature facial baubles for spring 2016; Riccardo Tisci sent quite a few bedazzled faces down his much-discussed Givenchy runway. However, his were far less functional and even more like masks. The beauty of a butterfly on the lips of a model certainly isn't lost on us, but just imagine if Givenchy were to sell these embellished face baubles in their stores. Surely they would be snapped up by loyal customers and adventurous makeup aficionados alike.