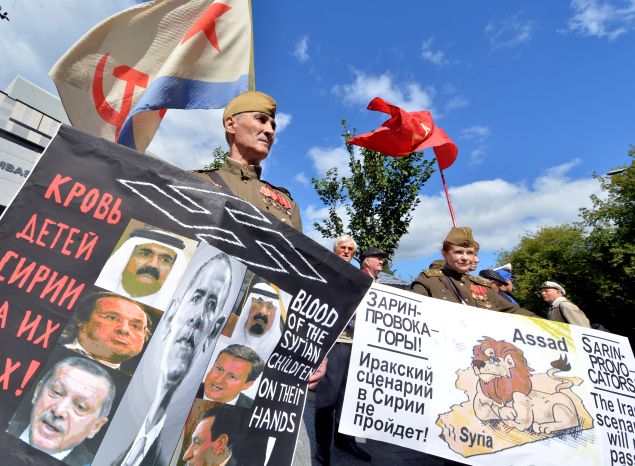 As Vladimir Putin addresses the UN and meets with Barack Obama it's obvious he's running geostrategic rings around the US President, which in not exactly hard to do. Leaving aside the question of whether or not the intelligence assessments of the war against ISIL have been politicized or not; the US "Pinprick" campaign of extremely limited airstrikes has not had much impact on the Syria/Iraq war. The only real success the US has had in Syria was helping to stop ISIL from taking the Kurdish town of Kobane.
Putin's decision to escalate Russia's involvement in the war to "rescue" Bashir al Assad's corrupt regime may look at first glance like a masterstroke that will increase the Kremlin's regional clout, but in fact it may ultimately end badly for Russia's Army. Already stressed by roughly 2000 dead and thousands more wounded in the Ukraine War, Russia's army is in no shape to fight a sustained war of attrition against a vicious, complex and fairly well armed insurgency.
While Russia's ally Iran may be willing to send a limited force to buttress the Assad regime, Iran's ally Hezbollah has decided, probably with Iran's permission, to most pull out of Syria and rebuild itself militarily and politically inside Lebanon. Russia is getting in, just as Assad's other allies are either leaving or looking for ways to limit their exposure.
To understand Putin's problem consider that in the year 2000—less than a decade after the fall of the Soviet Union—Russia had about a million men in its armed forces, four airborne divisions and seven special operations 'Spteznaz' brigades. Today the army is one-fifth smaller, and it still includes a large number of conscripts who are doing their 12-month stint and who are useless as combat troops in Ukraine or Syria.
Morale in the Russian Army which was supposed to be sky high after the successful 2014 takeover of Crimea, is not exactly booming.
Most of the Russian Army is composed of understrength Divisions (theoretically 12.000 men) and regular Brigades (theoretically 3000 men) with older weapons. Putin's effort to modernize his armed forces has focused mostly on nuclear weapons and on the Air Force and to a lesser extent on the Navy. The army has been at the bottom of the priority list.
Russia's effective ground forces are limited to a few brigades of paratroops and Spetznaz and possibly a few other ground units. Roughly one half to one third of these troops can be deployed at one time, the others are either recovering from their deployments or training for future missions. With at least two brigades in Ukraine and now at least one brigade in Syria, Putin's ability to project power is probably limited to one or two brigades whose training is limited and whose equipment is probably second rate.
There have been reports, notably in the French newspaper Le Figaro, that some Russian troops have been reluctant to deploy to Syria. The French paper used the word 'mutiny' which would seem to exaggerate what looks like a minor, but telling incident. Morale in the Russian Army which was supposed to be sky high after the successful 2014 takeover of Crimea, is not exactly booming.
It seems that Putin's plan is to use his ground forces to protect the air bases Russia needs to launch an air campaign to destroy all of Assad's enemies, of whom ISIL is only one strong but isolated element. Yet just as the US ground forces engagement in Vietnam began with a move to protect the air base at Da Nang, Putin's move will almost certainly lead to a greater and greater involvement. Which means more casualties and more pain and heartbreak for Russian families,
Some American experts think that the White House is trying to get Russia to act as America's boots on the ground, others think that it would be a good thing for Russia to get bogged down in a slow moving war of attrition, but these wars have a tendency to spread and that could get very nasty for the region and the world.
How many years of war in Syria can Russia's 'genius' new Czar afford ? How many Russian's are ready to die to keep Bashir al Assad in power ?