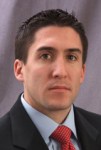 The International Union of Operating Engineers Local 825 today endorsed Kate Gibbs and Ryan Peters in their bid for the Burlington County Board of Chosen Freeholders against Democratic incumbents Aimee Belgard and Joanne Schwartz. The union represents heavy machinery operators.
Gibbs works in business development for the labor management fund of the Local 825, while Peters serves as an associate with Pepper Hamilton LLP in Philadelphia. Peters is also a Navy SEAL who saw multiple combat deployments to Iraq and Afghanistan and serves as a Lieutenant Commander in the Naval Reserve.
"It is exciting to see a new generation of candidates seeking to enter public service," said Local 825 Business Manager Greg Lalevee in a statement. "I can't imagine better qualified candidates based on their ideas for the future and their accomplishments to date."
Gibbs' labor background could give the Republican ticket an advantage in the race against Belgard, whose high-profile loss to US Representative Tom MacArthur in 2014 saw her outspent three to one. The race will be critical for Belgard if she intends to run again in 2016.
A win for Gibbs and Peters would give Republicans full control of the board with a 5-0 majority.