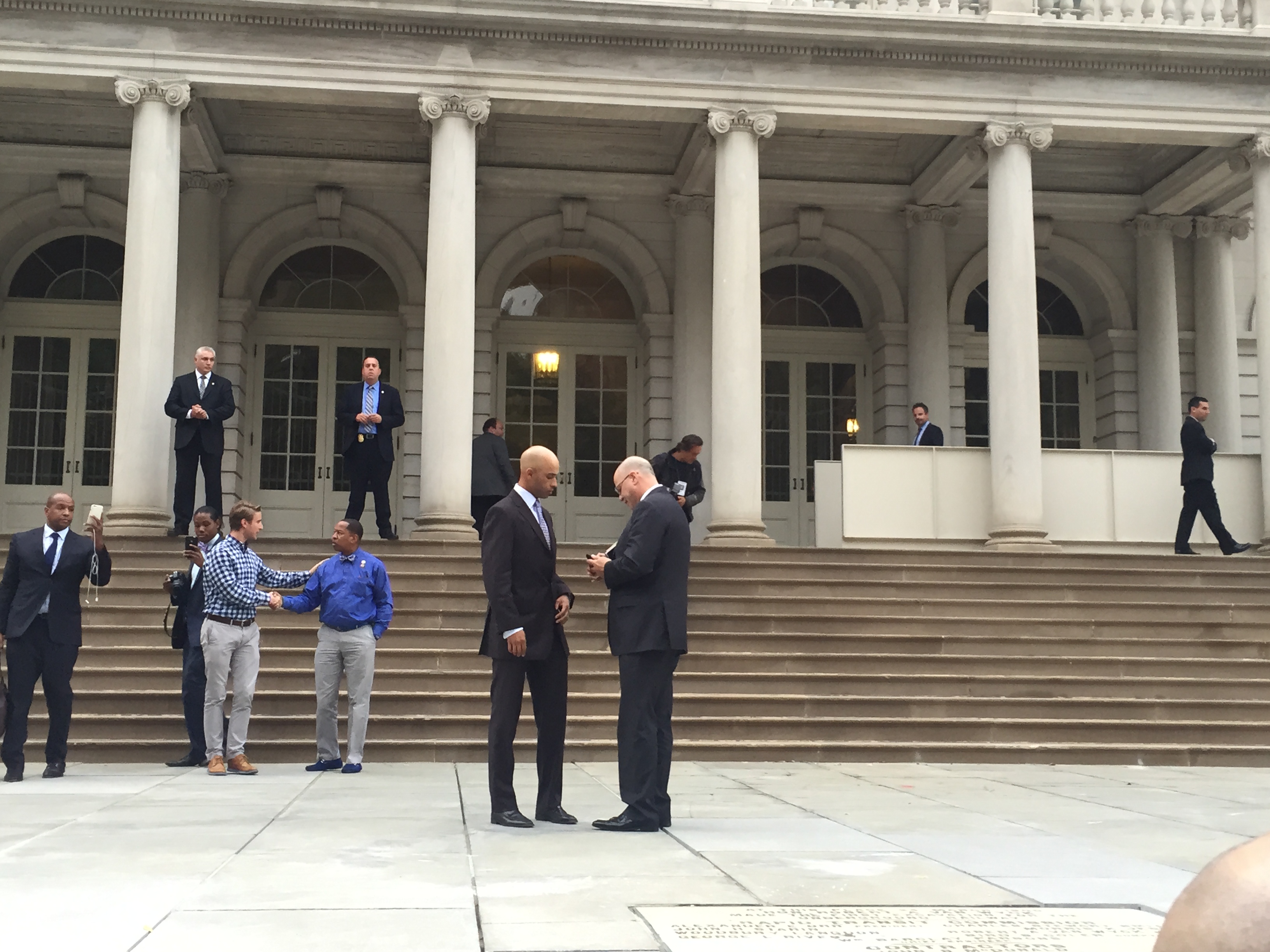 Retired tennis pro James Blake—who was mistakenly tackled to the ground by a police officer who mistook him for a suspect—emerged from a lengthy meeting with Mayor Bill de Blasio and Police Commissioner Bill Bratton singing their praises and saying he hoped to avoid filing a lawsuit.
"Right now we're handling this in a very civil matter," Mr. Blake told reporters outside City Hall. "We're standing shoulder to shoulder with them and we'd like to continue that way."
Mr. Blake requested the meeting after he was taken to the ground by officer James Frescatore while he was waiting outside the Grand Hyatt in midtown for a town car to take him to Flushing, which was hosting the U.S. Open tennis tournament. Video showed Mr. Blake not arguing or having much time to do or say anything before Mr. Frescatore unceremoniously tackled him. Mr. Bratton and Mr. de Blasio have both already apologized to Mr. Blake, who said today they discussed how to make changes with a "long-term impact" on the department in response to the event.
The athlete, accompanied by his lawyer Kevin Marino, met with the officials for more than an hour-and-a-half before they emerged. Mr. Bratton and Mr. de Blasio did not take questions while Mr. Blake and his attorney spoke to the press. Mr. Marino said he intended to meet with the city's lawyer, Corporation Counsel Zachary Carter, in the "coming days."
"We are confident that we will be able to come to an agreement. So I don't think there is, at the moment a strong feeling that we will need to file a lawsuit," Mr. Marino said, adding that Mr. Blake was not looking for money but for "real and significant change."
Mr. Blake declined to provide specific talking points from the meeting—he said he didn't want to get anyone's hopes up about reforms that might not be able to be done quickly or "logistically"—but said the group "made a lot of progress" and that they "were all pleasantly surprised." In the days since the arrest, including this morning, Mr. de Blasio has repeatedly emphasized the reform efforts already underway in the department, aimed at reducing the use of force in arrests.
"It felt like the whole team, both sides of the table, were on the same page—looking to move forward and turning a negative into a positive," Mr. Blake said. "And I think Mayor de Blasio said it extremely well: we're talking about lasting impact. We're not looking for a quick lawsuit, we're not looking for anything that's going to be a quick and easy solution. We're looking for lasting, positive impact on the city and on the police force."
While he previously called for Mr. Frescatore to be fired, Mr. Blake said he understood the due process the officer was entitled to have. Pressed on what he wanted the outcome of that due process to be, his lawyer Mr. Marino said he expected "the process is going to work out as it should." The officer has been placed on desk duty pending several investigations.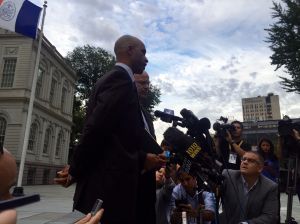 "There's a videotape, and again as Mr. Blake has said, we don't have any disrespect for the officer's due process rights. We're confident that the way this process works it will end correctly, and we're very pleased that being on desk duty just so everyone understands what that is, it means no shield and no gun. And that that will continue until he process has run its course," Mr. Marino said.
While Mr. Blake spoke kindly of the mayor and commissioner and their meeting, he himself has acknowledged that his celebrity athlete status has given him the kind of access that other New Yorkers in a similar situation might not get. Asked today what he thought would have happened if he hadn't been a popular former tennis player, Mr. Blake said he didn't know.
"I think with that video, it's pretty compelling evidence by itself. But I don't know if I would have had the same voice. I don't know if I would have been on Good Morning America. I don't know if I would have had those kinds of situations," Mr. Blake said. "But given we're in the situation—I said in there that life is 10 percent what happens to you, 90 percent how you react to it. So I'm going to try to react to it in a positive manner and try to make a difference for all those who might not be in the same situation."
Mr. de Blasio was posed a similar question this morning before the meeting—would he have invited an everyday New Yorker who had been in Mr. Blake's situation to City Hall?
"I talked to a lot of regular citizens. Obviously he's a prominent person, and this was a particular incident," Mr. de Blasio said. "But the bottom line here is the changes were already moving, and that's what I want to explain to him, and certainly to all New Yorkers. We don't want to see this kind of thing happen. We want to see a better relationship between police and community. We want to see force used only in the degree necessary. And that effort has been underway for the last year."
While Mr. de Blasio has invoked his son, Dante—who like Mr. Blake is biracial—when discussing race and policing in the past, Mr. Blake said he didn't come up today. But it made him feel good, he said, that the mayor said "his heart was on the same page as us," that accountability emerged as a major theme of the conversation, and that Mr. de Blasio "could look [him] in the eye" and say he wanted to make a long-term impact on the NYPD.
Mr. Blake said he still thinks often about the mistaken arrest—but reiterated his hope to work "shoulder-to-shoulder" with Mr. de Blasio and Mr. Bratton going forward.
"When I do think about it, I think about the fact that it was unfortunate that it happened," Mr. Blake said. "But if it turns into a positive, then it can be a good thing that it happened."