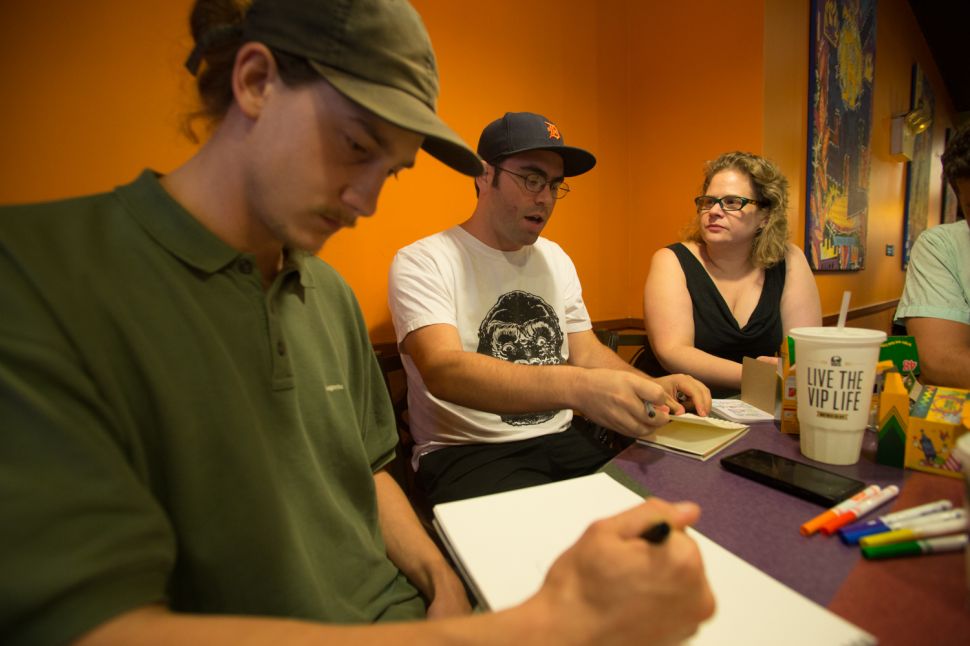 The artist Jason Polan saw the cashier who took my order before we sat down together at the Union Square Taco Bell. "Did he tell you it was going to be $99?" he asked. Seeing my confused expression, he added, "He likes to tell you it's going to be, like, $99.97. Whatever you get."
It's a customer service/dad joke native to the 14th Street fast-food joint Mr. Polan knows well. For a decade now he's hosted a loose, somewhat regular gathering of people at the Taco Bell Drawing Club.
The Observer first spoke to Mr. Polan in 2009. I went to a meeting of the Club shortly after first arriving a couple of years ago, and have returned every few months, ultimately drawing alongside New Yorker illustrators, Outside photographers, American Apparel models, teenagers, freelancers and the artist's fans.
Mr. Polan has built that group into a large following, such that when he hosted a party for his new book, Every Person In New York: Volume I (Chronicle, $24.95) at MoMA in late August, the event simply turned into a very long line of people buying a copy for him to sign. He said he would have liked to hang out more, but, well, the book had too much interest. In fact, a second printing has already been ordered, according to a Chronicle spokesperson.
Which is ironic considering Mr. Polan's approach to the project the book spotlights: his candid, offbeat drawings of the city's denizens. "Usually people don't notice me because I don't like them to notice me," he said. "Because the drawings are better if people don't see."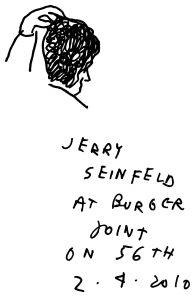 If you just saw a couple of his faster sketches—such as the ones he made of Nick Hornby or Katie Couric in early 2013—you might wonder why this guy has 64,400 people following him on Instagram. They look like the shapes of what you suppose could be faces, rendered in an even, thick line, without any context. Two of Mr. Polan's favorites, of Jerry Seinfeld and Buzz Aldrin, depict only the back of each man's head, because each documents the moments he spent looking at a real person in real time, and no more. If the person moves away, Mr. Polan stops. He doesn't fill in details from memory. "I have in my head an idea of what a nose is, but I don't want to draw that. I want to draw their nose the way it is on their face," he says.
The book's subjects are mostly anonymous New Yorkers—shooting a movie, watching handball, wearing sweatpants—and at locations such as the aforementioned Taco Bell, MoMA, outside the Mercer Hotel and the old Prince Street Post Office, before the Apple Store moved in. Some of his drawings are just jumbles of lines that represent pieces of people Mr. Polan saw in one busy place at one time. He likes those because a person can see them and say, "'Oh, I was in Grand Central that afternoon. Maybe I was in that mass of people?' "  
And the project is ongoing. "I think people thought it was kind of a gimmick," Mr. Polan admitted, but said he won't stop because he feels it's making him a better artist. "Even if I were to move away, I would still come back and draw people in New York," he said, a little after the first member of the Club arrived, a young artist and first-timer, who had set down his stuff and left to order a $99.97 soda. "And I'm not going to finish. I know that."