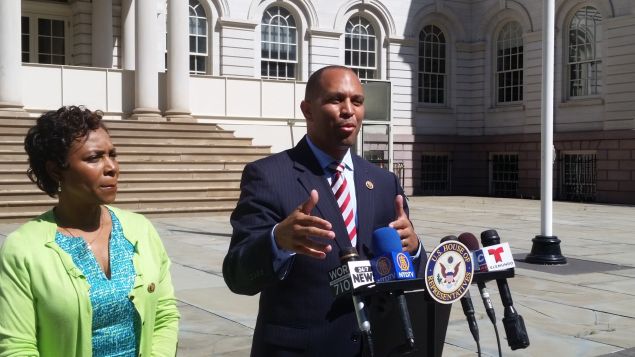 Defending his Democratic colleague in Congress from a barrage of attacks in his home district, Hakeem Jeffries said this afternoon that Jerrold Nadler is still one of the most pro-Israel lawmakers in America, even after he enraged Orthodox Jews by voting for the Iran nuclear deal.
"Congressman Nadler is one of the most pro-Israel members of Congress in the nation. He's been a strong supporter of Israel and he will continue to be a strong supporter of Israel," Mr. Jeffries, a Brooklyn lawmaker, told the Observer at an unrelated City Hall press conference. "This is an issue where you had people who came to different principled conclusions within the Congress as to the best way to prevent Iran from becoming nuclear weapons capable."
Mr. Jeffries said he supported the agreement, which will lift economic sanctions on Iran in exchange for limitations and inspections on their nuclear program, after a "substantial period of deliberation."
"I concluded it was the best way to prevent Iran from acquiring a nuclear bomb," he said, "but we have more work to do moving forward."
Both Democrats backed the agreement, known as the Joint Comprehensive Plan of Action, despite a significant Jewish constituency in their districts in opposition to any deal-making with Iran. Mr. Nadler, who represents a Manhattan and Brooklyn district that includes heavily Orthodox Jewish Borough Park, endured criticism from activists in lawmakers in the area. Brooklyn Assemblyman Dov Hikind promised to find a person to challenge Mr. Nadler for re-election and Brooklyn Councilman David Greenfield warned that voters wouldn't forget Mr. Nadler's decision.
Mr. Nadler recently said he didn't anticipate such "viciousness" aimed at him after he chose to support the historic accord, which was jointly brokered by the United States, Iran, China, France, Russia, Germany, the European Union and the United Kingdom. Despite overwhelming opposition from Israel, Republicans and a handful of Democrats like Sen. Charles Schumer, Democrats in Congress were able to prevent GOP lawmakers from blocking the deal last week.
Congresswoman Yvette Clarke, a Brooklyn lawmaker who has faced the wrath of Orthodox Jews in her own district, said today "people are very passionate" about the Iran issue.
"That's to be respected," she said at the City Hall event. "However, I think we can disagree without being disagreeable, without harming each other because I don't believe that was the intent in the decisions that were made by all of us who decided this agreement was something we should support."