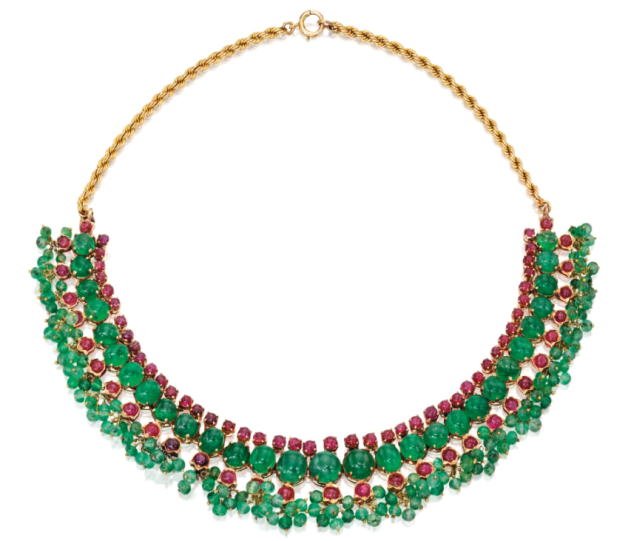 For jewelry collectors who covet pieces rich with historical provenance, look no further than Sotheby's upcoming Important Jewels sale on September 24 and 25. Snap up an item at this sale, and the next time someone compliments your earrings you might just be able to tell them they were once owned by the First Lady.
The sale features pieces from the estates of some very stylish women from U.S. history, including cosmetics mogul Estée Lauder, First Lady Mamie Doud Eisenhower, and dancer, singer, actress, Mimi Walters Prentice, who married into the Rockefeller dynasty.
Classic vintage designs by big names like Bulgari, Van Cleef & Arpels, Tiffany & Co., and Harry Winston are featured alongside pieces by Swiss watch and jewelry company Chopard, jeweler to the stars David Webb, Italian designer Bucellati, and the always timeless Cartier.
Some of the most historic items in the sale once belonged to Eisenhower, who is credited for boosting the importance of the First Lady's role in the White House and on the campaign trail. She is also remembered as a something of a style icon of the 1950s, recognizable for her trademark pearl necklace and distinctive short bangs.
An ornate and lavish emerald and ruby necklace featured in the sale was given to Mamie by President Dwight D. Eisenhower as a gift in 1959, following his "Round the World" tour. Like the other items for sale that once belonged to Mamie and Dwight, they became part of the estate of Barbara Eisenhower Foltz, wife of the Eisenhower's son John.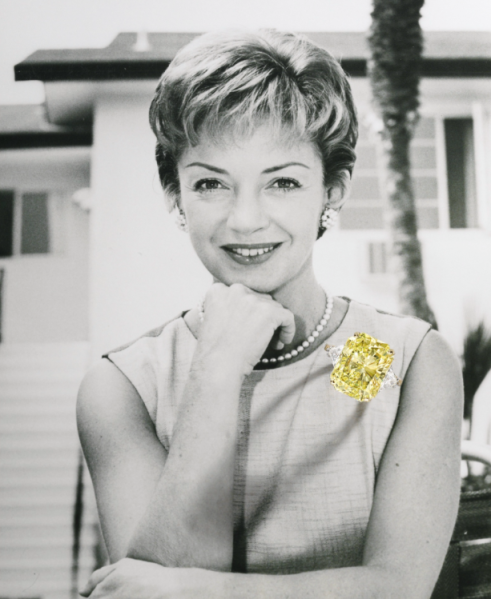 Several custom pieces from the estate standout, including a charm bracelet with an 'M' medallion and a brooch that spells the First Lady's name in cursive, as well as miniature version of John S.D. Eisenhower's West Point class ring made for Barbara. The ring includes a 1.6 carat old European-cut diamond given to Barbara by Mamie.
Eisenhower's 16.5 carat round diamond set in a platinum scrollwork mounting is estimated between $70,000 and $90,000. A 7.31 carat oval-cut sapphire ring, with a gleaming frame of round-cut diamonds by Tiffany & Co., was once worn by Annie Get Your Gun star Prentice, and has an estimate of $30,000 to $50,000. And an 11.05 carat brilliant-cut fancy yellow diamond ring is estimated between $100,000 and $150,000.
And while there are plenty of eye-catching rocks on offer, the sale's brooches are where collectors will find some of the most unique gem combinations and bold, eye-catching designs.
A large brooch made by Van Cleef & Arpels in 1965, that once belonged to Lauder, is shaped like a bird on a branch and adorned with turquoise, sapphires, emeralds, and round diamonds set in gold and platinum. The piece is estimated to sell for between $7,000 and $10,000. A floral-shaped sapphire, cultured pearl, and diamond brooch from her collection, designed by David Webb and estimated at between $15,000 and $20,000, is being offered as a set with matching earrings.
Another Van Cleef & Arpels original, from the collection of socialite and jewelry collector Dolores Sherwood Bosshard, made during the 1940s, pairs 26 carats of cushion-cut sapphires with 14 carats of baguette diamonds in a sweeping bow shape. The piece is estimated at $60,000 to $80,000.