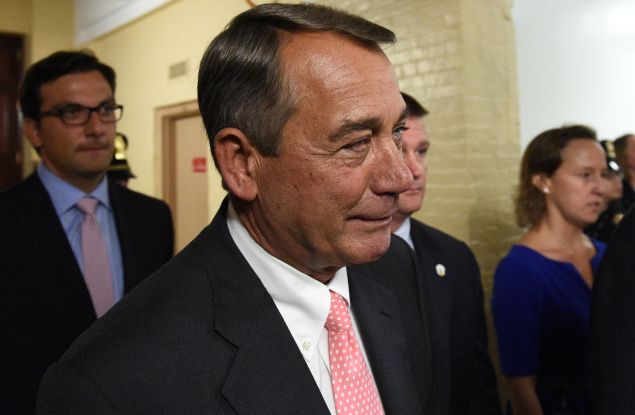 House Speaker John Boehner, R-Ohio, announced Friday that he will resign from Congress at the end of October, ending a years-long feud with the conservative members of his party.
Mr. Boehner, who has served in the house since 1991 and has been speaker since 2011, faced numerous showdowns with the Tea Party wave that swept the 2010 elections. Mr. Boehner, who is third in line for the presidency, oversaw the first government shutdown since 1995 and his speakership questioned at every turn.
Most recently, Mr. Boehner was working toward a budget agreement that would avert another government shutdown, and facing significant pushback from the conservatives in the party. But that wasn't the only recent fight Mr. Boehner had with a certain subsection of own party, who couldn't seem to give him agree with him on anything.
The current government shutdown debate hinges on funding for Planned Parenthood, which has recently come under fire after undercover videos revealed the organization's top officials discussing the possible illegal actions of selling aborted fetuses for profit and altering abortion procedures to obtain fetal tissue. In addition to that, conservatives are also finding fault with an education bill and the renewal of the Export-Import Bank (something President Obama once called "little more than a fund for corporate welfare" but now supports).
Earlier this year, Mr. Boehner also had to battle his party in order to raise the debt ceiling (as he has numerous previous times). In nearly every disagreement since he was first elected speaker, Mr. Boehner and establishment Republicans have ultimately won, but each victory chipped away at his leadership.
That leadership was questioned twice – in 2013 and earlier this year – when a small group of conservatives attempted to stage a coup and remove him from his position. They failed, of course, but with continued antagonism toward the speaker, it seemed possible that he could lose the position in the next election.
Mr. Boehner's main problems in the beginning of his speakership came from the reality that Democrats still controlled the Senate – something the conservative members of his party didn't seem to care too much about.
Mr. Boehner is also not the first establishment Republican to lose the support of the party. The government shutdown helped pave the way for former House Majority Leader Eric Cantor's loss to Tea Party unknown David Brat. Mr. Boehner's departure will allow Ohio Republicans to find a suitable alternative and prepare a campaign. His departure will also allow a new House Speaker – the current favorite being Majority Leader Kevin McCarthy – to take control heading in to an election year.
There's no doubt that the government shutdown led to Mr. Cantor's loss and handed the Virginia governorship to Democrat Terry McAuliffe – as thousands in Northern Virginia were furloughed just before the election. Another year of contentious battles and infighting could end up hurting Republicans in 2016, when the presidency is up for grabs and the Democratic frontrunner is flailing. If a new speaker is more liked by conservatives, his or her honeymoon period could extend through the election, allowing Republicans to have a better chance at the presidency without being blamed as a "do-nothing Congress."
Conservatives never seemed to see Mr. Boehner as an ally, but perhaps they will see the new speaker as one. Even if they don't, they need to find a way to work together to avoid the negative attacks that will sink them in 2016. The current media narrative is that Republicans can't agree on anything, which is leading to distress in the rest of the country. If a new speaker can reverse, or at the very least chip away at, that narrative, Republicans will be in a better position nationally.