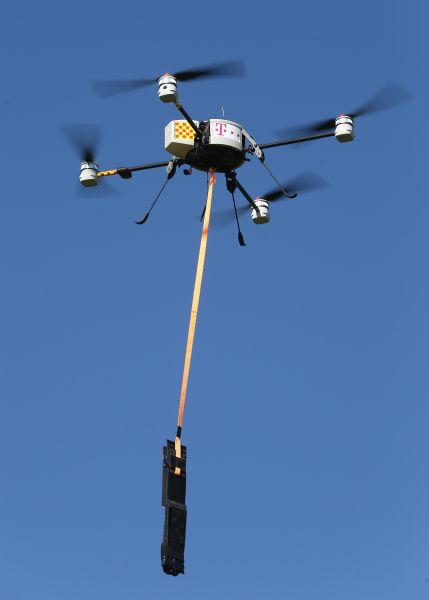 Governor Jerry Brown of California vetoed a bill on Wednesday that would have placed restrictions on drone usage in the state in certain contexts.
"Drone technology certainly raises novel issues that merit careful examination," Mr. Brown wrote in a letter to the state senate. "This bill, however, while well-intentioned, could expose the occasional hobbyist and the FAA-approved commercial user alike to burdensome litigation and new causes of action."
Senator Hannah-Beth Jackson, who represents California's 19th District, authored the bill, which would have prohibited citizens from flying drones on someone else's property if the property's owner had not given them permission. The bill would create a drone 'no-fly zone' of 350 feet above private property.
The bill had passed in the state legislature before Mr. Brown's veto yesterday.
While companies such as Amazon and Google opposed the bill for obvious reasons, other industries were vocal about their opposition for fear that this would harm citizens' journalistic and artistic rights.
The National Press Photographers Association was one such organization that feared the repercussions of the bill and celebrated the veto.
"The NPPA and other media organizations are concerned that these bills have a chilling effect on free speech and the press," Mickey Osterreicher, the association's general counsel, told the Observer. "We also believe that such measures abridge First Amendment rights by overly broad, vague and unreasonable time, place and manner restrictions on news gathering that are not narrowly tailored to serve a significant government interest, may not be content-neutral and fail to leave open alternative avenues of communication."
Mr. Osterreicher additionally expressed concern that the bill was "unworkable" and that the bill's passage would have resulted in a number of court cases.
The founder and director of the NYC Drone Film Festival, Randy Scott Slavin, had similar worries about the bill's repercussions if it passed.
"Intensely restrictive legislation can potentially dampen the proliferation of this amazing technology which has benefits to not only the art world but industrial, humanitarian and other sectors," Mr. Slavin told the Observer.  "Drone cinematography adds much value to both the news and motion picture industry, and would be lost in the case that drone laws become overly restrictive."
While the issue is at bay for the moment, however, Mr. Brown's statement, which suggested that the Senate "look at this more carefully" before pursuing the issue, shows it is not going away anytime soon.
In a post on her Facebook page after the veto, Ms. Jackson struck a similar tone.
"I am obviously disappointed that the Governor vetoed my drone privacy legislation, SB 142, but pleased the bill launched an important discussion on our privacy and private property rights and drones," Ms. Jackson said. "Obviously, the public wants some action on this issue. I hope to continue this discussion and continue working on this issue next year."