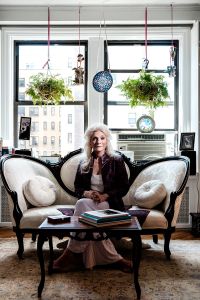 On a Sunday evening this past July, in Central Park, Judy Collins had 2,800 New Yorkers of all ages leaping to their feet in standing ovations as she reprised her evocative hits from decades past. There, in her crystalline, plaintive soprano, was "Both Sides Now." And "Suzanne." In the mid-1960s she'd made stars of two virtually unknown composers—respectively, Joni Mitchell and Leonard Cohen—when she turned those stirringly poetic songs into hits that announced to the psychedelia-weary hipoise and the wider public: This is a new, romantic era—take it seriously. She sang her own composition, "Someday Soon": wistfulness personified, a paean to her native Colorado. And Sondheim's "Send in the Clowns." The biggest ovation was for her closer, "Amazing Grace." Music critic James Gavin (author of biographies of Chet Baker, Lena Horne and Peggy Lee) wrote of the evening: "Never has she sounded lovelier or moved me more. She's done more than defy time; time has been her friend."
The free performance in the park—along with her yearly New Year's Eve concert at the Cathedral of St. John the Divine and her virtually annual appearance at Cafe Carlyle (a neat trifecta of Gotham venues: the democratic, the devotional and the elite) mark Ms. Collins, who, at age 75, does 120 performances—almost all sold out—every year, as a kind of crown jewel of New York entertainers. (She also released a 2012 CD, Judy Collins, Live at the Metropolitan Museum of Art.) I think of her as an ambassador across generations in a city both very changed (all those hedge funders; bohemia unaffordable in Manhattan) yet also unchanged (all that artistic aspiration) since she arrived with her guitar, at the dawn of the 1960s, as a real-life-tethered 21-year-old (the mom of a toddler; a folk-club-circuit dues payer; the wife of a young English professor) to the nascent Greenwich Village folk scene, just about five minutes before it burst into its mythic vibrancy.
Ms. Collins was a key shaper of that community. Bob Dylan crashed at her apartment—she even knew him earlier, when she was a Colorado folk notable and he was Bobby Zimmerman, coming to watch her "when no one would hire him—he was the worst!—and he couldn't figure out what his last name was." She traveled to the South during Freedom Summer and met with Fannie Lou Hamer. She knew every folksinger as friend, lover, or in the case of Joan Baez, as a similarly secretly very vulnerable female star. She was best friends with the most charismatic young writer on the scene: Richard Farina, who serially married two folk beauties, Carolyn Hester (18 days after meeting her) and, after divorcing Hester, teenaged Mimi Baez. (Farina died in a Carmel, Calif., motorcycle crash just as his own star was ascending.) And when, shortly before Woodstock made Crosby, Stills and Nash the country's No. 1 group, the sexiest—and most arrogant ("I was difficult and he was more difficult," Ms. Collins says)—member of that trio, Stephen Stills, fell madly in love with her and penned his elegantly moping "Suite: Judy Blue Eyes" about their complicated moment.
'I was the oldest of five children. God forbid I should fall apart,' Ms. Collins said. When she survived her early intentional pills overdose, 'that told me: "I'm here! Life? Let's get on with it!" '
At that same moment, Ms. Collins was part of Manhattan's formative feminist circle: sitting cross-legged on West End Avenue living room floors in 1969 through 1972 with Gloria Steinem ("so elegant and so glamorous, and she always had a boyfriend") and Marlo Thomas and wittily flamboyant African-American lawyer Flo Kennedy ("I'm writing a song about Flo now"). She was a Hudson Street Villager for years and is now a decades-long dedicated Upper West Sider. There is nearly no one in the arts and letters of a certain vintage who isn't a friend of her and her husband, designer Louis Nelson, from Robert Caro to Mary Karr to Nan and Gay Talese to Susan Cheever to past mayors Dinkins and Bloomberg—and Daily News owner Mort Zuckerman. The respect she commands from her male peers is evident in her late-September-release CD Strangers Again, in which she duets with Jackson Browne, Michael McDonald, Willie Nelson, Jimmy Buffett and others. She also has plans to duet with Mr. Stills, with whom, like so many, she has stayed in touch.
But, most strikingly to me, Judy Collins is someone who conquered demons and taught herself to be happy. I've known her for a couple of years, and I've been struck by her generosity, warmth, curiosity about others and her killer work ethic—these qualities leap out at you. "You seem like you've never not been healthy," I've told her, despite the challenges and tragedies she's weathered, all in the past (some, the long-ago past) but most long-term and serious. She has written of them with the practiced candor of a veteran analysand. In her second memoir, 2010's Sweet Judy Blue Eyes (her first was 1987's Trust Your Heart), she described her decades of depression (she tried to commit suicide at age 14) and alcoholism (she had blackouts "all the time" and would drive herself home from gigs, on New York Interstates and Rocky Mountain passes, drunk), the loss of custody of Clark Taylor, her only child, when she was in her 20s, and his tragic death, at 33, by suicide in 1992. In her 10th book, Cravings, to be published in 2016 by Nan Talese, she will address her years of stubborn eating disorders. (Its subtitle: How I Conquered F—— Food.) One of her most beloved covers is of Lennon-McCartney's "In My Life." Her version is a rare equal to the sublime original, maybe because in that life of hers she stripped "survivor" of cliché and restored it to its New York essence—one who knows the hard way is the best way and sometimes the only way.
On one of the hottest, most airless days of summer, Ms. Collins and I sit at Swifty's, and, over tea and lemonade, I probe her life lessons.
"I'm an optimist, and I got that from my father," she says. A singer, performer and radio personality, "he was blind from the age of 4 but he did not whine, ever." He taught her: "You can't whine, you have to plan time for your work, you have to practice!" She was a child pianist and guitarist. She adapted that to what she'd tell young women today: "Don't let anybody tell you not to do what you want to do. And yet"—she puzzles the contradiction—"I was always in perpetual terror, over my father's drinking—or something. Somebody once said, 'You look like you're always under control.' I explained, 'I was the oldest of five children. God forbid I should fall apart.' " When she survived her early intentional pills overdose, "that told me: 'I'm here! Life? Let's get on with it!' "
Ms. Collins' parents were Eleanor Roosevelt liberals—"My father would say: 'I'm blind; I can't even see what color you are!' "—and her inherited politics blended right in to the Village protest-song heyday, during which she shared a manager with the once-blacklisted Pete Seeger—and she soon realized, as he evolved, over months on the scene, that the recently unformed Bob Dylan was suddenly writing the most stunning, important songs of the generation. She also realized that while major star Ms. Baez made it her "mission" to share the stage with her new rising-star beau, once Bob Dylan became all the rage he did not do the same for Ms. Baez. At around this same time, after a two-year battle, she lost custody of Clark to his father. ("I didn't slam the sunuvabitch [in my book] at all," she says, with grim pride.) That she was in therapy was much of the reason. "Today a woman would lose custody for not being in therapy."
A hardship-borne feminism followed. "But what we talked about," in her group with Ms. Steinem et al, "wasn't ourselves. We'd already succeeded. We talked about helping women who weren't making enough money, women stuck in rotten marriages. Helping women get out from behind the shadow of men and find their courage."
Ms. Collins also helped at least one brilliant man find his courage, too. One night in the late '60s "this talented Canadian writer a mutual friend kept raving about came knocking" at her door, "and he said, 'I'm Leonard and I want to sing you my songs,' but I can't sing and I can't play the guitar.' " Mr. Cohen—fresh from the Mediterranean, where he'd written the sensual fever-dream of a novel Beautiful Losers—played Judy "Suzanne" and "Dress Rehearsal Rag," the latter about suicide contemplation. She put them on her sixth album, In My Life (she has released 54 recorded, live and compilation albums to date) and when he tagged along with her to a benefit for the Committee for Sane Nuclear Policy, "I pushed him on the stage" and made him sing it with her, "and when the audience went wild I said, 'You have to go back out there.' He did. (That life lesson goes under the heading: Don't accept the mess. Get on with the solution.) Of course he turned into a great performer and a lifelong friend. Other male friends got other gifts—most importantly, after Clark ended his life, she found out an iconic male singer's son had died the same way (carbon monoxide inhalation in a garage), "I called him," and the talk comforted both.
When I ask her what advice she'd give today's prima New York, singer Taylor Swift, she says, 'I'd take advice from her! Good for her for taking all these stands.'
That single tragedy could have crippled her. "I made it through a minute at a time. I sang 'Wings of Angels.' I finally got back to the piano and sobbed my way through starting to practice and write again. I talked and wrote and wrote and wrote." Her book Sanity and Grace came out of it. "Writing can save you!" It also helped that "I had a lot of tools already in place. I was already medicated for a number of years, I was 13 years sober." (Even today, there is nary a wine bottle at her parties.) "I had my meetings, my support system. And I had Louis"—her husband, whom she met 37 years ago. (They married in 1996.) "Sometimes when these things happen, people walk out; they can't take it. But he stayed the course."
When I ask her what advice she'd give today's prima New York, singer Taylor Swift, she says, "I'd take advice from her! Good for her for taking all these stands," against musical artists being ripped off by music streaming. What Ms. Swift did was "a piece of the puzzle, and it sent a very important message: We have been screwed!" The need for recording performers' royalties (only songwriters get pennies per play) on terrestrial AM-FM radio is a huge cause for Ms. Collins. She's hopeful that a so-far-so-good class-action suit led by the '60s group The Turtles against Sirius XM may pave the way.
Activism keeps her ageless, her fans all over the world keep her energized ("I love touring; I thrive on it"), and her frequent talks to suicide prevention and mental health groups keep her grateful. "Just when you think you've had the worst thing happen to you, you meet someone who lost two children to suicide." She is struck by how the number of acknowledged suicides per year in America—35,000 to 41,000—has stayed doggedly solid for about a quarter of a century. How to reach those people in time and lower that yearly toll is her goal. "A lot of people in Congress don't know anything about suicide. The mental health parity bill [sponsored by Patrick Kennedy and others] is a drop in the bucket."
Ms. Collins has three more pieces of advice. "One: Be true to your dream, and if you don't have a dream, find one. Two: Let the moon be your goal, not the next thing on your iPad. Three: In any fight, know when to quit." When, in 1968, her harpsichord-suffused version of Joni Mitchell's "Both Sides Now" became the anthem for every suburban girl in America impatient to be world-weary, we were drawn to its femininity and its embrace of contradiction and irony. We loved—for the incandescent hard knocks it promised—its last line: "I really don't know life at all." Judy Collins, New York woman at 75: She knows life.