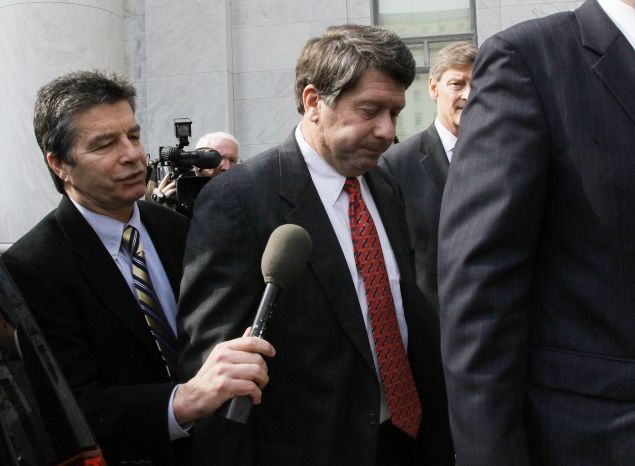 According to the EPA, Volkswagen cheated on emissions tests of its diesel cars in the U.S.. Are consumers shocked? I'd be surprised. After all, just this year, Fiat Chrysler issued a safety recall affecting 1.4 million vehicles when it discovered its cars could be hacked. General Motors issued three recalls last year, due to safety issues with ignition, tail gates and gas struts. Nissan, Toyota, the list goes on.
And that's just the automotive industry. On September 21st, the owner of Peanut Corporation of America, Stewart Parnell, was sent to prison for 28 years after a jury found that his company had cut corners on safety and shipped salmonella-tainted peanut butter to stores, which sickened hundreds and likely led to the deaths on nine consumers. Similar findings were all over investigations into BP fatalities at Texas City and Deepwater Horizon.
After nearly a decade of scandals concerning insider trading, feeble ratings agencies, insider dealing, interest and foreign exchange manipulation, the ability of corporations to manage themselves successfully looks more questionable than ever.
Organizational silence is exacerbated in highly competitive cultures where there are low levels of trust.
The easy diagnosis is bad leadership–which is why so many people cheered when Peanut Corporation owner Stewart Parnell was sentenced as if he was a murderer. Nine people likely died because of his company's misdeeds; it stands to reason that the man in charge should be accountable. Similarly many already speculate that VW CEO Martin Winterkorn should at least surrender his position. His cars might not directly have killed people–but the car emissions do. And there are more than a few consumers who wonder why the only person to suffer from the GM fiasco was whistleblower Bill McAleer, who lost his job at GM in 2004 after he raised concerns about the safety of GM cars.
These corporate failures are now so routine that no one can believe they are the product of just a few "bad apples" (the explanation George W. Bush preferred when describing the moral catastrophe that was Enron.) In all of these very large corporations, it is impossible to cheat emissions tests, or ship toxic peanut butter, operate dangerous sites or sell questionable products without lots of people knowing exactly what is going on. Many people knew sub-prime mortgages stank. Many bankers appreciated that the ratings agencies were spewing out nonsense. Plenty of engineers knew BP sites were dangerous and you need many people to cheat emissions tests if your cars are going to pass. So bad apples, as a description or explanation, won't suffice.
Instead what you see in these and many large organizations that so spectacularly lose the way are two separate but mutually reinforcing behaviors. The first of these is willful blindness, a legal concept used in the Department of Justice's arguments in the trial of Enron's Ken Lay and Jeff Skilling. It maintains that if there is information you could have, and should have, but somehow managed not to have, you are liable–because your ignorance was a choice. Over the last eight years, we've seen a lot of willful blindness permeate large corporations.
It flourishes in steep hierarchies where it is always "someone's" responsibility to notice what's going on and say something–it's just not my job. Responsibility is so thoroughly diffused that no one feels it is they need to speak up. Academic research suggests that this organizational silence is pervasive and my own experience, working with global corporations, confirms that. Telling the truth is both too difficult and too risky–so lots of people will know there's a problem but no one will say a word.  Bear in mind: it took 12 years before the GM board recognized that it had a dangerous ignition problem: 12 years when many knew and almost no one did a thing.
We know that cultures of openness and transparency–in which people feel secure enough to speak up and ask hard questions – are more productive, innovative and safe.
Organizational silence is exacerbated in highly competitive cultures where there are low levels of trust. In a safe environment, I might ask some hard questions about VW emissions tests. But in companies with stiff competition between individuals and between departments–forget it. I'm not going to risk my position by raising the alarm. If the economic environment is also insecure, if my employment feels vulnerable, I will do exactly as I'm told, no matter how wrong it is. I won't take the risk of speaking up or standing out and I may feel under huge pressure to ensure that that car passes its emissions test.
Remember the old adage – don't bring me problems, bring me solutions? In that hard-charging environment, bosses get what they asked for; they just don't care how.
That CEOs get the blame for these fiascos is not unjust. It is their job, as leaders, to create the conditions in which information flows easily and safely, where individuals don't have to ask permission to take responsibility (British business bible Denning's definition of a high quality environment.) Many fail to do this because they think a competitive work environment will bring out the best in people (wrong) and because they imagine that hierarchies facilitate information flow (also wrong.) These shibboleths of modern management have now been so repeatedly challenged by real world disasters that they ought to have been retired years ago. But they're alive and well and ruling the roost in most organizations to this day.
It doesn't have to be this way. We know that cultures of openness and transparency–in which people feel secure enough to speak up and ask hard questions – are more productive, innovative and safe. We know that flatter hierarchies encourage trust and openness. And we know that trust is more efficient than oversight. But as long as we continue to build and run companies the old way – dominated by the heroic solo leaders, with huge rewards at the top and vast uncertainty everywhere else – we will create the conditions in which willful blindness will flourish.