British royals, sent packing from the United States in the late 18th century, are making a comeback on stage. Last season, The Audience was a huge hit, with Helen Mirren reprising her role as Elizabeth II from the 2006 film The Queen. King Henry VIII and his fixer Thomas Cromwell presided over the two-part Wolf Hall. King George (Jonathan Groff) is providing comic relief in Hamilton, taunting the States with menacing pop-infused ballads.
October brings the makings of the latest hit royal import. Adorned with an Olivier Award for best new play and encomiums like "dazzling" from Ben Brantley, who saw it in London, Mike Bartlett's King Charles III is a "future history play." It begins as Prince Charles (Tim Pigott-Smith) takes the throne after the death of his mum the Queen. Not content to quietly sign a bill he loathes, which curtails freedom of the press, Charles incites a national and family crisis.
"Family dramas are the essence of all drama," said Rupert Goold, the King Charles III director who first staged it last year at London's Almeida Theatre. "[The royal family is] our first family." Mr. Goold argues that the House of Windsor interests Americans partly because of our first families. "Look at you guys, with the Bushes and the Clintons," he said. "We all want families to map onto our own familiar experiences."
Stuart Thompson, who produced the play on the West End and Broadway with Sonia Friedman, cites the royals' staying power. "They don't come and go like celebrities du jour here."
But is there still an appetite for royals on Broadway? The King Charles III team argues that The Audience, in which Her Majesty meets with a succession of prime ministers, served as an ideal primer in prime minister-monarch protocol. "The Audience did a lot of work for us," Mr. Bartlett said in a phone interview. Ms. Friedman said British audiences were fascinated by a vision of life after 89-year-old Elizabeth II, who is Britain's longest-reigning monarch after a coronation in 1953. "The vast majority of the population doesn't know a country without her," the producer said.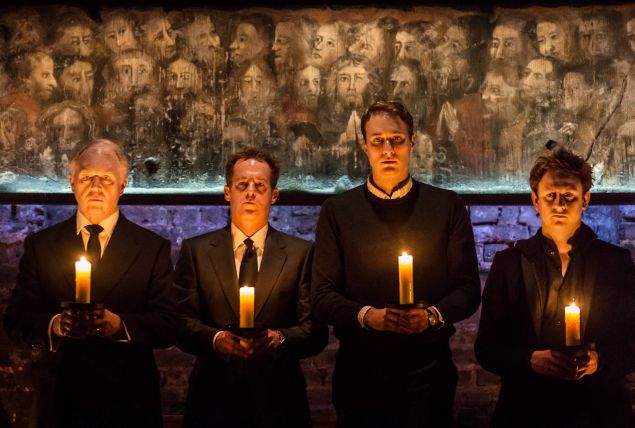 Scott Mallalieu, head of the group sales company GreatWhiteWay.com, said clients he spoke with were intrigued. "It's something they've thought about," he said. "Queen Elizabeth has been there a long time and Charles has been waiting on the side."
Like Hamilton, King Charles III concerns national identity. But whereas Lin-Manuel Miranda's hit dramatizes early American history with contemporary dance, song and rap, King Charles III tells a 21st-century story using verse and iambic pentameter. "It's holding a Shakespearean mirror to the modern king," said Oliver Chris, who plays Charles' son and heir, Prince William. Based on a script and video we reviewed, the juxtaposition of Shakespearean-style drama with televised speeches, phone hacking and even sexting argues for the continued relevance of the Bard and timelessness of political conflict. To an American, Charles in the play may seem sympathetic, but Mr. Chris said he oversteps his role by opposing Parliament and defending the press.
Check out the rest of the Fall Arts Preview here.
"It presents a man who steps far outside the bounds of his constitutional responsibilities and duties," Mr. Chris said. Royalty ought not take controversial public stands because societal norms change, he said. "The minute you express an opinion you cannot backpedal. Prime ministers change every four years. A figurehead has to represent everyone all the time."
Mr. Pigott-Smith said he believes the play is plausible because its portrayal of Charles includes qualities about him that are commonly accepted—that he's a benign man of intelligence who wants to improve things. "As the play unfolds we discover a man who is proud and stubborn and open to manipulation because of his vulnerability," Mr. Pigott-Smith said. The actor said someone in the press told him that if you upset Charles or his media team, it takes a long time to repair the damage. "If I was in his position, when every blink is subject to scrutiny—and having been through what he has been through—I suspect I, too, would be a touch sensitive."
Mr. Bartlett, the playwright, said no royals saw the play. "I think protocol would forbid that." But the production did get a message from the Prince's office that Charles doesn't wear a wedding ring, which Mr. Pigott-Smith originally did onstage, and no longer does.
Intellectually, Mr. Bartlett believes that there shouldn't be a royal family. But, emotionally, he sees it as an enduring institution, like old castles or Westminster Abbey. "There's a real tension in me," he said. "You want to write a play you don't have an answer to." Its success was a surprise, he said. While creating the drama he was too preoccupied with getting the last details written and right for the stage to think about its commercial potential. "There haven't been many verse plays that have been popular [in] 400 years," he said.
The playwright said he updated King Charles III since its West End incarnation, including such events as the birth of William and Kate's daughter, Charlotte. And Mr. Bartlett is revising local references, as well. Prince Harry (Richard Goulding) originally goes on a late-night romp with a new girlfriend to the store Sainsbury's and buys a Scotch egg, which is hard-boiled, wrapped in sausage meat and coated in breadcrumbs. Both the name of the store and dish may change.
"Correct me if I'm wrong, but I don't think people in New York know what a Scotch egg is," Mr. Bartlett said.