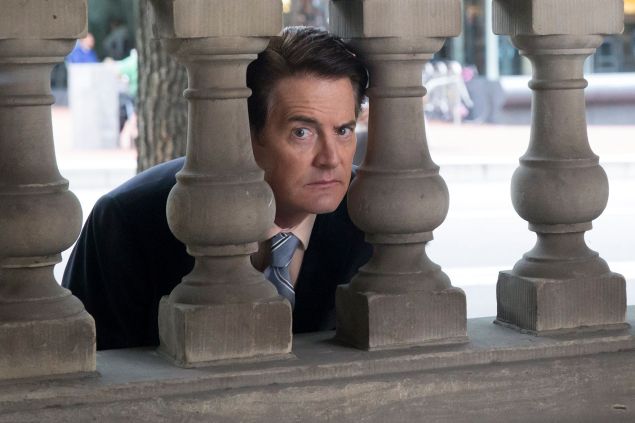 According to Director David Lynch, actor Kyle MacLachlan is "the person you trust to go into a strange world with."
It is the strange world of Twin Peaks that MacLachlan is best known for. Showtime recently revived the series, and filming begins this month. After months of rumors and uncertainty, the series co-creators, David Lynch and Mark Frost, reached a deal with the network to produce more than nine new episodes. A premiere date has yet to be released, but the return of MacLachlan as special agent Cooper has been confirmed. The cult phenomenon the series has achieved in the subsequent years since it was first broadcast on ABC in 1990 is due in part to the mysterious main character. Throughout the show, MacLachlan takes common, banal acts like drinking coffee seem much more than their obvious meanings. This talented acting is a staple to the absurdity of Twin Peaks, which earned him a Golden Globe award for best actor in a TV drama in 1991.
"Now when David Lynch and I sit down together, I drink my coffee no cream, no sugar, black as midnight on a moonless night," Mr. MacLachlan told the Observer. "As the quote goes." (This was also how his FBI agent first ordered it on Twin Peaks.)
"I'm slowly getting myself back into Cooper's character."
But more than even the blackest of coffees, Mr. MacLachlan's true beverage passion is for wine. Ten years ago he entered the wine business in Walla Walla, Wash. as an excuse to spend more time with his family in his home state. "The wine business started to take off there in the late '70s very slowly, but it wasn't until the '90s when it began to expand did I become aware of it." After Twin Peaks, MacLachlan met Eric Dunham, who started Dunham Cellars, and who agreed to partner in a small production of cabernet blend that the actor was interested in conceiving.
Since 2005, MacLachlan has produced about 400 cases a year with Dunham Cellars, now run by Mr. Dunham's mother, Joanne, after the winemaker died in 2014. "I do miss Eric very much," said the actor.
The name of MacLachlan's wine, Pursued by Bear, is taken from the infamously quirky stage direction in Shakespeare's A Winter's Tale: it signals the play's pivotal turn from tragedy to comedy. The name was created in a car ride back from Napa Valley to Los Angeles, where MacLachlan and his wife were having dinner at Steve Martin's abode. "I tried it out on him and he thought it was a great idea," MacLachlan confessed. "Of course, we both had a couple glasses of wine by then, so who knows."
The wine's title epitomizes MacLachlan's own idiosyncrasies. He has immersed himself throughout the entire winemaking and distribution processes, from sorting the grapes on occasion, to tracking the aging process of the wine as it ripens in the barrel for a few years. It takes a lot of method and patience to make a perfect cabernet blend, but the small-business work ethic suits him. "It's really a people business. Not only the producing, but the selling, which is definitely hands-on selling because I'm a small producer. I'm very involved with distributors, restaurants and buyers around the country. I almost know where every case winds up."
His wines have earned above 90 ratings by Wine Spectator, but much like Cooper and his fir trees, MacLachlan focus is rooted in the landscape. "Now, I look at hills of sagebrush and wonder about soil, the types, and what it might be like to put vines on a type of land. How it reacts to the sun and what's the microclimate of that area. I have a renewed interest in the topography of the area where I grew up."
Since the show ended nearly 25 years ago, MacLachlan has played recurring roles on shows such as Sex and the City (as Trey McDougal, a flawed husband with mother issues) and Desperate Housewives (as Orson Hodge, a husband with dark secrets). Not to mention reoccurring cameos as the kooky mayor in Portlandia and a handsy lawyer on The Good Wife.
But as his career as a wine producer has led him to reexamine the landscape in which he grew up, the reboot of Twin Peaks (scheduled now for 2016) has brought MacLachlan back full circle to his career-defining role.
"Cooper's one of my favorite characters I've ever done. He's just a wonderful, complex mix of different qualities. There's a kind of shorthand that David Lynch and I have on this character that I look forward to returning to. That's going to be one of the more exciting things about it." MacLachlan said, before adding:
"That and his love of coffee, Douglas firs and bacon, extra crispy."
Maybe the new season will delve into Agent Cooper's loves of a damn fine cabernet blend. Stranger things have happened…at least, in Twin Peaks.